Exploring new places, experiencing new cultures and discovering new cuisine, there is no better feeling than taking a vacation. But it's the people you meet during these trips that are most memorable. That's why for people who like the concept of solo travel, we got something more exciting for you i.e. social travel.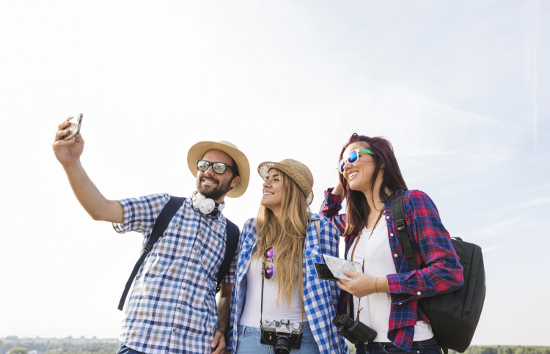 Social travel is all about meeting new people, sharing experiences and essentially finding yourself a travel partner. If you want your own travelogue, we'd advise you to join one of the popular social travel sites. And since it can be overwhelming to shortlist one site as there are so many of them in the market right now, we've compiled a list of top 9 social travel sites you can use for free.
Top Social Travel Sites to Meet New Travel Friends:
● Couchsurfing – When you are traveling on a shoestring budget, you want to save as much money as possible. Couchsurfing actually means meeting people who would let you crash in their homes for free. And what best website could you use to find these people than www.couchsurfing.com itself. Not only that, here you can also find yourself a travel buddy, recommendations of the best places in the town, information about any concerts happening around and important travel trips.
● WAYN – WAYN stands for, 'Where are you now?'. Launched in the year 2005, this social travel app has been a frontrunner in the travel industry since a long time. At this site, you can find options to meet other fellow travelers at your travel destination or on the road. You can also learn so much about the place you are visiting through other travelers' experiences & tips about sightseeing, restaurants or lodging recommendations, along with detailed maps.
● Xoxo Tours – Xoxo Tours is a free social travel site that helps you connect with like-minded strangers. You can chat with them and know them better before deciding on taking a trip with them. The website is easy to navigate and people here are easy to approach and talk to. Also, a great website if you are looking for a travel friend.
● Hey! Vina – For all the solo female travelers out there, Hey! Vina is a great way to meet your female travel companion while on a vacation. Available exclusively for women, this website helps you find women travelers and allow these meetings to blossom into new friendships. All you have to do is create a profile, add a description & take a personality quiz and you are good to go.
● Flip the Trip – Flip the Trip is available in more than 4500 cities all over the world with about 19000 members. This website will connect you with other travelers and locals who are at the same place as you are. You can get in touch with them over dinner or a cup of coffee and have a great time. There is also an option for you to connect with future travel buddies when you are planning a trip.
● TripIt – TripIt helps you connect with and coordinate your travel plans with a group of like-minded travelers. In this age of social media, the whole world is connected with you at the tip of your fingers and with TripIt you are never alone. Not only it helps you meet new travel companions, it also converts your flight and other travel confirmations into mobile itineraries where you can access them instantly.
● BeWelcome – BeWelcome is similar to other social travel sites i.e it helps you connect with locals, provide you with relevant travel recommendations and help you find a place to stay. But the profile you create here is more detailed and you have to answer a number of questions. This is done to understand your preferences better.
It will be useful in finding you a host who best matches your needs and there are no misunderstandings later. There is also a review page where people share their experiences with different hosts. This helps you in the process of shortlisting even better.
● Backpackr – When traveling solo, there comes a point where one craves for human company. You want to talk to people and share your experiences. Walking up to someone and just talking to them seem like a bad idea though. If you are such a solo traveler who wants to find other travelers in the area who want to explore places and do the same thing as you, Backpackr is the ideal choice for you. And you don't have to actually be a backpacker to use this website, it is for every traveler.
● Showaround – Showaround is a great website to meet locals all over the world. This website will help you experience the true beauty of a place and explore hidden gems via an insider's or local's perspective. Usually when you travel to an unknown place, all the information you get is through the internet or other resources. And more often than not, may be the best part of the city generally gets skipped. Unless you have someone who knows the place really well, your trip would remain incomplete. Showaround website is a great way to see places and do things that you wouldn't while traveling solo. The website also connects you with travel guides whom you can hire if you want a more planned trip of the city you are visiting.
Conclusion
There are so many benefits of traveling solo. But traveling alone without interacting with anyone defeats the purpose of travel. We need to embrace the culture of the place and form long term friendships with people we meet on the way. The easiest way to talk to strangers is to just walk up to them and start talking, but this isn't as easy as it seems and for introverts, it's even harder.
This is where these amazing social travel websites come in the picture. They help you meet like-minded people while traveling and make your trips even better & memorable than you originally planned.
Make this trip the best one of your lives. Visit us at www.xoxotours.com.