When planning your wedding, you want to make sure that your day is memorable. There may also be a long list of traditions you want to incorporate into your wedding. Wedding traditions can be based around religion, culture, or family and can hold special meaning for you and your guests.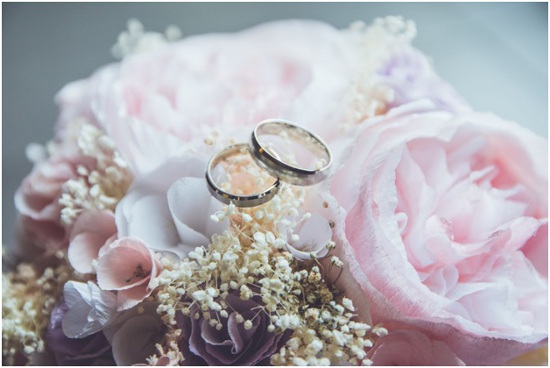 Just because you are using some old traditions doesn't mean you can't spice them up to give you and your guests a unique experience. This also makes it special for you and your new partner. There are a lot of ways you can incorporate classic traditions into your special day while still having a modern flair.
First Look
One tradition that is changing is the idea of not seeing each other before walking down the aisle on the wedding day. A lot of couples now opt for a "first look" moment before the ceremony where they see each other, ready for the day, ahead of time. The walk down the aisle will still be emotional either way.
While you may have to get ready earlier than anticipated to make time, there are several benefits to the first look. First, it is easier to get a photo of the moment you see each other than during the walk down the aisle. You can also get the majority of staged photos out of the way before the ceremony, which means more time after the wedding to enjoy your celebration.
Serve Family Favorites
When deciding what to serve at your reception, going with family favorite dishes can make your day feel more personal. You can even name some dishes after your family for fun. For example, if incorporating a traditional lasagna dish, you can call it the "Smith Family Pasta."
If you want to incorporate something smaller like a family cookie recipe, you can use it as a favor for guests to take home from the wedding. This is not only a special sentiment, but it can also save on costs. This can be a fun way to include your family and friends into family traditions while your life is changing.
Have a Reception Dress
Having a separate dress for your reception is not a new idea. However, it is an excellent way for you to have fun at the reception. Typically, your wedding dress is heavier than you might like for dancing. If you are having a more traditional wedding, you might have a floor-length dress, but for your reception, you might want something lighter and easier to move in.
Changing the dress can also keep your ceremony dress clean as some brides tend to get their dresses dirty during the reception. You can choose a reception dress that is similar in design to the wedding dress or completely different. It's really about your personal style.
Plant a Tree
In some countries, it is traditional for a couple to plant a tree at their wedding. Having a wedding tree is a great way to symbolize the strength and longevity of your marriage and relationship. There is no correct way to do a tree-planting ceremony. Typically, however, the couple will choose a tree or shrub important to both of them and then plant it in a large pot together and water it.
Different types of trees represent different aspects of the relationship. Some popular choices are
Oak – which represents life, health, and family unity
Bamboo – which represents flexibility
Birch – which represents adaptability and new beginnings
Unique Bridesmaids Dresses
One great way to add a unique flair to your wedding is to let your bridesmaids choose their dress. There are many different ways to let your bridesmaids bring some of their styles to your wedding. You can choose a color and allow your bridesmaids to choose the style of dress they want in that color.
You can limit the styles to a degree by asking your bridesmaids to choose short or long skirts or request they all have shawls. You can even allow your bridesmaids to choose different colors within a palette so you know they will flow together but still allow them to choose colors and styles that are flattering to them.
Add Your Spin
However you choose to celebrate your marriage, the ceremony needs to reflect you and your partner's values. There are a lot of traditions that can transform into stunning modern representations of your relationship. Consider incorporating some updated traditions to your special day to make it as unique as your relationship.