It is often argued (and with good reason too) that the dining room is the most important out of all the rooms in a home. After all, this is the room where family members gather for a meal and also to sit and chat about the latest ongoings in each other's lives. The dining room is not just a room for eating, but a space for people to interact and socialise with one another without unnecessary distractions.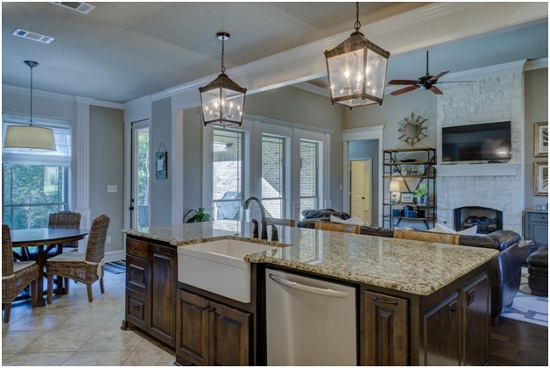 But, what is it that makes a dining room so important?
It may sound surprising, but out of all the rooms in a person's home, it is in fact the dining room that tells a lot about the people residing in the house. It is said that the layout, design and ambience of the dining room has the highest impact on the people who visit, namely friends and family as well as acquaintances and guests. When people visit someone's home, it is the dining room that they form their initial impressions of the host, the family of the host and the very home that they have just entered.
The dining room is a space where people get to connect and interact with one another. An ideal dining room is one which not just makes people feel welcome, but one which also provokes curiosity and intrigue among the people who visit. The dining room, its design and the overall atmosphere it creates should inspire a conversation and make guests and visitors feel that they are part of more than just a meal with the people they know.
Moreover, the dining room should be designed and outfitted in a fashion that is a representation and reflection of the personality, lifestyle and emotions of the home's residents. This article from Good Housekeeping talks about ways you can enhance your dining room with an expansive selection of dining room decor ideas. After all, a dining room should ideally serve both aesthetic as well as functional purposes.
Nowadays, it is being increasingly seen that in many homes the traditional concept of a dining room is done away with, with many people preferring a more open layout, often including a 'kitchen island'. However, even with the radical changes in the layouts to dining spaces, the importance of this space for not just enjoying a meal but for people to spend time together amid pleasant surroundings remains unchanged.
In today's world, we are spoiled for choice when it comes to the things we can do to deck up our dining spaces and truly give them a life and character of their own. In this blog, we take a look at some of the diverse dining room furniture styles you can choose from:
1. Formal
Nowadays it is becoming increasingly rare to see a dining room in a truly formal style. But, the good news is, the formal dining room style can be replicated even if the room isn't separate. The defining feature of the formal dining room is the elegant furniture, which is usually a set of matching pieces. Even though rectangular tables are the norm, it is not unusual to see round or oval tables. Furniture pieces in this style are elaborate and can even have ornate designs. To complement the dining table and chairs, there may be a cabinet or sideboard for keeping crockery. The formal style also extends to accessories such as tableware, cutlery, napkins as well as decorative pieces.
2. Traditional Family
The traditional family style dining room, in contrast to the formal style dining room, is one that creates a less formal and more intimate dining ambience. The characteristic features of this style include smaller tables which are typically round, and this serves as a subtle reminder to diners to socialise, make conversation and exchange ideas. The traditional family style uses both dark and light coloured shades of wood, and the softer lines create a more casual atmosphere. There are often mix-and-match accessories and decorative pieces.
3. Farmhouse
The farmhouse furniture style is designed to be less formal. It often has heavy as well as rustic furniture, which serve to convey a feeling of stability and reliability. Stained wood and mainly white painted pieces are characteristic of this style. As regards seating, benches at the dining table instead of individual chairs enhance the overall aesthetic. Furniture pieces that show signs of wear are an integral part of this style, as is the use of vintage furniture pieces. Other design elements include freshly cut flowers, hanging herbs or hanging baskets.
4. Cottage
With its relatively informal approach to dining room design, the cottage style evokes a feeling of comfort and cosiness. Having a cottage style look for your dining room will create an atmosphere of homeliness and warmth. This style uses whites and other soft colours and lines, and the furniture is intended to encourage conversation and make people feel free and easy at the table. The cottage style often includes rare or unique pieces of furniture which go well with natural design elements such as floral patterns. Additionally "well-worn" furniture, fixtures and accessories significantly contribute to the overall warm and casual ambience.
5. Beach
The beach style, which is also known as the coastal style of furniture, is one which creates an atmosphere of openness, calm and glee. This style brings the feeling of the seaside to the dining room. In this style, it is normal to see furniture pieces that replicate the appearance and texture of wood that is seen on old boats. The beach furniture style primarily uses natural materials, with whites and blues being the most commonly seen colours, with touches of navy blue and bright red. This furniture style also uses mix-and-match accessories and decorative pieces.
There are numerous furniture styles to choose from! So, if you are looking for a dining table set in Kolkata, Artyz is sure to have something that is perfectly in sync with your requirements. Artyz is proud to offer you an extensive selection of furniture that suit a vast range of tastes and design aesthetics. Artyz is a one-stop solution for home furniture in Kolkata, with a premium selection of furniture made only from the finest quality materials.