Smart technology has made its way into every aspect of our lives. From smartphones to smart cars the upgrades in technology are really changing the basics of everyday life. Recently smart technology has made its way into our kitchens. By embracing features such as voice controls, smartphone controls, and Wi-Fi-connectivity, smart technology is changing the way we prepare our meals, clean our kitchens, and store our food. Check out these smart kitchen appliances that will make your time in the kitchen more efficient and enjoyable.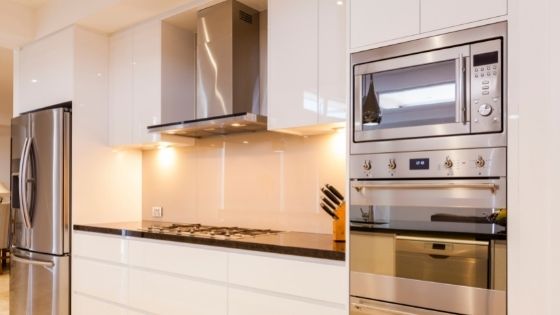 Smart Range Hood
Most homeowners do not realize the extra benefit that their range hood provides. The range hood filters out indoor air pollution caused by cooking at high temperatures. It also removes leftover odors from cooking stinky foods. Despite its many benefits, the range hood is often forgotten and rarely used. With a smart range hood, homeowners don't need to worry about turning on their vents. Instead, sensors in the hood automatically turn on the fan when a specified temperature is reached. The fan will also turn on automatically when the sensors detect too much grease or steam. When temperatures return to normal or enough grease and steam is removed from the cooking area, the fan will automatically turn off or slow down. In addition to venting the cooking area, smart range hoods come equipped with Wi-Fi connectivity and voice activation. This enables homeowners to turn their range hood on no matter where they are in their homes. Smart range hoods also come equipped with microphones, speakers, and video capability. This enables homeowners to view audio-visual material and even video chat while cooking.
Smart Refrigerator
No smart kitchen is complete without a smart refrigerator. A baseline smart refrigerator features remote monitoring as well as brightness and temperature control. Beyond the basic features, a smart refrigerator also includes a touchscreen option that allows homeowners to order groceries, play music, or check their calendars. In addition, smart refrigerators connect with Google Assistant or Amazon's Alexa, allowing homeowners to control their refrigerators through voice commands. High-end smart refrigerators even have an InstaView door. This feature allows homeowners to view what is inside the refrigerator without opening the door.
Smart Coffee Maker
A hot cup of freshly brewed coffee is one of the most sought-after beverages in the morning. Now coffee lovers are one step closer to their morning brew with a smart coffee maker. Smart coffee makers brew a variety of coffees either from ground beans or whole beans. Most importantly, smart coffee makers are smartphones and voice-activated. This means the timing of your morning cup of coffee can be controlled from your smartphone.
Smart Dishwasher
When you have finished making the perfect meal you'll need to clean the dishes. A smart dishwasher will make this job much easier and much faster. The most beneficial part of a smart dishwasher is its highly efficient cleaning cycles. With additional sensors that detect the amount of food on dishes as well as the size of the dish load, smart dishwashers automatically adjust the water and energy used for each individual load. Smart dishwashers have adjustable racks and enhanced drying ability so that you will be able to fit more dishes and decrease drying time. Not only are smart dishwashers more energy-efficient they are also easier to use. These dishwashers can connect to Wi-Fi and voice activation services like Google Assist and Amazon's Alexa. These options allow you to start a wash cycle, lock or unlock the dishwasher door, and enable special features with your voice or through your smartphone.
Homeowners who are interested in upgrading their kitchen should seriously consider investing in smart kitchen appliances since they are very popular with home buyers. Just one smart kitchen appliance can make your time in the kitchen easier. Whether you want more efficient cleaning, faster coffee making, or more effective cooking there is a smart kitchen appliance for you.