Today, we are living in a world that's digital – communicating with each other across various time zones is something that happens in the blink of an eye. But when it's about brokering a huge deal or even building a long-lasting and solid business relationship, nothing ever really can beat the power of face-to-face interaction.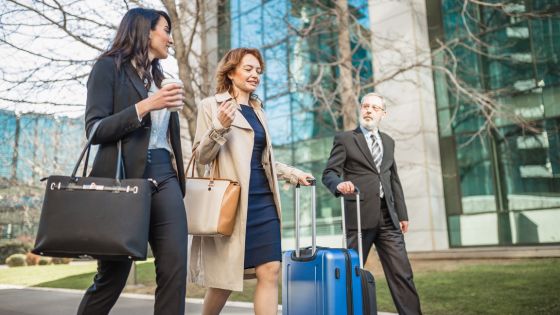 Of course, corporate travel is essential, and it's critical for professionals going on business trips frequently to prepare thoroughly. After all, when you end up arriving well-prepared and relaxed, you have a better shot at making a powerful impact – you can properly focus on the ACTUAL purpose of your business meetings.
This is precisely why planning a successful business trip is an art – so just stay tuned and find out the top tips to take into account while doing so, especially if you are new at this!
How To Plan A Succesful Business Trip – Top 3 Tips To Follow!
When you are prepared, your mind will stay focused, ensuring that your business trip works out well. This is why planning a successful business trip down to the last detail is more important than you know! So without wasting any time, scroll down to find out about the top tips to follow while planning a business trip successfully.
1. Make Travel Arrangements:
It doesn't matter whose name is present on the documents – it doesn't matter whether you have a travel manager. What matters is basically planning your business travel down to the last detail well in advance. The first thing you should do is start getting familiar with your company's corporate travel policy.
After all, you are making all the arrangements for an impending business trip – it's vital to be compliant with the corporate travel policy that your company has. The next thing that you need to do is book your travel – and if a whole team is traveling, it's always safe to hire a group charter for the business trip.
While making these arrangements, it is vital that you do not forget about the smaller details. Will you get Wi-Fi on the plane so that your team can prepare even while they are on the move? Does leaving one day prior have a better impact on the outcome of your business meeting the next day? If you put in time and effort at this stage, then the rest of your trip will be smooth.
2. Select Your Accommodation:
Making travel arrangements for your business travel is a job of only half a day, and choosing good accommodation for your different requirements is quite vital. If you and your team will travel to a single location, ensure that your hotel is close to the airport – rather than getting distracted by a location forty-five minutes away.
Do adequate research and be familiar with time – how long will it take to reach the airport from your hotel and vice-versa? Similarly, how busy are the roads when you and your team will be commuting via those routes? Go through your company's corporate travel policies and compare the rates for similar accommodation types – it's best to select deals that are fairly priced.
It is a pretty good idea to be attentive to different hotel amenities. Several tourist-focussed hotels might service breakfast either too soon or too late, or whether you will get 24-hour room service or free Wi-Fi – this way, you will know what to expect and what not to expect instead of wasting time on unforeseen issues.
3. Create A Detailed Itinerary:
Your itinerary is technically your blueprint for a long, successful business trip. You can rely on the same and stay in complete control of all details – from transportation schedules and meeting details to your hotel details and other travel reservations. Ensure that you are giving yourself some extra time for heavy traffic, delays, or even relaxation.
Of course, you can use tools that can sync your planned itinerary with your calendars while enabling travelers to share the same with the rest of the team. And this will definitely come in handy from efficiency and communication perspectives.
And It's A Wrap!
Now that you have a fair idea about planning a business trip successfully, what are your thoughts? Are you going to plan a business trip anytime soon? And if you have traveled in the same way in the past, feel free to share your experiences in the comments below.