Kitchens have always been one of the most important areas of the home, and as we move into 2023, the importance of a functional and stylish kitchen has become even more pronounced. With the ever-changing trends in kitchen design, it can be challenging to keep up with what's in and what's out. However, with a little bit of research, it's easy to find the perfect design trend that suits your needs and style.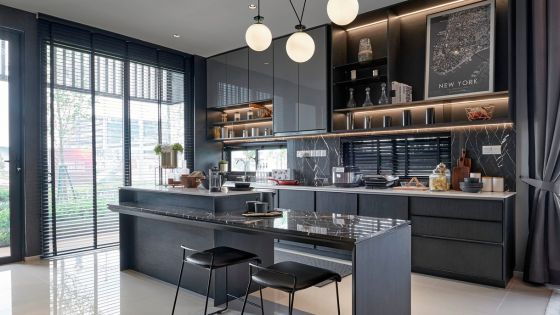 ● Minimalistic Design
One of the biggest kitchen design trends in 2023 is a minimalistic design. This trend emphasizes simplicity and functionality, and it's perfect for those who love a clutter-free environment. The minimalistic design trend typically involves using a neutral color palette, clean lines, and simple yet elegant hardware. This type of design works exceptionally well in small kitchens, as it can make the space feel more open and spacious.
● Using Natural materials
In order to create a warm and welcoming environment, this design trend emphasizes the use of elements like wood, stone, and metal. Natural materials add texture and depth to a kitchen design and can create a sense of harmony between the kitchen and the surrounding environment.
● Using Colorful Accents
Despite the continued popularity of minimalist designs, many homeowners are choosing to install more colorful kitchens in 2023. This style of decoration emphasizes the use of vivid, strong colors and may give any kitchen a boost of personality. Accessories like kitchen towels, kitchenware, and even gadgets can be used to provide vibrant accents. For those who enjoy cooking and entertaining, a colorful kitchen design is ideal because it fosters a lively and welcoming atmosphere.
● Modern Kitchens
Smart kitchens are more common than ever because to the ongoing development of technology. Technology is heavily emphasized in smart kitchen designs to simplify and improve the experience of cooking and entertaining. In-built touch displays in refrigerators and voice-activated assistants are just two examples of smart appliances that can make meal planning and preparation easier for homeowners. You can design a functional and cutting-edge kitchen with the proper set of smart gadgets.
● Open-concept design
Since they've been in demand for a while, open floor layouts are expected to remain popular in 2023. In open floor plans, the kitchen is integrated with the adjacent living areas to provide a sense of movement and continuity throughout the house. Families particularly like this design trend since it enables parents to see their kids while they prepare meals and host guests.
In conclusion, Whether you prefer a minimalistic design or a more colorful one, there's a kitchen design trend out there to suit your personal style and needs. Homeowners have an abundance of options for designing a lovely and practical kitchen, from natural materials to smart kitchens. So why not begin your kitchen remodeling right away and turn your vision for the perfect kitchen into a reality? You can build a kitchen that is both fashionable and practical, and that will last for years, with the correct design.