Phuket is one of the best holiday destinations in Southeast Asia. It is a hilly, island-town that is home to pristine white-sand beaches, crystal clear waters, lush green forests, amazing nightlife, and lip-smacking local cuisines! It is also dotted with beautiful Buddhist temples & awe-inspiring religious landmarks.
What's more is that many airlines now offer direct flights to Phuket at amazing rates. Today, you can fly to this slice of paradise for as little as 20K (round trip airfare) without the need to have a stopover at Bangkok. Things get even better – the Thai government has also announced that Indians can avail of a free Thailand visa until April of 2020. All this makes Phuket the perfect destination for your next holiday.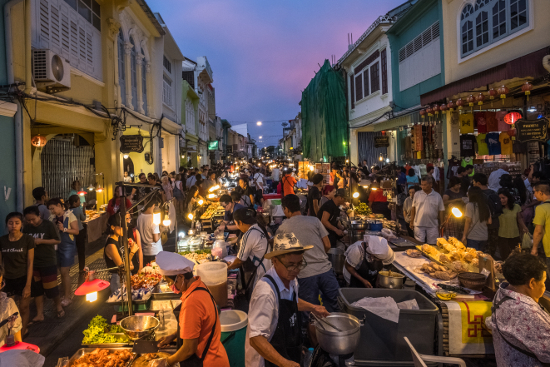 Now, when it comes to any vacation, putting together a good itinerary is extremely important. You need to figure out all the things you want to see & all the things you want to do on your trip. This can be a little tricky, especially if you've never been to Phuket before. But worry not, we've got you covered! Here is a detailed guide on the best things to do, see and taste in Phuket, Thailand!
1. Hit the beach
When you get to Phuket, the first thing you should do is unpack your stuff, put on your swimsuits and head to the beach! The only question is, which beach? By virtue of being Thailand's largest island, Phuket has several stretches of paradise you can choose from.
To begin with, you could make your way to Patong Beach – with its crowd and its hustle and bustle, it is the perfect way to get a taste of the island. Patong is also a hub for Phuket's nightlife and therefore it is also the ideal place to end your day.
If you're looking for a little peace & quiet, you could head down to Karon or Kata beach. Both are relatively calmer as compared to Patong. The vibe is also way more laidback. You can just lay down your towels and soak in the sun!
Is seclusion your thing? Then you could also head on down to Laem Ka Beach, Paradise Beach or Freedom Beach. These are more like private beaches as they are far off from the central area and very few tourists end up coming to these beaches.
2. A spiritual side
Phuket has its fair share of spiritual landmarks. Among them is Wat Chalong, which is the most important of the 29 Buddhist temples on the island. It is said to be a place of miracles. One gentleman, Ta Khee-lek, won two lotteries after praying to the Poh Than Jao Wat statue within the temple. So if you've got some wishes you want granted, offer up them in prayer, God knows, they could come true!
You could also take a short ride up to the Big Buddha Statue. The giant 45-meter white marble statue is the island's most popular landmark and affords visitors some of the most breath-taking views ever. After you're done taking in the views, you could write down a wish and tie it to the prayer tree or arrange to visit the monks who will give you a traditional Buddhist blessing.
3. Go island hopping
There are several amazing islands you could visit from Phuket. For example, you could visit the Bond Island which was made famous by the 70's spy flick 'The Man with The Golden Gun'. You could also take a longer trip to the Phi Phi Islands where you could sunbathe in one of the most iconic bays in the world – Maya Bay. Both Bond Island and Maya Bay have featured on a number of Computer and Phone wallpapers – something that's testament to their beauty.
4. A dash of adventure?
You could also get your adrenaline pumping in Phuket. You could be Tarzan for a day by zip-lining through the treetops. Or you could take a leap of faith by going bungee jumping. You could also ride the waves by going surfing or jet skiing!
5. Nightlife
If you want to meet new people, grove to some good music and dance till the break of dawn, then all you have to do is take a stroll to Bangla Walking Street. Right from the entrance, you can see a never-ending line of neon-lit bars & clubs. Here, the music doesn't stop until the wee hours of the night! You don't even need to enter a club, the beats leak onto the street and if you've got the moves, you might end up starting a street party – how cool would that be?
Getting to the food:
Phuket is a culinary delight and a treat for the taste buds. Since the town welcomes tourists from so many countries, you will find cuisines from all around the world, in addition to tantalizing Thai treats of course! Though it would be impossible to cover the entire food scene in this article, we will still go over the must-try street foods and some restaurants you cannot miss.
Let's begin with street foods you should try.
Tom Yum Goong – This is the national dish of Thailand. It is a soup that contains fragrant herbs, shrimp (goong) and mushrooms. Most vendors will also add generous amounts of chili for a little kick, so stay away from this dish or ask for less spicy if you are averse to heat in your food.
Pad Thai Noodles – These flat noodles are known the world over. Actually a Chinese delicacy, they have come to be loved by the people of Thailand and are a very common dish amongst street vendors. The dish usually contains tofu, bean sprouts, onion, and finely ground peanuts.
Som Tam (Papaya Salad) – This is another dish you will find almost everywhere in Phuket and Thailand! It is a spicy salad made from shredded papaya, tomatoes and green beans. You can also find a number of variations of Som Tam, some contain crab, some are super-spicy and some will even have pork!
Moo Ping – This is something you'll smell before you see! Moo Ping is pork satay and it's another staple dish in Thailand and you should find it everywhere in Phuket. However, stand too close to a Moo Ping Stall for too long and you'll smell like Moo Ping soon enough!
Where to get the best street food?
You can try all these mouth water delights at one of the many street food spots in Phuket. You could dig into these dishes after a shopping spree at Jungceylon Mall. Or you could give in to your hunger at Banzaan Market near Patong beach. When it comes to actual restaurants, Go Benz, Hong Khao Tom Pla, Chuan Chim and Go La are some of the most famous joints – you cannot come to Phuket and not eat at these restaurants. They are all Bib Gourmand and Michelin Plate recommended eating places.
The easiest way to enjoy a trip to Phuket.
Planning an itinerary that will include all these attractions will take a lot of time. Not to mention, you will also have to book your flight tickets, arrange your Thailand visa, reserve your hotels, get your internal transfers sorted and much more! All-in-all, it can turn into a real task. Well, you could simply book yourself a Phuket Holiday package instead. This will ensure all your travel needs are sorted out and you just have to show up for the flight on time.
I hope this article has been helpful, good luck and happy travels!