I'm staying in my hometown for college but a lot of my best friends have chosen to go to universities out of state. Because I don't live on campus, I haven't really had the opportunity to meet a lot of new people. One of my professors actually recommended that freshmen try using apps as a way to make new friends, but I wasn't really having any luck in my search. There was a lot of information on the Google Play and Apple Store pages but it was a lot to sort through and I'm super busy now with classes.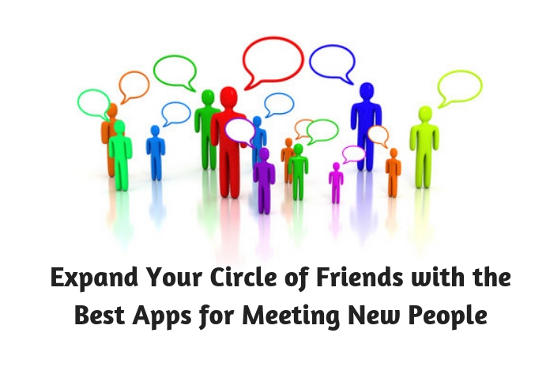 I was about to give up when I accidentally came across this website called AppGrooves. I'd never heard of it before, but it has a top 10 list of the best apps for meeting new people (how convenient is that?!) so I decided to take a look.
Best Apps for Meeting New People
Finding this list has seriously changed the game for me. I found so many good apps that, when I sat down to write this review, I had to break them up into two categories because there were so many of them. I really wanted to be able to provide you with a thorough overview of exactly what exists out there in terms of apps for making friends because my own experience trying to find them (before AppGrooves) was a tough one. Hopefully, this will help you find exactly what you're looking for.
1. Find a Date
Get apps with more than 400 million verified users and zero fake profiles or scammers. Plus, women can make the first move, so you can avoid being bombarded with unwanted dating requests.
Apps: Badoo, Bumble, POF Free Dating App
Badoo requires that every user goes through a strict verification process before they are allowed to use the service which keeps scammers at bay. And, with more than 400 million verified users, you can easily find someone near you that you want to chat with. Just know that if this is your first time using the app, you will have to go through a verification process before you can start meeting people.
Bumble eliminates unwanted dating requests because women are the ones who get to make the first move. Immediate communication is encouraged with matches that will disappear if a conversation isn't started in the first 24 hours. You can also opt for friends-only matches to eliminate the people looking for dates. Keep in mind that guys are more limited in terms of messaging because the woman must start the conversation first.
POF lets you send unlimited text messages to other people at no extra cost. You can filter the profiles you've matched with using various features in order to easily find your best matches. Not to mention, you can quote part of their profile as a fun way to introduce yourself and start the conversation. While there is a system in place to prevent it, know that some fake profiles can occasionally make their way onto the site.
2. Make New Friends
With no-flirting policies, you will only meet new people who are interested in being friends and nothing more. You can also chat with people using live video chat for a more personalized social experience.
Apps: Patook, MeetMe
Patook has a no-flirting policy, so only users that are interested in platonic friendships are allowed to use the app. You can find people who share your interests by using a point system that compares your profiles and lets you know how compatible you are together. There's also a community discussion board for a variety of topics that you can chat about. Just be aware that sometimes sending too many messages in a row can be mistaken as inappropriate behavior.
MeetMe is another great choice, whether you want to meet new people near you or meet people from the other side of the world. You can chat via text message as well as live video chat for a more engaging experience. Plus, you can pick from countless interest categories to find someone who likes the same things you do. However, MeetMe does not have a no-flirting policy, so you may come across people who are looking for a date.
Conclusion
Seriously, if you are considering trying an app to expand your friend group, these are the ones to use! I've been really successful using these apps and now I have tons of friends I can hang out with on campus in between classes. If meeting new people is something you want to do for yourself, definitely give these apps a try.