For a restful sleep, comfortable clothing is extremely essential. After a long day of work, everyone wishes to unwind in the most comfortable and relaxing clothing. There are night suits available in various fabrics, prints, patterns and colours to keep you cosy and stylish at the same time. The best part is that you can wear them as loungewear around the house and outdoors.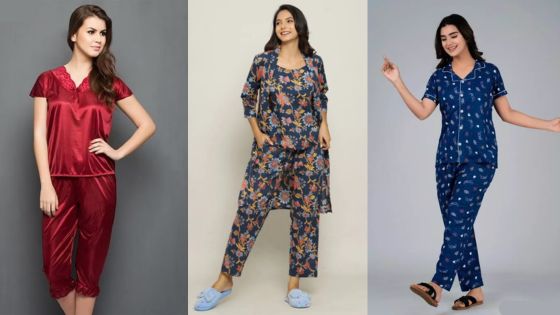 Here are a few types of night suits every woman should have in her closet:
1. Cotton night suits: Night suits in cotton fabric are the most suitable nightwear. These lightweight and flowy night suits are breezy and perfect for those warm summer nights. Cotton pyjamas combine comfort and style effortlessly.
2. Silk night suits: Silk night suits are effortlessly chic and perfect for women with sensitive skin, as silk is hypoallergenic. These sets are available in bright colours and prints. These night suits are available in long and short pajama lengths.
3. Satin night suits: Satin night suits are made from a man-made blend of nylon and polyester. These night suits come in vibrant prints, colours and various lengths. Satin night suits add a playful elegance while ensuring utmost comfort. These come in sleeveless strap designs and full- and half sleeves.
4. Maxi gown: These maxi gowns are mostly made of lightweight fabrics such as chiffon, satin, silk and cotton. These gowns provide the utmost comfort while providing space for movement. Women usually opt for cotton maxi gowns or long nightdresses as they don't restrict body movements and enable ventilation.
5. Nightgowns: Cotton nightgowns are the most preferred nightwear among women. These are also available in fabrics such as chiffon, satin and silk. Women can select the type and fabric of nightgowns as per their choice. Young girls and women may opt for knee-length gowns for enhanced comfort. You can find them in a wide range of bright prints, patterns and colours.
6. Comfort shorts: These cotton shorts paired with cotton T-shirts are best for running errands. Cotton shorts paired with bright and funky T-shirts can instantly elevate your style and comfort. These combinations are available online in a wide range of bright prints, patterns and colours online. Cotton shorts keep you cool and comfortable in hot and humid seasons.
Key things to consider before purchasing nightgowns
The choice of night suits is affected by factors such as age, weather and level of comfort required. Libas is a great place to buy versatile night suits. From gowns to coord sets, they have got everything. Plus, the brand is size-inclusive, which allows women to find their perfect fit. So, check out their extensive range online and shop the best sleepwear for yourself.