Lockets are an interesting fashion accessory. They are ruling the current jewelry trends due to their simplicity of pairing well with any kind of stylish or ethnic outfits. These amazing accessories are useful to glam-up your everyday look. They can be worn by women from all age groups. Moreover, they are available in a range of stunning designs.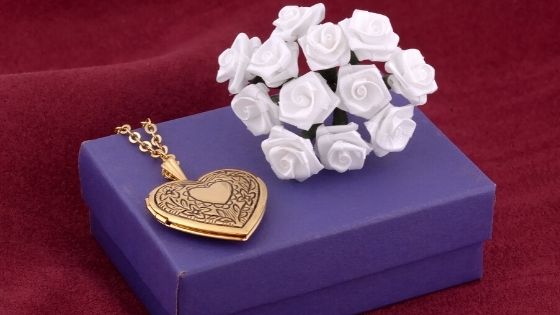 So, if you a locket lover then you must try out the top locket designs mentioned below:
1. Simple Diamond Locket Design
Diamonds have the charm to beautify your look. These simple diamond lockets are incredibly elegant. They boast a pretty appeal that can go well with any kind of ensemble. Without a second thought, you can try this locket. With a sparkling diamond radiating its finesse, this beautiful locket makes a perfect choice for expanding your accessory collection. Want more? These statement pieces are available at highly affordable prices.
2. Heart-Shape Locket Design
Express your heartfelt love for your partner with this pretty heart-shaped locket design. If I am not wrong, every girl or woman desires to own a heart-shaped love locket. This gorgeous neckpiece looks beautiful with both the ethic and western outfits. Wear this locket and amaze everyone with your style.
3. Photo Locket Design
These custom locket designs are a unique fashion accessory. Get a picture of your loved one imprinted in a locket and make them stay always near to your heart. Be it Valentine's day, or anniversary gift, this lovely locket is an amazing choice. Team them with your casual outfits and let people turn their heads to notice you.
4. Pearl Locket Design
Pearls are favorite to every woman. Exquisite and pretty, wearing pearl locket is the best way to grab attention in the crowd. These lockets provide a luxurious feel and add a statement to any stylish outfit. Moreover, for pearl lockets, you find a lot of inspiration online. You even find celebrities flaunting pearl lockets on the red carpet.
5. Broken Heart Locket for Couple Design
These lockets are unique in their own way. However, these are perfect for love birds. Wearing this locket will always remind you of someone special. Every time you'll wear this locket you will be occupied with the unending feeling of love. If you are one of those couples looking for a perfect gift, then go for this amazing broken heart locket.
6. Gemstone Locket Design
The last one to our list is the gemstone locket. You will never get enough of wearing this locket. The gemstone lockets are studded with sparkling gemstones which you can get customized as per your taste. You can find these lockets embellished with rubies, emeralds, or other precious stones. These lockets never go out of style are perfectly crafted to jazz up your look.
Don't these locket designs sound amazing? Each of the lockets mentioned above is unique in its own way. From minimal to intricate there are various designs. You are just a click away from your perfect locket design. Check out the widest range of lockets on Melorra.