There's something to be said about how Portable Document Format files aren't the best files to edit in. Sure, common edits like adding text, affixing the signature, and annotating are easily done, but they still wouldn't naturally meld well with the document's natural flow. That's why it's important to know the proper processes of convert pdf to PowerPoint and to other more editable file formats.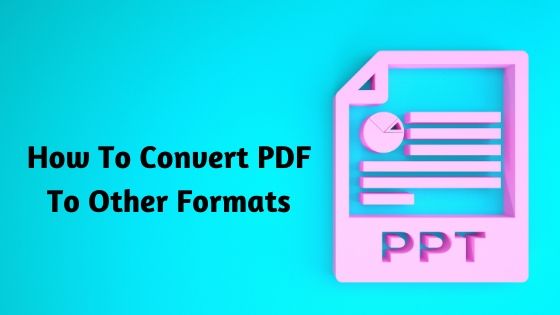 In this article, we've listed down two of the more popular conversion processes that take place when PDF files are involved. Take note that these are not the conversion types where you need to transform MS Office files to PDF, or default iWork apps on Mac to PDF. This is the other way around. When you are sent a PDF file to edit, you need to do heavy editing that you would need to convert the file into a more word processing software-friendly format. Here are tricks to do just that:
PDF to Word
One of the most common PDF conversions on the planet, turning a PDF file to Word, maybe a simple and arbitrary process, but most people don't know that the process behind it is pretty complicated. Sure, at the user interface's end, you just need to click on the "Convert To" or "Convert" option, but there's actually more to it than that.
With Word or Pages, if you are a Mac user, converted to PDF, it's an easier process because it just flattens the text and locks in the original formatting. If you are going to do it vice versa, which means having a PDF converter to Word, the PDF file needs to be checked for other elements like images, icons, vectors, etc. There are two options for how you can go about the conversion.
Conversion
The first flattens everything and risks a high chance that the resulting Word document will be an assortment of text and images just pasted together. The second is to convert everything in a way that text can be editable like an original Word document. Lucky for users worldwide, they don't need to rely on powerful PDF editors to do this nowadays. With PDF Bear's PDF converter to Word application, you can easily turn PDF to editable Word format:
Go to PDF Bear's site. Choose the PDF to Word application.
You'll be directed to an "Upload file" interface. You can click on that or drag and drop the file you want to convert. You can do one file or several, to save some time. Pro tip: Make sure the PDF file isn't broken.
Wait for the uploader to finish uploading the file. If it's less than 25MB, the process should not take more than three minutes. If it is a larger file, the upload time may lengthen.
Once the upload stops, the web application will automatically identify and convert text and images from the document's scanned pages. You are then asked what type of conversion you want to do. Choose the one with the OCR option. This way, you'll have an editable Word document after.
Wait for the application to do its job. Make sure you have a stable internet connection while undergoing the process.
PDF to Excel
The process of converting PDF to Excel runs similarly to the instructions mentioned above whether you are converting using browser-based applications. But if you are using standalone software, the process is a bit different. Converting PDF to Excel can sometimes be a controversial choice because not many PDF documents hold tables and numbers, as well as formulas in it. But once in a while, if you are working with PDF files every day, you'll find yourself with one.
Conversion
When you do, it's important to know that converting PDF to Excel yields a very different approach when compared with converting to Word. Excel files don't necessarily follow the same word processing algorithm that the former document format does.
You need to identify the tables and sheets that you need to convert. If possible, extract those pages separately first. This way, your resulting file will be purely Excel.
After that, upload the extracted PDF files to PDF Bear's PDF to Excel converter. Take note that the uploading process here will take longer. This is because the application identifies the file contents first.
The web application will automatically turn the PDF file into Excel spreadsheets. Download the file, then check it for errors.
Takeaway
While it is true that PDF files aren't the easiest format to do organic edits on, it can actually be a pliable file format if you know what to do with it. Of course, the first course of action is to turn it into the file formats listed above. PDF conversion is, in itself, just one of the many mundane tasks that anyone can do without so much so as lifting a finger. So when you find yourself in a situation where you need to convert PDFs, heed the advice above.