School bags may seem like a fun thing for kids, as they always want the trendiest one. It can help them carry their books, lunch, water bottle, and everything in one place. But do you know about the adverse effects a simple school bag can cause to your kid? It can cause several health issues if not selected with care. So, it would help if you give extra attention to a few things while choosing one for your little one. You must consider these five factors while buying school bags online if you want your kid to remain healthy.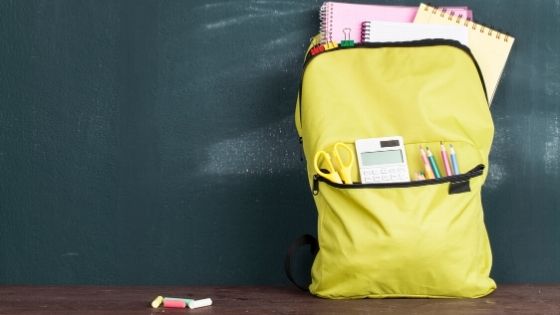 #1 The Number Of Straps Matter
Your kid may want to go for a single strap bag that looks cool. But you should know that it can harm their developing bones while creating a problem for their spine. Plus, only two straps are not enough. Here are some strap features you must look for in your child's school bag:
Check if the straps padded or not. Padded ones add to the support and do not put much stress on their shoulders.
Check for adjustable straps. Adjustable ones help in modifying the bag according to the weight of things inside.
Wide straps should be your priority as they loosen up with the weight factor.
#2 You May Go Wrong With The Size
Many parents buy bigger school bags for their kids, hoping that it would be used for a longer time. And this is where they go wrong. The best backpack for your kid is the one that has its centre fall at the kid's waist level. If you have the adjustable straps, you can modify the size. In addition to this, you can opt for bags that have an adjustable waist belt. It will provide extra support to the weight. You can check out a school bag size guide to find the right fit.
#3 Find The Pockets And Slots
If your selected bag has only one pocket, your kid may feel uncomfortable. Look for school bags that have extra pockets and slots which evenly distribute the weight throughout the bag. Along with this benefit, the compartments will help your kid find their things quickly in school, making the bag extremely useful for them.
#4 Quality Also Matters
Many people look over the quality factor because of the price while looking for a school bag for their kids. Never make this mistake. Best brands make quality bags that are fit according to your kid's health. You may not even have to look into other factors while considering a high-quality branded bag.
#5 Check The Frame
Every bag has a different frame design. It would be best if you look for school bags with the most suitable frames according to your kid's requirements. This frame will help them with extra support on their shoulders and spine; so, they will not feel uncomfortable while carrying them.
After considering all these factors, you can pick the best school bag for your kid. But that is not where your job ends. You have to keep in check how much weight your kid carries in their school bag. The school bag weight directly relates to their health. Make sure that they do not carry unnecessary things. Take care of all the above-mentioned points and make a perfect buying decision.