Various household chores are involved in the routine, and grocery shopping is one of them. Though grocery shopping is no rocket science, it can take a significant amount of time, energy and money if not done smartly. Thanks to the internet and advanced technology, there's a need to spend hours, extra money and energy on grocery shopping. You can buy your groceries online from an online supermarket and avoid all the hassles typically involved in offline grocery shopping.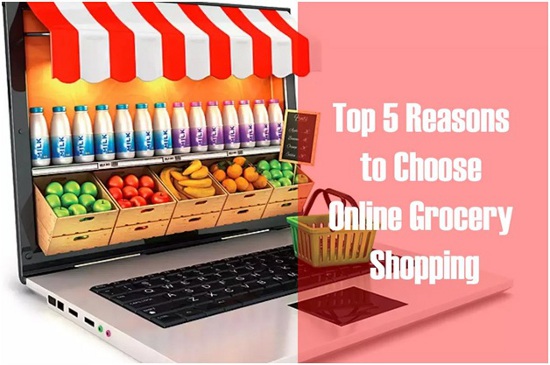 One might argue why buying groceries online is a big deal when they can buy from the local grocery store. But if you take a keen look at it, offline grocery shopping is very inconvenient, especially for working professionals who work 5 to 6 days a week and follow a hectic schedule. Even a few hours and a few hundred bucks can make a lot of difference if you consider the frequency of shopping. Therefore many people are switching to online grocery shopping. If you haven't done it yet, here are the top 5 reasons to choose online grocery shopping over buying from your local grocery store.
1. More convenient than offline grocery shopping
Imagine you are enjoying your relaxing weekend time, and suddenly your partner reminds you that you need to buy your monthly groceries today. Suddenly, the thought of getting ready, booking a cab, and commuting to the supermarket through the rush hour traffic started running through your mind. Every working professional would agree that the weekends are for relaxation and enjoyment. They prefer to spend their time on things other than grocery shopping. This is when online grocery shopping comes to the rescue.
You don't have to go through the hassles of offline shopping when you buy your groceries online. No need to step out of your home, fight the city traffic, or spend hours looking for groceries and waiting in the checkout lines. You can buy groceries from online grocery shopping websites or apps and get them delivered to your home. You can search for individual products and quickly add them to the card, pay for your order and get a superfast delivery at your doorstep. It can save you from the physical and mental stress involved in offline shopping.
2. A large variety of top brands and products
When you shop from your nearby supermarket or grocery store, there is no guarantee that you will get the things you need. Most offline grocery stores only stock basic items like rice, wheat and lentils. That means you may not get the various products you need, like brown rice, mozzarella or cheddar cheese, and many other things. On top of that, local grocery stores often sell unbranded goods that they source and package locally. It can raise questions about the quality of the product and packaging. There are many cases where unbranded products are adulterated with low-quality material and do not even match the basic food safety requirements. It can lead to various health risks and can waste your money too.
On the other hand, online supermarkets have a wide range of products available. You can quickly get the products you won't usually find at your local stores. Online grocery stores only sell branded, packaged and sealed products. These brands are reputed among the masses and known for their top-notch quality. That means you can be assured of the quality when you buy from online grocery stores in India.
3. Plenty of ways to save money
Who wouldn't like to save a few bucks at the end of the day? If you have bought groceries before, you know monthly groceries can take a substantial chunk out of your payday. Thankfully when you buy groceries online, there are plenty of ways to save money. First, you can compare the prices of products from different brands and choose the one that suits your budget. Comparing the prices can give you the best deal on your purchase. You are more likely to get a free home delivery for your order, which means you can save money there too. You also don't have to commute to the supermarket by hiring a cab or pumping fuel in your own car, which helps you save more money.
Many online grocery stores offer various discount deals and coupons for new and regular customers. You can use these deals to get a discount on your orders and save money on your final bill. On top of that, during festive seasons like Diwali and Christmas, most online grocery stores offer various festive discounts on grocery shopping. Therefore, it would be wise to buy your groceries online and save money.
4. Superfast home delivery
If you are throwing a dinner party or have a family function at home, you may not get enough time to go to the market and buy groceries. Thankfully, when you buy groceries online, your groceries get delivered to your doorstep within minutes. All you need to do is take your smartphone, search "online grocery delivery near me", and you will be presented with various options. Pick the one that suits your needs the best and add the groceries to the cart. Once you provide your address and make the payment, your groceries will be delivered to you within a few minutes. So whether you are planning to buy your monthly groceries or need something immediately, it's best to buy it online and get superfast home delivery.
5. Save a lot of time
Time is always of the essence for working professionals. As they work for 5 to 6 days a week and 8 hours a day, they may not get enough time to go to the supermarket and spend hours buying groceries. It can surely take 3 to 4 hours of their time. But you can save a lot of time by shopping for groceries online.
You don't have to spend hours stuck in traffic, waiting at the checkout line at the supermarket and travelling back home. Instead, you can place your online grocery order and get it delivered to your house within a few minutes. This way, you can enjoy your weekend peacefully without any headaches from grocery shopping.
Online grocery shopping is indeed a great upgrade from offline grocery shopping. You not only save a lot of your money, but you also save a lot of your energy and time. On top of that, you are assured of the best quality products and timely delivery so you can put on your favourite TV show or money and enjoy your time while your groceries get delivered to your home.