Just as the name suggests, the cherry blossom tattoo resembles a beautiful flower of many trees that commonly grows in Japan. In this country, they are well known as Sakura and Japanese cherry. They are very beautiful and they stand for the delicacy of life and renewal despite withering and dying within two weeks of their blooming.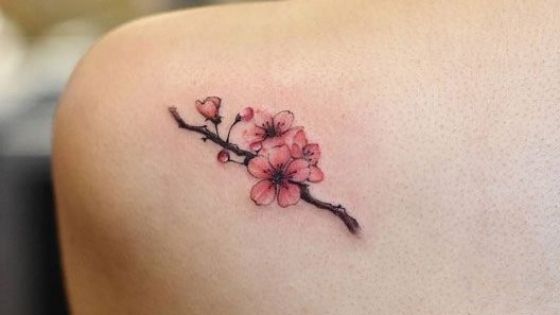 When tattoos are carved, they are meant to stay for a long time while keeping people motivated and inspired all through the end of life. The cherry blossoms hold so much meaning not only to the Japanese and Chinese cultures but to many tattoo lovers. Here are some popular cherry blossom tattoo designs:
1. Japanese Cherry Blossom Tattoo
They are usually accompanied by a Japanese phrase or a traditional Japanese symbol like a yin yang. The same goes for Chinese cherry blossom tattoos.
2. Minimalist Sakura Tattoo
A minimal Sakura tree tattoo design would appear just fine with a simple cherry blossom line drawing. You only need to include falling petals to complete the look. You can also color it or decide to keep it monochromatic.
3. Branch Tattoo
The cherry blossom tattoo becomes even more realistic when it has branches. Branches with flowers that are dotted will complete the look!
4. Small Cherry Blossom Tattoo
Those people who don't like revealing their tattoos can go with this choice. They perfectly fit on the finger or ankle.
5. Watercolor Cherry Blossom Tattoo
Those looking for the perfect trend should go with this one. An amazing result would be combining it with the cherry blossom flower tattoos. According to Glaminati, perfect combination!
6. Cherry Blossom Flower Tattoo
This one would just be outstanding with or without the branches. It has been voted as one of the cutest flower tattoos out there.
7. Hummingbird Cherry Blossom Tattoo
Birds love flowers for one good reason. Nectar! A cherry blossom tree tattoo can be accompanied by a hummingbird, butterfly, or dragonfly.
8. Wrist Tree Tattoo
Those who want to get permanent bracelets can get a bracelet-like band of cute little blossoms carved around their wrists.
9. Cherry Blossom Shoulder Tattoo
"Way too sexy" has been the new theme in town and blossom tattoos worn on the shoulder have come to back this up. One just needs to wear an off-shoulder, halter, or sleeveless to show them off.
10. Cherry Blossom Sleeve Tattoo
It must be nice to walk around in town with beautiful branches and flowers twirled around your arm like a sleeved sweater.
11. Tree Back Tattoo
The design offers a bigger and bolder look. It also has more surface area and a bigger cherry blossom tree that has its petals being blown away by wind can be the perfect fit for a creative back tattoo.
12. Cherry Blossom Side Tattoo
The side of the rib could be one tricky place to place a tattoo but considering the pretty outcome, it's worth spending more at the parlor.
13. Cherry Blossom Thigh Tattoo
Colorful tree branches and small flowers going all the way up to the hip would make for a cute thigh tattoo. Others would prefer to extend a little bit to the rib cage and that's perfectly fine.
14. Cherry Blossom Leg Tattoo
The leg offers an array of places to carve a nice, unique tattoo. The cherry blossoms would glitter at the ankle, calf, or thighs.
15. Cherry Blossoms Foot Tattoos
This can easily replace an anklet made of flowers and most women will most certainly like it. The side of the foot could also be a perfect place to carve a floral tattoo.
16. Realistic Cherry Blossoms Tattoo
Uniqueness is key to standing out from other people. Since botanical tattoos have been the trend lately, rocking colorful cherry blossoms seems to be the way to go.
17. Black And White Cherry Blossom Tattoo
It is said that achromatic tattoos tend to be more meaningful than brightly colored ones. Cherry blossom tattoo designs that are black and white have something to do with in-depth beauty.
18. White Cherry Blossom Tattoo
They might not be as popular as their pink and red counterparts, but they make for a good choice if someone doesn't want to be too mainstream. Subtle and beautiful at the same time! For those looking for a cheap and reliable essay writing service, there are plenty of options available.