Family is at the heart of every celebration. Be it a festive occasion or a simple get-together, our loved ones always hold a special place in our hearts. This festive season, why not celebrate the spirit of togetherness and create lasting memories by adorning your family's wrists with watches from Titan, a name synonymous with quality, style, and craftsmanship?
Through this guide, explore the diverse range of Titan watches suitable for all ages. Ensuring that every family member finds the perfect timepiece to complement their unique personality and style this festive season.
Timeless Elegance for Parents with Raga and Edge
As the pillars of the family, parents deserve something truly special. Titan's Raga and Edge collections cater to the sophisticated and elegant tastes of moms and dads alike.
For moms, the Raga collection offers a blend of traditional and contemporary designs, showcasing intricate details and the sparkle of Swarovski crystals. These watches are a testament to timeless beauty, making them an ideal choice for women who appreciate elegance.
Dads, on the other hand, will find their match in the Edge collection. These watches are designed for men who value precision, innovation, and sleek design. Whether it's the ultra-thin variants or those equipped with advanced chronograph features, Titan Edge watches represent a fusion of cutting-edge technology and minimalist style.
Raga Chic – Mother Of Pearl Dial Metal Strap Watch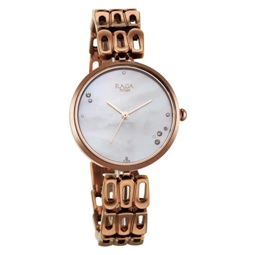 Titan Edge Blue Dial Analog Leather Strap Watch for Men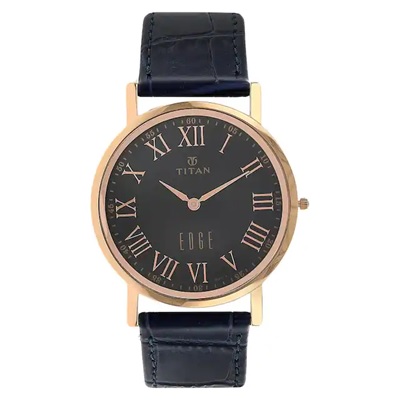 Playful and Vibrant for Kids with Zoop
Children bring a special kind of joy to every family gathering. Titan's Zoop collection captures the essence of childhood with its playful and vibrant designs. These watches come in a variety of themes, colors, and characters that kids love.
Zoop Marvel Red Dial Quartz Analog Watch for Kids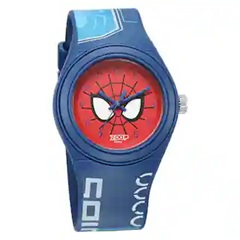 Whether your child is a fan of superheroes or cartoons, there's a Zoop watch that will put a smile on their face. These watches are not just accessories; they're a reflection of a child's unique personality and interests. By gifting them a Zoop watch, you'll encourage them to embrace their individuality and express themselves in style.
Bold and Adventurous for Teens with Octane
Teenagers are in the exciting phase of self-discovery and personal style development. Titan's Octane collection is perfect for teens who appreciate bold, adventurous, and sporty watches. These watches are designed to capture the essence of speed and precision, appealing to the active and dynamic nature of teenagers.
Octane Aerobatics Black Dial Nylon Strap Watch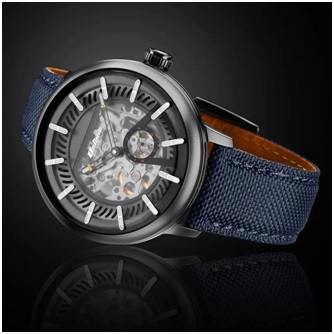 The Octane collection offers a variety of designs and features that suit a vast range of preferences. Whether it's the rugged look, the sporty appeal, or the high-performance functionality, teens will find a timepiece that complements their evolving style.
The Workaholics
Every family has that one adult who is all about their office and works- all day long. For someone who is as precise and time oriented, Titan's workwear collection is a must. Designed with precision and sophistication in mind, these timepieces are the perfect companion for someone who values efficiency and style. From elegant designs suitable for formal meetings to robust, reliable watches for everyday office tasks, Titan offers a range of options to cater to the distinct needs of your dedicated professional. Make sure your family's work enthusiast is well-equipped with a Titan watch that matches their commitment to excellence.
Workwear Watch with Black Dial Metal Strap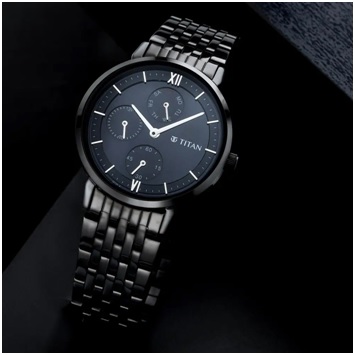 Cherished Family Timepieces
In addition to finding the perfect watch for each family member, you can also consider choosing matching watches for the whole family. Titan offers a variety of elegant and timeless collections that feature matching designs for men, women, and children.
By selecting matching watches, you're not only celebrating togetherness but also creating cherished family heirlooms. These timepieces will serve as a reminder of the special moments spent together during festive occasions and family gatherings. They become a symbol of unity and shared experiences.
The Gift of Time
In the hustle and bustle of daily life, we often forget to appreciate the precious moments we share with our families. A gift of time is a heartfelt way to remind your loved ones how important these moments are.
Titan watches offer more than just a way to keep track of time; they embody the artistry and craftsmanship of a brand that has stood the test of time. Each watch is a testament to quality and style, making it a valuable addition to any family member's collection.
Timeless Memories
As the festive season approaches and you prepare to celebrate with your loved ones, consider Titan as your go-to choice for family timepieces. Titan watches are not just accessories; they are timeless pieces of art that celebrate family, love, and togetherness.
By selecting watches from Titan's diverse range, you can ensure that every family member finds a watch that resonates with their unique personality and style. Whether you're celebrating with parents, kids, or teenagers or marking important milestones, Titan has the perfect timepiece for every occasion.
A Family United by Time
As the festive season draws near, it's time to think beyond just exchanging gifts. It's time to celebrate the essence of family, togetherness, and love. Titan watches offer the perfect way to unite your family under the banner of time, making every moment together even more special.
Choose watches that reflect the individuality and style of your loved ones and make an ever-lasting memory that is not bound by time but celebrated through it. With Titan, you're not just giving a gift; you're giving a piece of your heart that will be cherished for generations to come.