There is a growing demand among Indian online shoppers for International brands and imported products due to the increase in the income levels and awareness. This has triggered the growth of E-commerce in India. As per IBEF (India Brand Equity Foundation), India's E-commerce revenue is expected to jump from US$ 39 billion in 2017 to US$ 120 billion in 2020, growing at an annual rate of 51 percent, the highest in the world.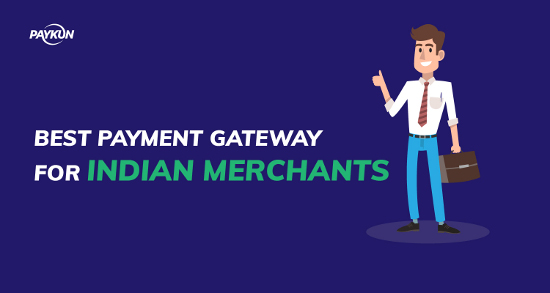 With the rise of the eCommerce sector, digital payments started increasing more and more because online payments gave discounts and deals to shoppers. This created a necessity for a simplified way to collect money from shoppers.
When it comes to a simplified way of collecting payment, there is no other better option than PayKun.
Why PayKun?
PayKun is a business-friendly free payment gateway that allows merchants to accept payment from buyers without any hassles. It comes up with all the features that merchants require at a first place to manage their online transactions:
Robust Security:
With growing online security threats like data security breaching, phishing, malware and hacking it becomes the responsibility of the merchant to make sure that they are using a secured payment gateway. PayKun is PCI DSS Level 1 compliant which ensures that the customers are carrying out a transaction in a safe and secure environment.
Fast Settlement:
The time taken to settle the amount is one of the concerns that many merchants have. Generally, most of the payment gateways settle the amount in three days. But PayKun provides a T+1 settlement cycle where 'T' is the transaction date plus one business day.
Competitive Rates:
PayKun does not charge any annual maintenance fee or set-up fee. It charges a flat 2% per transaction for all the payment modes.
Multiple Payment Modes:
To promote digital payments, many banks have started providing amazing discounts and deals on online shopping. Now Indian shoppers have a certain preference for payment modes. Some might prefer mobile wallets where they already have some amount or choose a UPI payment mode where they just need to enter their UPI ID and do the payment with just a click. Hence, it is necessary to provide all the payment modes to your customers.
PayKun has multiple payment modes –
Debit/Credit cards (Master Card, Visa, Maestro, RuPay)
80+ Net Banking
8 Wallets (Paytm, Mobikwik, Jio Money, Yes Bank, DCB Wallet, ITZ Cash, MOM, PhonePe)
UPI/BHIM
QR Code
Fast Onboarding:
Gone are the days when merchants had to wait for days to get their merchant account approved. With PayKun you can easily go live within a few minutes. All you need to do is create your merchant account, fill up your personal, business and bank details. You have to submit your business documents, PAN proof, and ID proof.
Even if the merchant does not have a business document, they accept other documents like a rent agreement, electricity bill, Udyog Aadhar which makes it easier for small businesses to start their digital payment journey.
Customer Support:
PayKun is well known for its responsive customer support service. Merchants can easily contact them via call, email, and chats. They assign a dedicated Account Manager for every client. It becomes easy for merchants to contact the payment gateway for any issues.
Free integration:
Unlike other payment gateways who charge hefty amount from the merchants for payment gateway integration, PayKun does not charge a single penny. If you do not have a developer or do not know how to integrate, you can avail of their free integration facility.
Easy to integrate:
No complex coding is required to integrate PayKun on your website. It just takes a few lines of codes and you are good to go. They have integration kits and SDKs for all major platforms and languages make your integration experience very smooth.
Android and iOS application:
Merchants can easily monitor their growth and manage transactions with the tip of their finger by using PayKun Android and iOS app. You can track your sales, refund, amount of transaction, generate monthly reports, etc which helps you to build your next business strategy.
Conclusion:
Robust security, fast settlement, and customer support are important factors that a merchant looks for while choosing a payment gateway. PayKun excels in all the three factors which make it the best payment gateways for Indian merchants.