Running a B2B business is challenging. Customers usually consider their options longer to ensure they get the best results and return on investment. B2B sales involve many decision-makers, touchpoints, and moving parts. Additionally, sales to new customers take at least four months to close.
You can overcome these challenges by running effective B2B marketing strategies. B2B marketing helps attract leads, convert them into customers, and retain them as brand advocates. It can also help you reach new markets, expand your products and services, and adapt to changing customer needs and market conditions.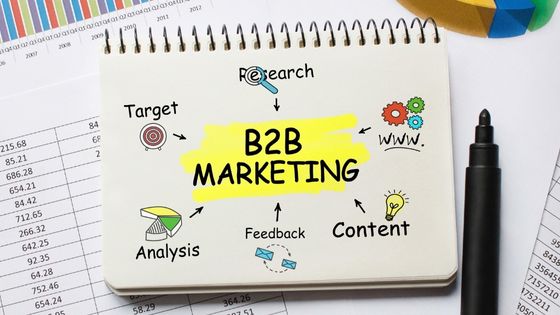 Here's an in-depth guide about B2B marketing and the strategies you can use for your business.
B2B vs. B2C: What's the Difference?
B2B and B2C marketing vastly differ in strategy, application, target audience, and intended results, among other things. For one, B2B marketing involves promoting products and services to companies looking to improve their operations. Examples of B2B marketing include:
A Human Resource Information System (HRIS) provider that offers its software to small- to medium-sized businesses
A digital marketing agency that creates blogs, ebooks, and social media copies for different companies
A shipping company that delivers products from manufacturers to retailers
B2B marketing has longer sales cycles, contracts, and supplier relationships since businesses require the best long-term solutions for their most complex challenges. B2B customers also focus on reaching a (return on investment) ROI and achieving efficiency and industry leadership.
Meanwhile, B2C marketing involves selling products and services directly to end customers. Examples of B2C marketing include:
A skincare brand selling serums and moisturizers to people with certain skin conditions
A technology company selling laptops and personal computers to employees and students
A sports brand selling running shoes, workout clothes, and exercise equipment to athletes and fitness enthusiasts
Unlike B2B marketing, B2C marketing has a shorter sales cycle since end-customers often want instant solutions to imminent problems. They usually don't require long-term relationships with brands as well.
Additionally, B2C customers don't need other people's approval to make a purchase, unlike businesses that need a green light from executives and other important stakeholders. B2C customers typically read and watch reviews to support their individual shopping decisions.
What Does B2B Marketing Entail?
B2B marketing requires a thorough thought process. One can't simply market a product or service to another business and expect to enter an agreement immediately. Here are the factors involved in B2B marketing.
• Understanding the customer's journey
The B2B customer journey has seven stages:
Awareness
Consideration
Decision
Purchase and delivery
Support and retention
Growth and expansion
Exit
The first five stages are essentially the same as the B2C customer journey. In the growth and expansion stage, businesses usually upsell and cross-sell their other products and services to improve their B2B relationships. This stage is where suppliers focus on brand loyalty and customer retention.
• Identifying target markets
Like B2C companies, B2B businesses identify their target audience by assessing the demands for their offering, their current and potential customer base, and their competition, among other things. These factors help create a detailed customer persona that helps B2B businesses better understand their clients and improve their products and services.
• Creating personalized messages
Businesses want personalized marketing messages the same as end-customers. They want ads that address their challenges and meet their needs.
Take business payments solution provider Bottomline as an example. They used Drift's chatbot to recommend relevant steps and answer their website visitors' sales questions. This B2B strategy resulted in Bottomline generating additional revenue of $4.3 million in 18 months.
• Increasing online presence
Businesses today know that content is king, and going digital strengthens that power. As such, many companies invest in website development, search engine optimization (SEO), and social media and email marketing to build their online presence. They also create ebooks, infographics, case studies, and webinars to engage their audience throughout their customer journey further.
• Using different marketing channels
B2B marketers use different channels to convey their message and convert customer leads. These channels include:
SEO
Pay-per-click advertising
Email
Social media
Conversion rate optimization
Webinars
Podcasts
Examples of B2B Marketing Strategies
B2B marketing can also be as creative and innovative as the B2C marketing strategies you may have seen. Here are some B2B marketing strategies you can use to reach your audience and close sales.
• Content marketing
Content such as blogs, ebooks, white papers, case studies, webinars, videos, and research reports can increase your brand awareness, attract and retain clients, and establish yourself as an industry leader.
However, providing valuable, informative, and relevant content is key to achieving these goals. Ensure that your content addresses your target audience's needs while highlighting your products and services.
• Product marketing
B2B product marketing promotes your solutions based on your customer's needs. It also helps you better understand your customers, target buyer personas, learn about your competitors, and boost revenues and sales.
You can use case studies, webinars, and sales collateral in your product marketing strategy. Like content marketing, ensure that these content types are valuable and relevant to your target audience. Otherwise, your product marketing strategy may not be as effective as expected.
• SEO marketing
SEO is one of the newest players in the digital marketing space because businesses have realized the importance of ranking high in search engines. There are three main types of SEO: technical SEO, on-page SEO, and off-page SEO.
Technical SEO involves optimizing your website for search engine crawlers, page speed, and different devices. Meanwhile, on-page SEO focuses on using effective keywords and topics, meta information, URL slug, images, and links to attract readers and rank high in search engines.
Lastly, off-page SEO prioritizes backlink building, customer service, and social media presence. Your website will rank higher in search engines when you use high-quality, relevant backlinks.
• Social media marketing
Businesses today see social media as a powerful tool to reach their target audiences, given that there are now over 4.26 billion social media users worldwide. 39% of B2B content marketers increased their 2021 investment in social media and online communities in response to COVID-19.
Creating a social media strategy is nearly the same as crafting any digital marketing strategy. Ensure your social media plan aligns with your business objectives, identify social opportunities, listen to your audience, and use the right social media platforms.
Nurture Clients With B2B Marketing
As competition remains stiff in the business world, you should do everything possible to attract and retain leads, increase market share, and establish industry leadership. B2B marketing can help you achieve these goals. Ensure you assess your offerings and target audience to know which B2B marketing strategies to use.
The more that you know about your business, the better you will be at implementing B2B marketing.