Are you a consumer of CBD products? Would you be interested in making some extra income by promoting your favorite products and, at the same time, help other people to access high-quality CBD products? If so, you should consider joining one of the best CBD affiliate programs in the CBD market to promote high-quality brands that you enjoy and earn a tidy passive income. In this article, we look at why you should join a CBD affiliate program and several things you need to know about CBD affiliate marketing.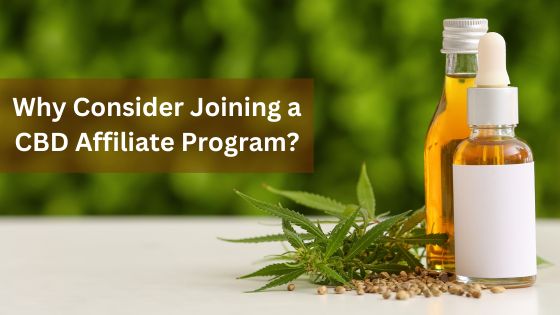 What is CBD affiliate marketing?
CBD affiliate marketing involves an arrangement where a CBD company partners with individuals or companies to promote its CBD products. The partners earn commission from the leads or sales closed through their marketing efforts. The affiliates can use their websites, social media posts, and other channels to generate leads who visit the CBD company's online store and make a purchase.
The CBD affiliate programs are mutually beneficial to the CBD company and the CBD affiliate because the company increases the sales of its products and pays only for the marketing efforts that are fruitful. On the other hand, the affiliates earn commission and enjoy other benefits.
What are some reasons for joining CBD affiliate programs?
Here are some of the compelling reasons for becoming a CBD affiliate:
Low initial investments
Unlike many businesses that need a large capital outlay to set up and run, joining CBD affiliate programs does not require a big investment. Generally, many programs have no entry fee or have low joining costs. You only need to have existing channels such as social platform pages or websites and you can join a program.
Income potential
CBD affiliate marketing offers the potential to enjoy a reliable passive income stream. When you promote the products and your referrals buy the products (through your unique affiliate links or codes), you earn commission on those sales. If you have a well-established social media presence or channels that can drive high traffic, or you possess top-notch marketing skills, you can potentially get a decent income from your efforts.
Support and resources
Reputable CBD affiliate programs often offer their affiliates helpful resources to help them promote their products. These include customer support, educational materials, and marketing materials. These resources come in handy for the affiliates and enable promoters in their efforts.
Networking opportunities
When people join CBD affiliate programs, they not only earn commissions from their efforts, but they also get a chance to meet people from all walks of life, and other like-minded individuals and industry professionals. This offers them a good chance to network which could be beneficial for their business and other areas in life.
Compliance and legalities
CBD marketing does face some legal issues and many individuals may have problems being compliant. Fortunately, joining CBD affiliate programs helps to sort this out because CBD companies can provide guidance on compliance with all legal and regulatory requirements. This helps to avoid potential legal issues connected with the sale of CBD products.
Conclusion
So, have you been wondering if it's worthwhile becoming a CBD affiliate? The above benefits of joining CBD affiliate programs should help you make a decision. And, when you decide to join, ensure you choose a reputable affiliate program so you sell trusted brands and have an easier time succeeding in CBD affiliate marketing.