Instagram is growing like a new-found hobby, the blog Thunderclap.it states. With its extravagant features like the stories, photos, videos, and IGTV videos, it is gripping everybody's attention span, life, and time. Instagram is slowly becoming a wholesale factory providing too many products from too many vendors at cheaper and affordable rates for too many customers. Brands post Instagram photos or videos on an average of 1.5 times a day.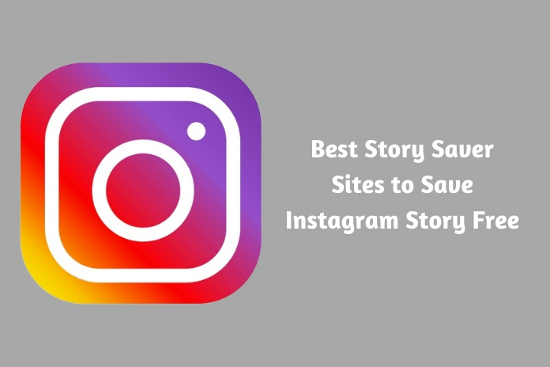 Instagram photos and videos can be stored on your device as well as on your computer, or they could be shared with your followers or whoever you want to share them with. You can straightaway go for websites or applications which help you download and save Instagram photos and videos to your computer, freely and easily.
These are tones of capturing websites that can help you download and save Instagram stories for free on your computer or your mobile device over the internet, especially the ones who can capture stories even after their 24 hours expiry. Let's find out about all of them, shall we?
1. StoriesIG: When you use this website, you don't need to install anything. This website lets you download Instagram stories and share them on various other social networking websites. You just need to follow the instructions of copy-pasting the Instagram username and press the enter button on your keyboard. This website will download all the Instagram stories one particular Instagram account has.
2. Instagram Downloadr: On this website, you can download Instagram stories and save them easily on your computer or mobile device. You just have to copy-paste the Instagram story URL on the text box on this website and click on the 'DOWNLOAD' button. This website is probably one of the fastest online websites for downloading Instagram stories, photos, videos and more.
3. StoryDownloader: This website is available in three different languages, English, French, and Italian. You just need to enter the Instagram username you want stories from and click on the 'GET STORIES' button. You can also view Highlights using this website. Alongside, view Instagram stories anonymously. This website is flexible, fast, simple, free, and secure to use.
4. InstaViewMe: On this website, you will find the easiest way to save and download Instagram stories in just one click. To get started, you need to open the story you want to download, and copy the URL and paste it in the textbox here, and click on the 'DOWNLOAD NOW' button for instantly downloading Instagram stories. This website has many blogs as well and is available in many languages like Arabic, Portuguese, Italian, etc.
5. InstaDP: On this amazing website, all you have to enter is the Instagram username you want to save stories of, and it will help you download their stories instantly. Here many blogs that can help you use the Instagram application in a better and easier way. You can also download Instagram stories anonymously using this website. It focuses mainly on Instagram display pictures as the name suggests.
There are many ways to grow your Instagram followers organically or you can buy Instagram followers cheapest online. There are various sites available online who provide services related to social media.