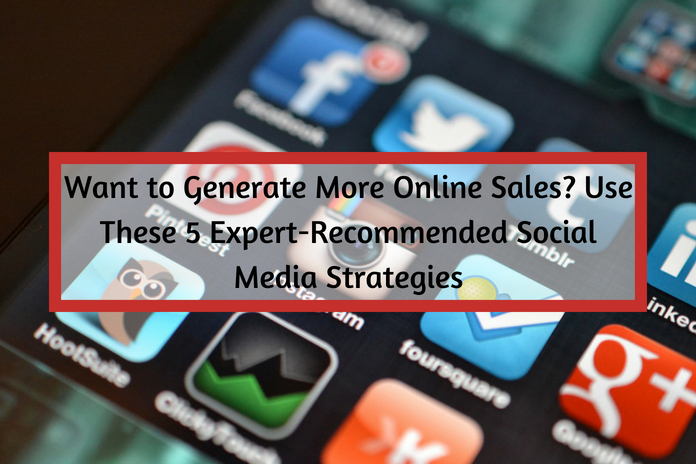 One challenge every e-commerce business will face is how to boost its online sales. Thanks to booming online retail and shopping, luring visitors and increasing sales is only getting tougher. To help with that, here are 5 social media marketing strategies that will help you generate more online sales.
1. Create & Share Compelling Content
To grow your followers on social platforms over time, it's critical to post compelling and high-quality content consistently. Various studies have indicated that audiences respond differently to different posting frequencies, so figure out how often you should post on your social platforms. An ideal hack is to replicate or compare your posting frequency and engagement rates to your rivals.
Several e-commerce stores typically look into the optimal number of times to post on various channels. But experts at Buzz Interactive, a specialist social media marketing agency, suggests that your weekly or daily posting frequency is minutiae compared to having a solid plan and a process to develop genuine compelling content on a regular basis. According to them, there are no "neutral reactions". For us, either it's good or we simply don't post it.
2. Run Re-Targeting Ad Campaigns
Over time, it has become increasingly challenging for brands to gain traction in the News Feed organically. Here paid re-targeted ads on social media channels can prove quite fruitful for online businesses. In fact, it has become an integral part of many social media agencies' marketing strategy.
With paid re-targeted ads, you also gain control over targeting. Meaning, you'll gain the power to show your ads only to the relevant audience rather limiting yourself to existing customers. And you know what's the best thing about these ads? You can start a campaign with as little as $50.
When you run these ads, you will be able to target the people who have already been to your website. To optimize the ads, you can personalize them based on the targeted audience's behavior.
3. Use Social Reviews to Automate Word-of-Mouth
Leveraging product reviews to build trust and gain insights into your products is an excellent way to boost your online sales. You can find several tools or apps that encourage online customers to leave reviews once they purchase a product or service. Since it automates the process, so you won't have to reach out to each customer manually to gather their review.
Once you are able to collect product reviews, use your online businesses' social accounts and post them directly to your pages. Not only it provides you with fresh content but also helps drive traffic from your social channels to your website. In turn, it will increase your online sales.
4. Use Right #Hashtags to Achieve Your Goals
Stay active on the right hashtags because they have organized a huge part of the social web according to conversations. This allows brands to hop in on hot debates and discussions by posting under the relevant hashtag.
Use monitoring tools like Hootsuite and more to find, likes, retweets and replies to posts under various hashtags. Hashtagify is another useful tool that can help you find related hashtags, especially the ones you are trying to target, like food-related hashtags.
Make sure your e-commerce business should treat hashtags the same on every social media channel.
5. Infographic Makes a Big Difference
Investing in a beautifully designed infographic can pay you great dividends as it drives traffic to your website and potentially builds good backlinks, which are excellent for search engine optimization (SEO). Though the cost ranges greatly for the professionally designed infographic—based on what you need and the skill set of the professional or social media marketing agency you hire—it's definitely worth your cash.
Short on ideas for your infographic? Check out websites like Visually to get some inspiration. Once you pick an idea, conduct research on the topic and jot down the points that you'll cover in the infographic. You can hand this research over to the professional designer or your social media marketing agency as a guideline so they know what exactly you want the infographic to cover.
Let's say you are in the bicycle business and also sell related gear. You might want to create an infographic that sheds light on the environmental benefits of bicycling. You could include points or figures in the infographic that divulge how much a daily commute on bicycle saves in fuel emissions along with a comparison of the total number of car owners and bike owners.
Not only this particular message speaks directly speaks to your target audience but is also compelling enough that it will instantly gain the attention of many bloggers and even news sites that might want to feature your infographic or give a link back to it.