Fluency in cloud computing fundamentals is becoming an essential talent for even people in professions that aren't traditionally considered technical as firms seek digital transformation. As organizations of all sizes migrate their technical operations off-premise to flexible cloud options, cloud computing is primed for continuing development. According to Gartner, the cloud computing market will grow at three times the rate of overall IT services by 2022.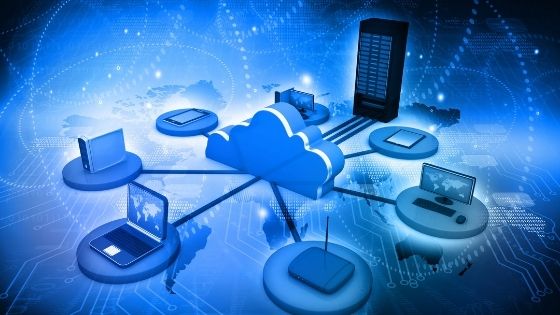 The AWS cloud practitioner credential provides beginners and non-technical positions who wish to learn how to "speak cloud" with core knowledge of cloud computing. If you work in a tech-related field, it will be to your great benefit to learn cloud computing.
What is cloud computing, and how does it work?
Cloud computing is the on-demand, pay-as-you-go distribution of IT services over the Internet. Instead of purchasing, operating, and maintaining physical data centers and servers, you may rent computing power, storage, and databases from a cloud computing service provider like Amazon Web Services on an as-needed basis (AWS).
Who is a cloud computing user?
Data backup, disaster recovery, email, virtual desktops, software development and testing, big data analytics, and customer-facing web apps are just a few of the use cases that organizations of all types, sizes, and where industries are embracing the cloud. Healthcare organizations, for example, are utilizing the cloud to produce more individualized treatments for patients. The cloud is being used by financial services businesses to power real-time fraud detection and prevention. Video game developers also use the cloud to deliver online games to millions of players worldwide.
Why should non-technical employees be aware of cloud services?
Cloud implementations aren't only a technical concern with no ramifications for the rest of the company. Changes in the larger organization, including but not limited to project planning philosophies, staff management, and financial management methods, are frequently required to reap the benefits of Cloud.
1. Project managers: Because project managers collaborate with stakeholders from a variety of functions, both technical and non-technical, knowing the basics of AWS will make collaborations go much more smoothly. The value of a good project manager is immeasurable. They should plan and track things, which are two crucial talents for cloud computing success. This is especially true during a migration, which necessitates the coordination and supervision of several moving pieces. When it comes to calculating how much human labor is required and estimating the expenses of employing various cloud services, project management skills come in handy.
2. Sales teams: When selling to a prospect or negotiating a client renewal, sales personnel must be able to talk the talk when it comes to technology. Speaking effectively about cloud computing, whether directly with AWS or through a tertiary technology, may assist close the business. While "business skills" is a broad word, it refers to those familiar with the essential business operations that cloud-based solutions automate. These are usually experts in a particular industry, such as finance, healthcare, retail, or manufacturing. They are familiar with industry best practices and guarantee that apps suit the needs of their clients.
These are usually business analysts who have made the transition to IT. They may not be familiar with the finer technical nuances, such as the programming language used by an inventory control system. They do, however, understand the system's essential processes and can describe them to database analysts, programmers, and systems designers.
Admins should also become familiar with various cost management tools to keep track of costs and forecast future expenses.
3. Teams in charge of marketing: Those creating marketing materials and campaigns tied to AWS in any way, similar to sales teams, can't expect to grab their audience's attention if they don't speak the same cloud language.
4. Executives: In this era of digital transformation, leadership teams from directors to the C-suite should be aware of the broad ramifications of cloud computing technologies on the company – from budgets to competitive advantage to employee productivity. Despite playing a critical part in cloud computing environments, a group of people rarely touch computers. CFOs and COOs are the ones who sponsor, fund, and assume responsibility for cloud initiatives' success or failure.
There will be no money, migrations, and new cloud projects without executive clearance. Beyond the technical labor generally connected with such projects, the cloud-enablement of the business takes a lot of time and thought.
5. Legal teams: AWS's global reach and regional services are significant for businesses, but they come with security and compliance challenges. This accreditation will help legal teams ensure that their organization follows geo-specific compliance and security standards. Cloud computing has legal ramifications that go beyond compliance and legislation like HIPAA and GDPR. Rules on managing data are vital, but having staff who can provide basic legal guidance on cloud computing is also beneficial. Questions such as the tax regulations regarding cloud providers can emerge beyond the scope of compliance. In some cases, replacing existing hardware with cloud services, for example, is not a good idea. The tax benefit connected with that gear hasn't been fully recognized if it hasn't been fully depreciated. This can result in a net loss that is far greater than any savings realized by moving to the cloud. Other legal concerns include the transferability of software licenses and the adherence to service-level agreements. The majority of those who provide cloud law advice are lawyers. However, some have previously worked as project managers. However, people who work in the cloud should be aware of the norms and regulations that apply to their workplace.
6. Finance teams: Learning more about the pricing fluctuations latent in the AWS platform will help finance professionals better understand budget allowances because public cloud services are a variable expense linked to a company's growth. Accounting knowledge is used to keep track of cloud costs, set limitations, create budgets, and intervene when costs are surpassed. CPAs and bookkeepers often deal with a company's finances, but cloud administrators and developers might benefit from knowing about budgeting and other cost-related jobs as well.
When cloud bills were small a few years ago, this was a non-essential, non-technical ability. Today, though, businesses routinely review bills totaling six figures each month. Accounting procedures used by IT staff will give the company more control and flexibility.
Admins should also become familiar with various cost management tools in order to keep track of costs and forecast future expenses.
7. IT and IT specialists at the entry-level: Because Amazon Web Services (AWS) is the industry leader in cloud computing, it's probable that IT newbies will use the platform at some time throughout their careers. Demonstrate mastery of this in-demand skill to make your resume more appealing to recruiters or set yourself up for a promotion. You can learn more about Cloud computing with some of the best cloud computing courses available online.
The following are some general abilities you'll need to start a career in cloud computing:
Business Terminologies: Cloud engineers should be familiar with terms like ROI, marketing strategies, and business planning.
Data Analysis: Focuses on dealing with massive amounts of data and making the best use of ERP systems.
Data Protection: Because cloud computing focuses on data security, organizations prefer applicants who have some experience with network security.
Risk management, service agreements, and interaction with other processes are essential aspects of project management.