The route to achieving lustrous, healthy hair often starts at the hair care aisle of your favourite store. With a plethora of products claiming miracles, the decision-making process can feel overwhelming. But fret not, the secret to making the right choice lies in understanding the nuances of your hair and its specific concerns. As you wouldn't wear ill-fitting shoes, the same principle applies to your hair care routine. Picking the right products ensures your hair stays not only gorgeous but also healthy.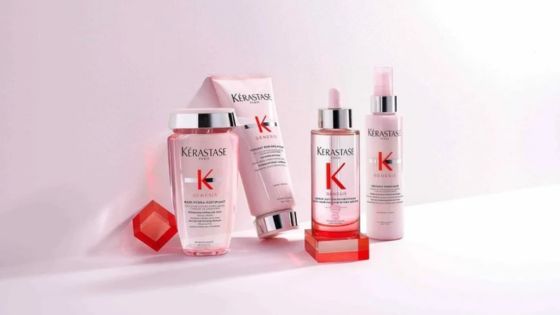 What Should You Look for When Buying Hair Care Products?
1. Address Specific Concerns:
Recognise and prioritise the primary concerns of your hair, be it dryness, frizz, or thinning. Opt for products that cater specifically to those needs.
2. Check for Nutritive Ingredients:
Ensure the products are packed with nourishing ingredients that feed your hair the right way. Kérastase offers a varied range of products formulated for specific hair needs. For instance, for those battling dry undernourished hair, Kérastase's Nutritive Nourishing Shampoo is an excellent choice. Those dealing with hair fall can benefit from the Genesis range, while all the curly-haired beauties can go with the Curl Manifesto range.
3. Prioritise Scalp Health:
A healthy scalp is an essential foundation for beautiful hair. Look for products that balance, nourish, and protect your scalp. Kérastase's Genesis Ampoules Cure Anti-Chute Fortifiantes Treatment soothes and decreases scalp itchiness by reinforcing the natural protective barrier of the scalp. This hair treatment for weakened hair works to reactivate hair roots and fibres intensely.
4. Seek Out Reputable Brands:
Trustworthy brands often maintain a consistency in product quality and offer solutions based on thorough research. A leading name in premium hair care, Kérastase offers products for every hair care need and concern.
What You Should Avoid When Buying Hair Care Products?
Now that we've seen things to consider when buying hair care products, let us also look at what must be avoided:
1. One-size-fits-all Approach:
Not all products suit every hair type. Avoid going for generic products and instead opt for those tailored to your specific hair type and concerns.
2. Misleading Marketing Hypes:
Just because a product claims miraculous results doesn't mean it will deliver. Be wary of over-the-top claims without substantial backing.
3. Skipping the Ingredient List:
Always read the ingredient list. Avoid products where nourishing ingredients are listed at the end, indicating their minimal presence.
4. Ignoring Product Reviews:
While every individual's experience can vary, it's wise to consider the general consensus about a product. Avoiding products with predominantly negative reviews can save you from potential hair mishaps.
Stepping up your hair care routine is an exhilarating journey filled with trials and triumphs. With the right products tailored to your unique hair needs, the path to radiant hair becomes straightforward. As you tread this path, remember to be discerning, prioritising quality and specificity. Brands like Kérastase, with their extensive research and premium ingredients, ensure that every drop or dollop you apply is a step closer to your hair goals.