In the heart of the UK, historic homes are undergoing remarkable transformations that bridge the gap between the past and the present. These splendid renovations breathe new life into properties that are steeped in history, offering a fusion of classic charm and modern convenience. If you're a property enthusiast with an eye for unique real estate, you'll find these renovations nothing short of awe-inspiring. In this exploration, we invite you to discover some of the UK's most exceptional historic home makeovers, each a testament to the enduring appeal of British architecture. As you journey through these revitalised homes, you'll not only gain insight into their rich history but also find inspiration for your own real estate ventures and how to renovate your property to achieve better value at a property valuation. Read on to discover even more captivating properties that blend the best of the past and present.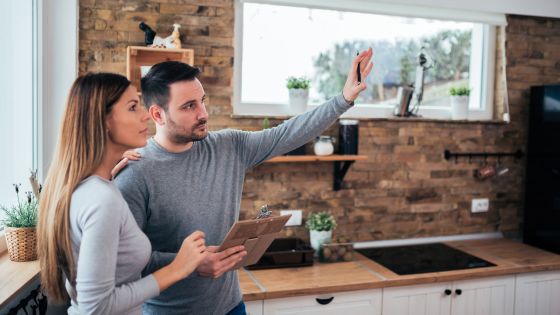 A Symphony of Elegance: Georgian Townhouses Reimagined
Georgian townhouses, renowned for their elegant facades and symmetrical designs, have long graced the streets of cities like Bath and Edinburgh. Once the epitome of 18th-century luxury, these homes have undergone remarkable transformations to accommodate modern tastes.
Classic Meets Contemporary in Bath
In Bath, a city celebrated for its Georgian architecture and Roman heritage, these townhouses have been meticulously renovated. Many now feature open-plan interiors that enhance natural light flow, creating bright and spacious living areas. A harmonious blend of classic Georgian features, like sash windows and ornate plasterwork, with contemporary design elements, such as sleek kitchens and minimalist bathrooms, results in homes that offer both history and modern comfort.
Timbered Tudor Homes in a Modern Light
Tudor-style timbered houses, characterised by their exposed wooden beams and intricate carvings, transport us to a time of medieval charm. While their exteriors are steeped in history, the interiors often require inventive renovation to meet the expectations of modern homeowners.
A Glimpse into Stratford-upon-Avon's Timeless Charm
Stratford-upon-Avon, the birthplace of William Shakespeare, is a haven for Tudor architecture. Here, timbered homes have been reborn with contemporary elegance. Original features like oak beams and leaded glass windows have been painstakingly preserved, while interior layouts have been reconfigured for modern family life. These renovations transform historic Tudor houses into warm, inviting spaces, combining the best of both worlds.
Victorian Grandeur: Restoring Heritage with a Contemporary Twist
The Victorian era left an indelible mark on British architecture, and Victorian homes are cherished for their ornate details and spacious layouts. However, to adapt these residences to today's lifestyle, innovative renovations are often necessary.
Notting Hill's Modern Victorian Homes
In the fashionable district of Notting Hill in London, Victorian homes have been reimagined to embody modern luxury. Renovations often involve expanding into basements and loft spaces to create additional living areas. Glass extensions at the rear of these properties seamlessly connect the indoors with lush gardens. While classic features like fireplaces and intricate tiling are retained, contemporary kitchens and sleek bathrooms bring these Victorian gems into the 21st century.
Castle Rebirth: Historic Fortresses Turned Contemporary Estates
For those with a taste for the truly extraordinary, the UK offers the opportunity to own a piece of living history in the form of castles. These centuries-old fortresses have undergone remarkable transformations to become opulent, modern estates.
Aberdeenshire's Castle Transformations
Aberdeenshire, with its rugged landscapes and historic castles, showcases some of the most spectacular transformations. Castles that once served as defensive strongholds now feature luxurious interiors with all the amenities of a modern home. Extensive restorations have preserved original stonework and turrets while introducing modern heating, plumbing, and technology. These castle estates offer a unique blend of history, grandeur, and contemporary living on a scale that's truly awe-inspiring.
Preservation and Modernization Challenges
While the renovation of historic homes into modern living spaces is a testament to architectural creativity, it also presents unique challenges. Strict preservation regulations must be adhered to in order to protect the integrity of these heritage properties. Renovators often work closely with conservation experts to strike the perfect balance between preservation and modernisation.
Exploring History, Envisioning Tomorrow
The remarkable transformations of historic homes into modern havens stand as a testament to the enduring appeal of UK architecture. These renovations not only breathe new life into heritage properties but also offer a glimpse into the past while embracing the conveniences of today's world. Whether it's a Georgian townhouse in Bath, a Tudor timbered home in Stratford-upon-Avon, a Victorian gem in Notting Hill, or a majestic castle in Aberdeenshire, each renovation tells a unique story of preservation, innovation, and a profound appreciation for the tapestry of history that makes the UK's real estate landscape so captivating.