If you are not very familiar with what a USB-C cable is, then don't worry, we'll tell you. A USB- C Cable is simply a connector that transmits both power and data. However, it is different from other USB variants that you may know, because it allows for much faster charging and data transfer speeds. Moreover, it is universal, making it the convenient choice, as you can insert the cable using either end. But most importantly, it is universally compatible with about any external device that you may need or use, eg. a usb c multiport hub. It is for this reason that the USB-C is considered to be the port of the future. But, if you need more convincing as to why you should buy these cables today then here are 5 reasons why: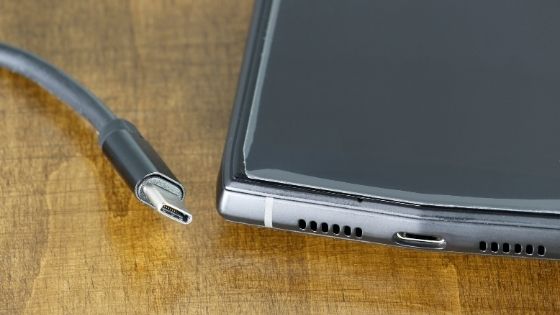 1. Universal Connectivity
Both ends of the USB-C cable are the same and reversible. This means you can get the orientation correct, whichever way you connect it and as a result, any device should be compatible with it.
2. Fast Charging Capability
Most of the devices that come with USB-C ports can enjoy power delivery boosted to 100W, which is sufficient to charge almost any laptop. Moreover, these cables are bi-directional, which means that either device connected o either end can either send or receive power. This applies for data transmission as well.
3. Extended Life
These cables are designed to be highly durable and com made of high-quality fabrics like braided nylon, for example. This means that once you own one of these cables, you are unlikely to need a replacement anytime soon, unless you lose it, of course.
4. High-Quality Video Output
These cables allow you to connect to any HDMI or DisplayPort compatible monitor and stream almost any video, movie, or game that you wish at incredible speeds. Moreover, they facilitate stable video streaming and audio output. This is especially useful when you have multiple external devices eg. microphones, speakers, or monitors. in such cases, you will need these cables to connect to a usb c hdmi hub, which will expand your laptop's video and audio ports.
5. Efficient Charging
The problem with previous USB Cables was inconsistency. Back then, some cables provided fast speed charging, while others did not. The reason being that there wasn't any cable that facilitates a unified standard for devices. In other words, if you had the wrong charger, your device would slow-charge. However, USB-C Cables will appropriately adapt to whatever charge level is best supported to facilitate efficient charging.
However, despite these advantages, not every cable is created the same. And if you are looking for something to be used with multiple devices, then you will need one that offers great reliability and durability. Luckily, no brand in the current market manufactures such high-quality USB-C Cable better than Lention. So, we briefly put together a few of their best options that should suit your needs.
Best USB-C Cables To Purchase
1. LENTION USB-A to USB-C Cable (CB-ACT)
If you are still running an older generation laptop or computer that only has the normal USB-A port, then look no further than Lention's (CB-ACT) model. Priced at just $12, this cable comes wrapped with braided nylon material with TPE jacket and an aluminum alloy case that allows for a 10000+ bend lifespan to withstand wear and tear. It also delivers high-speed charging at 27W and also boasts up to 480Mbps in data transfer speed. Moreover, it is also available in two different colors.
2. LENTION USB C to USB C Fast Charging Cable Covered with Braided Cord (CB-CCT)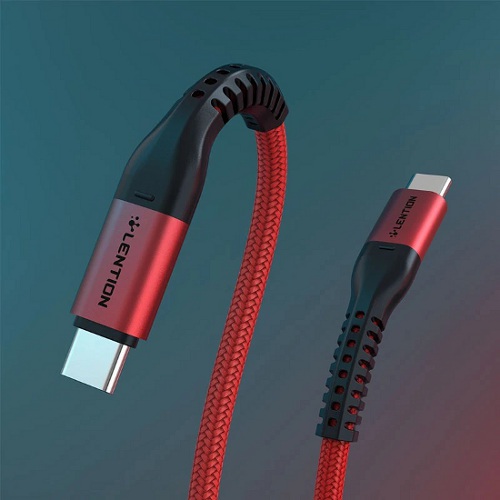 On the other hand, if your current devices are compatible with USB-C then you can opt for Lention's (CB-CCT) model. For one, it is highly affordable, as it is set at an affordable $10. Moreover, it is universally compatible with most laptops and mobile devices and offers high speed charging capability of up to 100W, between most USB-C enabled laptops, tablets, and phones. It also comes with a PD3.0 Featured Chip, which means that there is no concern about device disconnection when plugging or unplugging this cable. Additionally, the data sync speeds are set up to 480Mbps. This makes it ideal for connecting external hard drives or wired mechanical keyboards. They are also highly durable boasting an aluminum alloy case, nylon braided cable, and TPE jacket that guarantees tough durability and extended lifespan. However, the biggest benefit of this cable comes from its length. As while most USB-C cables come at around 3 feet in length, this one is a usb c cable 10 ft! This means that you can connect your devices, without having to move closer to your outlet. But, do remember that this product does not support video output and monitor connection.
If you use external displays often, then you will need Lention's (CB-CCN) USB-C Cable. This cable supports ultra high-speed charging with a power output of up to 100W and is compatible with most laptops or phones. It also offers an incredible data sync rate of 10Gbps between your laptop and external hard drive and/or mobile devices. But most importantly, it delivers up to 4K UHD video output to any Type C-enabled monitor, providing seamless streaming without any blur or distortion.
When it comes to video DisplayPort output, you can also opt to utilize Lention's (CU708D) as well. This cable is the ideal solution to connect your USB Type C devices, to any DisplayPort enabled televisions, monitors, or projectors for both video and audio transfer. It also offers a max resolution output of 4K, delivering ultra high definition videos and images, while also providing up to 60Hz refresh rates, without blur, distortion, and delay. it also features a user-friendly non-slip connector for easier connection and disconnection.
If you need something that offers HDMI to HDMI connectivity, then you can opt to utilize Lention's (VC-HH20). These cables are universally compatible with most TVs, projectors, and external monitors. As such, you can use them on any device that has an HDMI port, such as a gaming console, laptop, or PC. They also offer a 4K HD resolution display on most screens and a double magnetic ring design that helps facilitate high-speed data auto and video output transmission. This makes them ideal not only for streaming but even for gaming. Furthermore, they come in two different fabrics. One of which is braided Nylon, and the other is PVC, but both offer up high durability. You can also pick whatever length suits you best between 1.5m, 2m, 3m, and 5m.