With each passing day, the world is becoming more and more about appearances. Whether it is to impress one's crush or to make a good impression in that job interview, one must look well. And so much of one's appearance is one's clothes. For men black jeans can go with almost every shirt and thus are pretty handy. Even with regard to other colors, jeans are quite handy as they can be worn with most shirts and t-shirts and are far more durable than clothes made from other types of materials.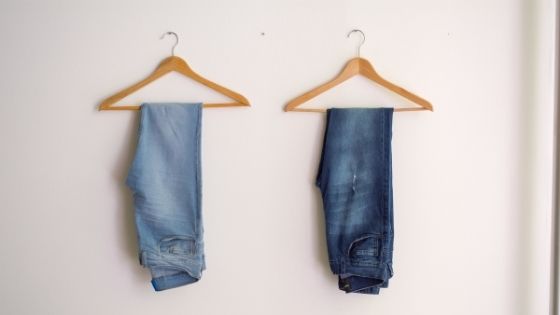 That said, buying jeans is not as easy as it may sound as there are a number of factors to be considered in this regard, including the type of material, the color, the design, etc., as well as the price. Moreover, one wants to buy jeans from a vendor one can trust.
In light of these issues, the following tips may come in handy for a reader who is considering buying a new pair of jeans for themself or for their friends or family:
1. Body types
The first and the foremost consideration while buying a pair of jeans or two should be one's body type. People have different body shapes – lean, skinny, thin, obese, muscular, heavy laps, thin thighs, etc. A pair of jeans that doesn't suit one's body type is likely to bring out faults of the body rather than doing a word of good to one's appearance. Thus the first crucial tip in this list for when buying jeans is to consider the body type of the person who is to wear it along with sizes and dimensions and choose the jean accordingly.
2. Size
One size doesn't fit all, and this axiom is doubly true for jeans. Thus next in our list of tips for when buying a pair of jeans is to consider the size of the waist and the height of legs of the person for whom they are meant and make the purchase accordingly.
3. Rise
Rise is how high jeans will rise above the crotch. This is another dynamic that is often ignored by laypersons while shopping for a jean. Rise is an important element aesthetically, and it may be more than a mere matter of taste for some body types to get jeans that have a particular rise. Either way, this is an important tip while shopping as a means for someone to consider their preferences and needs in this regard.
4. Price
Needless to say, that price is always a consideration when shopping for jeans. It is highly recommended as the next tip in this list that readers should first consider whether there are better alternatives in the same price range or similar or better alternatives in some lower price range before going for a particular pair of jeans.
5. Brand
Another common consideration is brand. The brand is important as products from good brands may justify increased costs with superior quality products besides also giving you a more fashionable look. Thus an important tip when it comes to buying jeans is that it is critical that one should choose the brand of the jeans carefully.
6. Seller
One can not buy jeans just from anywhere as there is a good chance that one may be cheated in any number of ways – by sellers claiming that the material of jeans is superior quality than it really is, by sellers selling inauthentic jeans pretending that they are authentic, etc. Thus an important tip in our list of tips for buying jeans is that one should definitely give due consideration to ensure that the seller is authentic or go for established and reputed brands, preferably with a strong online presence like Snapdeal.
7. Style
Another critical consideration is style. Even those people who do not change with the fashion still want to stick to a particular style. Thus an important tip while buying jeans is to give due consideration to the style the person supposed to be wearing it prefers,
8. Quality of the cloth
Not all jeans are made of some kind of material. And different materials have different looks, durability, etc. Thus an important consideration while shopping for jeans is regarding the quality of cloth used in making it.
9. Fashion
In present times, fashion is not something a lot of people will want to ignore. Thus an important tip while buying jeans is to ensure that it follows the right kind of fashion trend for the person supposed to be wearing it.
10. Color
When it comes to buying jeans for men, the most common colors are different shades of blue, brown, and black. Of these, dark blue and sky blue are most common and for good reasons, as they easily match and mix with clothes of several colors. Black and brown are other such friendly colors. Jeans of colors like white, pink, green, etc., may also be available and give the person wearing them a different look, but they lack the versatility of the jeans of blue or black color. Thus an important tip while buying jeans is to ensure that the color of jeans should suit their purpose.
Wrapping up
Wrapping up, it may be concluded that buying jeans can be smartly done if the above tips and suggestions are followed. A good way to buy mean's jeans is to search online using a trusted vendor or a trusted and well-established shopping app like snapdeal that offers genuine product reviews product deals, and lets one compare the prices of various alternatives. Such mobile apps make it so much easier to keep one's wardrobe up to date with the ease of some clicks. One may easily search what they are looking for by using search filters and list preferences. One may also try to look for the most sold men's jeans sold in a particular budget. They also offer helpful information such as is contained here regarding making purchases of various items that may be brought there.