Just like hairstyles, the hat style for women is ever evolving. During the 1920s, musketeer and turban hats were popular. Nowadays, cowboy hats and fedoras are much more common. Irrespective of the decade, the head types for women almost stay the same. The stylish Custom Hats are changing, with new hats just replacing the old style.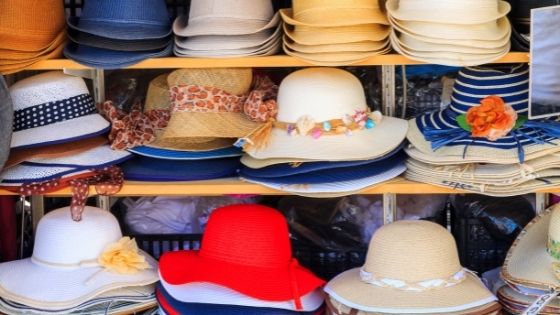 There is a gamut of women's hat styles—from floppy sun hats to knit beanies and straw boater hats, there are a plethora of options to select from. With gender identification becoming less binary, a wider assortment of hat shapes and sizes is being available for modern women.
Let's check out your comprehensive and scannable guide to women's styles.
Women's Western hat styles
Basically, there are two major hat shapes for women in western countries. Let's check out how to wear them:
Women's cowboy hats
This kind of hat generally comes with a high crown and upturned wide brim on both sides. In ladies' cowboy hats, the front brim is narrow as compared to the back; typically designed using straw leather and felt. This headpiece is usually unisex and available in decorative bright colors and specially designed headbands, ribbons, and bows, making it widely popular among women.
How to style cowboy hats for women?
Do you have a oval, round, or heart-shaped face? If yes, then this hat is definitely for you! Wearing your hair in a ponytail or braids will go perfectly with the look.
For a long time, the cowboy hat was considered to be a man's style. But nowadays, it has become one of the most popular hats for women as well. You can find them in different materials like straw, wool, or leather. And they come in various colors like black, brown, white, etc. They are perfect for any season and any occasion. You can wear them to the beach, to a friend's barbecue, or even to a formal event. Just make sure to choose the right one for the occasion.
How can you wear the Fedora hat for women?
Don't miss out on the hats if you love to dress up in the trending style. The fedoras are incredibly versatile hats for women. You can even pair this wonderful hat over your unwashed hair with denim jeans. Similarly, you can go for it with the pinstripe pantsuit on date night. Let's read the factors we should consider when styling with a Fedora.
Color
The traditional fedoras are brown, gray, black, or white. You can make it unique by adding a plethora of colors like red or purple. Recently, bright-colored trimmed edged fedoras along with red under beams have become quite popular.
Brim
Some versions of the fedoras come with a floppy brim, while others have solid, stiffer brims. The stiff brim Fedoras are worn in the halo style. You can even snap down a flexible and beautiful brim over the eye line. The brims of fedora hats are a minimum of 3-inches wide.
Tilt
You can get a classic look with a Fedora centered on your head. Well, you can definitely go a step more and adopt the 'Casablanca' style, tilting the top to one of the sides.
Hairstyle
When it comes to hairstyle, fedora hats work well with a low bun from below the line of the brim or loose hair handing.
Straw hats for women
Women straw Panama hats
If you consider the fedoras vs. Panama hats, both are almost similar, except that the Panama hats are made using straw available from the Jipijapa plant. Most of these hats are designed using the natural color of straw, but are also available in brown white and black options.
Again, there is the trilby hat, which is a smaller version of the fedoras. These trilbies are specific hats that come with a fixed but narrow brim. The Trilby hats are often less than 2-inches. These are considered more of a fashion accessory because they cannot protect you from the rain or sun. These beautiful decorative hats come with bows and hatbands. Trilby hats are usually made of felt and straw, leather trilbies are also available as well.
This particular hat is also termed as the lifeguard hat or harvest hat, designed to protect your beautiful face from the harsh sun rays.
Women floppy hats
Floppy Sun hat
This specific kind of hat is designed to cover up your entire head as well as a portion of your shoulders. This hat is designed using straw and beaded hatbands. The width of the brim is sometimes even more than 4 inches.
Floppy Felt Fedora
Traditional Fedora hats come with a two or three inches brim. Generally, the brims are not stiffer. Basically, the floppy Fedoras are on the wider spectrum ends.
Floppy winter hats
Winter hats are designed of wool or felt, to keep our heads warm. These hats have adjustable brims and are possible to curve down or up in the back and front.
Women bucket hats
Fur bucket hats
These are available both as fake and real fur; they are perfect for winter because of the insulation capacity. Available in brown and black, they come in unlimited designs and colors like the leopard print version.
Crochet bucket hats
It's relatively easier to crochet a bucket hat, and thanks to the simplistic design. We can weave it lose or tight, the hat makers can incorporate different colors of yarn. This informal crochet works well for a brisk walk or a garden party.
There are endless styles and designs for women's hats. If you love to wear hats, stay tuned to know more about hat collections in details!
When it comes to fedoras, you can definitely make a style statement. These hats look great on both men and women. If you are looking for something unique and different, you can go for the Panama hats or Trilby hats. These hats are perfect for summer and spring days. You can even choose from a wide range of colors and designs. So, what are you waiting for? Go ahead and purchase your favorite hat today!
FAQs
1. What is the difference between a fedora and a trilby?
The main difference between a fedora and a trilby is the brim size. Fedoras have wider brims whereas trilbys have narrower brims.
2. Can men wear Panama hats?
Yes, men can definitely wear Panama hats. In fact, Panama hats look great on both men and women.
3. What is the difference between a Panama hat and a straw hat?
The main difference between a Panama hat and a straw hat is the material used. Panama hats are made from the leaves of the Jipijapa plant whereas straw hats are made from, well, straw.
4. Are bucket hats in style?
Bucket hats have been in and out of style for decades. They are currently enjoying a resurgence in popularity.
5. What is the difference between a fur hat and a crochet hat?
The main difference between a fur hat and a crochet hat is the material used. Fur hats are made from, well, fur whereas crochet hats are made from yarn.