A 5-panel hat is a must-have to anyone who would love to look fashionable and trendy. The caps come with a lot of benefits that you would not like to miss. The design, comfort and trendiness of 5-panel hats are just out of this world. If you are not a hat-person, or you are looking for a reason to purchase a 5-hat panel, this article is for you. We have discussed the reasons why you need to buy a 5-panel hat below. By the end of this article, be sure you will go shopping for one.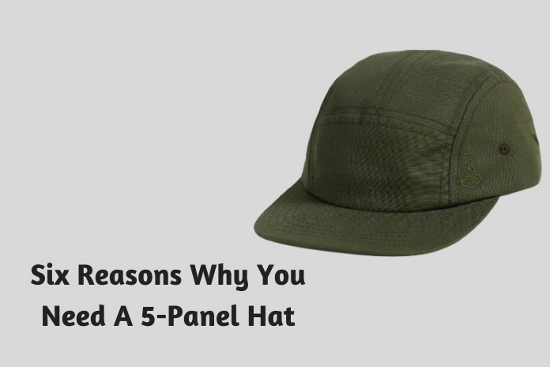 Reasons you need a 5-panel hat
1. Keep up with the trend
5-panel hats have been a big deal in complementing casual style. And be braced, the patterns are even going higher in 2020. There are not running out of style any time soon. Wearing your jeans and sneakers has become quite regular. You can add on a 5-panel cap to pull the outfit together.
Besides, a 5-panel hat is an excellent way to liven a sporty look. You can wear them to the golf tournaments for an edgier look. If you want to transform a regular casual or sporty look into edgier one, 5-panel hats should be the first accessories that cross your mind.
A 5-panel hat is not just a mere style trend. If you style it well, it can transform a regular look into a coveted signature look.
2. Protection from sun damage
5-panel hats are suitable protectors from the scorching sun rays. The sun rays can cause sunburns, and other skin problems you do not want on your face. The brim of the 5-panel hat can protect your face from the sun during those hot summer days. You can wear them to the stadium while watching your favourite teams play. Having 5-panel hat on a sunny day protects you from harsh and carcinogenic UV light, sunburns, dehydration and blisters. The cap also protects your eyes from the fierce sun rays.
3. Hair concealing and hair controlling
Having a bad hair day? You can solve this problem by wearing a 5-panel hat. It is an excellent way to conceal your hair and continue with your regular duties.
If you have long hair, you understand how difficult and unruly it can become to work out while having it down. It will often interfere with your face and movement. You want your workout sessions to be more comfortable, and without any distractions. Controlling of long hair is not only during work out sessions. You can tie the hair into a low pony and secure it in the space above the adjustable strap. Ensure the pony is secured well in the strap. This way, you are good to go about your regular daily activities without hair distractions.
4. Experiment with your creativity
Gone are the days when you had to purchase what has already been designed strictly. Nowadays, you can have an opportunity to create your outfits, and let the manufacturers deliver your dreams to you. This is also applicable for 5-panel hats. There are a lot of manufacturers that let you come up with your designs. They would then take up the initiative of bringing the design to life.
Personalizing your style is excellent. This aspect allows you to come up with signature looks that would take your casual wardrobe to a whole new level. It will enable you to experiment with your creative side.
5. Boosts confidence
A 5-panel cap is one sophisticated trend that you would not want to miss on. It is very stylish but still manages to help you remain low-key. This is what any fashion-conscious person would love; to be elegant and inconspicuous. The simple design, ease of pairing, and the small size of cap will help you stay trendy will still keeping it low.
This cap is also fantastic in boosting your confidence. It gives you the confidence you need to face your daily tasks.
6. They are highly versatile
This is not a cap that you wear on one occasion and keeps it waiting for another similar opportunity to come up next year. You can wear it to the streets, sporting events, hikes, days out and generally any casual event. If you are looking for something versatile to pair with trousers, dresses and shorts, then this is your solution.
Wrap-up
The panache that comes with 5-panel hats is just incredible. Wearing it is not just about protection. There are a lot of other benefits you could earn from getting yourself a 5-panel hat. They are an excellent way to stand out from the rest. Wearing them would soon transform you from a regular casual wearer to a coveted trend-setter. As long as you know how to pair them well, you will surely enjoy the benefits.