Graphic design is dynamically rewarding employability with a high demand for qualified individuals. It is one of the most exciting careers for those who are passionate about advanced graphic tools. The finest skills of graphic artists will have to be a mix of marking and advertising strategies. Graphic designers are in high demand due to their technical excellence and versatility, as well as their ability to think creatively. Advertising and communications teams are looking for designers familiar with the highs and lows of strategic partnerships and can adapt to the erratic demands they create. Students passionate about this career option can learn and explore the graphic design industry by opting for the right courses and by mastering the required skill-set.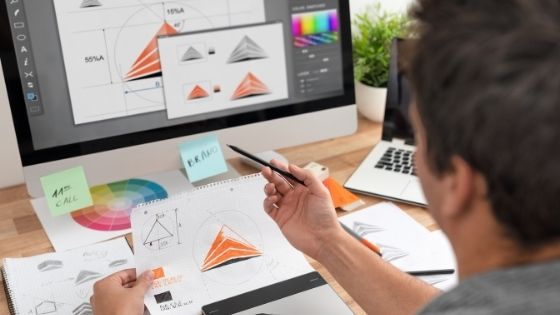 Graphic artists add to the more creative side of technology by creating layouts, making images, illustrating, and more. They work in corporations, broadcasting, sponsorship, marketing, and public relations, and are at times both self-employed and collaborate with other companies. The average wage for a graphic designer is $40,073 per year, according to PayScale, with a published salary range of $25,698 to $59,010. San Francisco has the top paying graphic artists, with an estimated annual income of $52,000.
Graphic design careers include:
• Web Designer: The blend of functionality and design options of a website is perfectly convoluted and developed by a web designer. They are familiar with the complexities of graphic design and software technology. They collaborate with customers to develop new concepts while still testing and refining the website's layout.
• Creative Director: Creative directors work with brand owners to come up with an advertising campaign, packaging, and promotional outreach concepts. They keep track of patterns and analyze data using the most up-to-date promotional activities. They develop customized marketing plans based on individual business needs, oversee operations, and keep track of expenses.
• Architecture and Engineering Drafter: Experts in this role examine architectural codes and standards to determine how they affect blueprints. They use computer-assisted drafting tools, applications, and related codes to create interior configurations. They are in charge of engineers, draughts people, and other employees who are employed on cooperative projects.
• Photo Editor: A photo editor's job is to define photography requirements and delegate assignments to photographers who can meet those specifications. They prepare photographs for publishing by editing, reviewing, and manipulating them. Photo editors work in a variety of settings, from news organizations, magazines, printing companies, and other associated businesses. They work as a freelancer and sometimes create multi-page photographic descriptions.
• Graphic Designer: Graphic designers are responsible for creating drawings that illustrate a product or convey a message, as well as introducing these designs to their clients. Prior to the design's submission date, they determine the form of a message to be communicated in the design and implement client-recommended changes. They create content illustration graphics and analyze prototypes before they are released.
You'll go a long way with versatility, resilience, imagination, and a little discipline. When you begin to concentrate on all of the little details of the graphic design business, you will be able to simplify the industry's most crucial principles. So get started on this new adventure by enrolling in a graphic design course right now.