Crafts are an excellent means of unwinding, bringing out the creative side in someone, letting people turn off their brains for a moment and remove themselves from the difficulties of daily life. It can bring people together, allow someone to make an excellent personalized gift, and can open up new worlds to explore.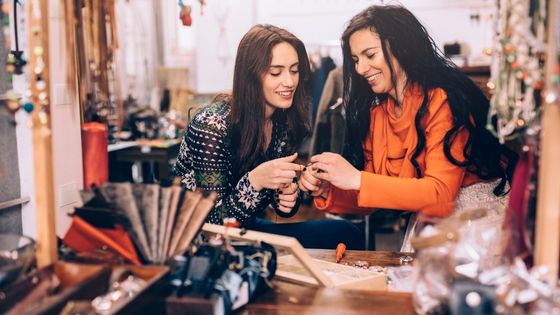 There are so many reasons to do crafts, and you do not have to be arty to try something out!
Whether you are someone who loves to do crafts already, you are wanting to make time for a little more creative 'you' time this year, or you just want to try something new, then here are some suggestions you should try out!
Read on to find out more!
Acrylic Pouring
Acrylic pouring is as exactly as it sounds, and it can also be as easy as it sounds if you use beginner techniques. This is a very versatile craft, because after you master the basics, you then have somewhere to go when you want more of a challenge.
This craft requires you to have pouring acrylic (thinner than normal acrylic paint) and a surface to pour on! Canvases are popular, or card and thick paper can also work well. If you want to try it out before putting your best paper forward, trying on scraps will give you a good idea on what pouring acrylic is like to work with.
You can either choose pre-made pouring acrylics which can make things easier, or you can make your own! You then need to elevate whatever you are pouring on (with a mat or wipe clean cloth underneath) and pour the paints over it in any pattern you desire.
Decorative Baking
There is something cozy about baking cookies or biscuits, but if you want to take it to the next level, then decorating them in different ways can be a fun craft to try – and one you get to eat after!
There are plenty of edible pens, images, glitter, confetti, and other decorative touches that you can add on after you have finished baking – the world is your oyster. This is where your inner artist has a chance to shine.
If you want to take your baking to the next level, get yourself some custom stencils from www.confectioncouturestencils.com so you can get personal!
Collaging
Collaging is a favorite pastime from childhood for plenty of lucky people. Cutting images and text out of magazines, creating old school vision boards or just a fun mixture of pictures for the sake of it while sat around the kitchen table was something enjoyable that can still be done today. In the day of digital art – which is brilliant in its own right- it is nice to put the screens away and let your imagination, some pictures and some glue, take you wherever they want to go.
Get back into that mindset, grab yourself some of your favorite magazines or images that you love, and see what you can come up with!