Engineering is one of the best-paid professions out there, but with so many paths to take – from a career in the field of cybersecurity to industrial engineering, how do you pick the right one?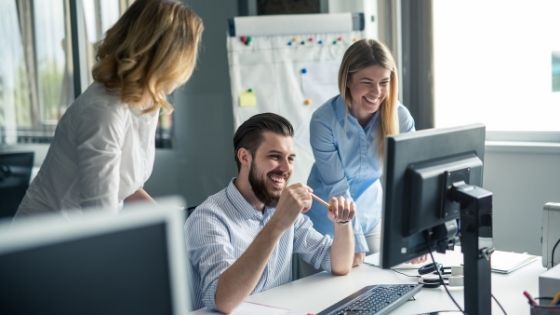 In this article, we discuss 7 best jobs in the engineering field for the future to help you narrow down your choices.
1. Renewable Energy Engineer
Thanks to all the technological advancements, renewable energy resources are continually evolving. This clean energy can come from different sources – with solar, wind, biofuels, and geothermal energy being key players. As it relies on extracting resources that naturally replenish, it is an unlimited fuel and power source that is more lasting and sustainable.
The trend is expected to continue in the future as we're trying to harness more environmentally friendly energy resources. As a matter of fact, governments and private sectors worldwide are being pressured to reduce their carbon emissions dramatically, so they are looking for the right opportunities to invest in renewable energy sectors.
Renewable energy engineers will play an essential role in designing the solutions for the more efficient solar photovoltaic cells, geothermal plants, and wind turbines. They will be developing equipment and machinery and scheming production processes while trying to minimize the detrimental impact of technology on the environment.
2. Civil Engineer
If you're more into the field of civil engineering, you don't have much to worry about, at least if you have proper pdhstar site safety training. There are plenty of positions available and a range of challenges you will explore with a career in this sector.
In addition to creating new architectural solutions, there is always a need to maintain and renew essential urban systems at the different stages of their life cycle. Specific infrastructure and transportation networks don't meet the population's needs anymore, so they need to be renewed or replaced.
Smart cities are another great challenge for civil engineers, as they can now play an essential role in redesigning the way the cities operate by embedding technology into infrastructure.
3. Digital and Software Engineers
If you're a digital engineer, your expertise will be in high demand in the future, regardless of the industry you choose. This career option comes with a big fat paycheck and excellent perks.
However, as it is a rapidly changing field, you have to stay up to date with the latest trends and developments to make the most of your potential and skills.
Technology is no longer just a separate discipline, as it is now integrated into all aspects of engineering, such as design, planning, operations, and maintenance.
As a digital engineer, depending on your interests and specialization – hardware, software, or data management, you could participate in the production of digital devices and appliances or be involved with designing solutions related to the aerospace industry, defense systems, power plants, or smart city infrastructure.
With this kind of expertise, you can also help broader engineering disciplines, allowing their projects to come to life by using simulations, models, analysis, and big data insights.
4. Biomedical Engineer
One can hardly exaggerate the importance of biomedical engineering and its prospect for the future.
Since this field focuses on two things – technological advancements and finding cures for different illnesses and diseases, there will be constant developments of this discipline and many open positions in the years and decades to come.
Furthermore, with the average lifespan increasing with each generation, the need for new biomedical solutions for devices and surgeries, like hip or knee replacements, can only increase.
Biomedical engineers use their medical and engineering expertise to create and develop new software, systems, and equipment that can help advance the healthcare system and the medical industry.
They are usually employed by medical equipment manufacturers, health services, rehabilitation institutions, and research facilities.
5. Automation and Robotics Engineer
Another engineering branch with a bright future is the science of designing and creating robots that are used to speed up and automate a number of processes in various industries, such as sea exploration, nuclear science, or designing of bio-medical equipment, to just name a few.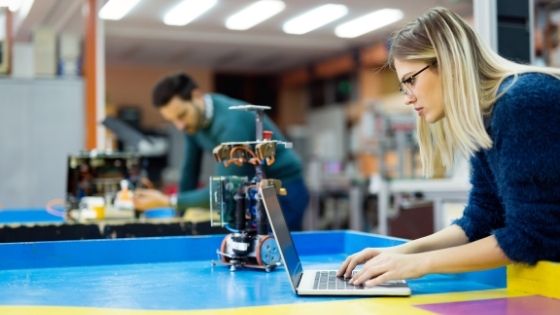 However, this is a very demanding and detail-oriented career path. Your working knowledge base has to include a combination of mechanical, hardware, electrical, and software engineering skills.
One of the main roles of an automation and robotics engineer is to design plans for the manufacturing of the machines and robots so that they can be built and assembled to work with precision.
Apart from watching their creations come to life, robotics engineers have to test them to verify that they can safely and effectively execute tasks they have been built for.
6. Industrial Engineer
The main job of an industrial engineer is to find a way to make production processes more efficient and effective.
These professionals are tasked with evaluating production processes, optimizing them, eliminating wastefulness, and improving quality and productivity.
In a nutshell, industrial engineers are trained to figure out how to do things better, prevent waste of time, money, energy, and resources, as well as devise efficient ways to best integrate workers, materials, technologies, and information into a system.
If you opt for this field of engineering, you'll have the opportunity to work in a wide variety of industries, including the information and communication industry, financial and insurance services, logistics and supply chain, and many more.
7. Safety Engineer
Ensuring safety in the workplace should be among the top priority of every business.
Although many companies hire health and safety managers to overlook this aspect of operations, there's another level of EHS responsible for improving and developing working conditions and mitigating health risks – safety engineers.
While it's safety managers' job to supervise and enforce the implementation of the best safety practices, safety engineers actually design the systems, environments, and processes.
Besides safety assessment and evaluation, these experts can also predict safety hazards in advance and make improvements that will prevent accidents and save lives.
This job requires collecting, analyzing, and interpreting a lot of data, and multiple disciplines have to be taken into consideration for designing, implementing, and maintaining a safe workplace.
If you're interested in pursuing a career in engineering, think about these 7 jobs as they will be in high demand in the future.