When you've been with your partner for a long time, taking time to spend with each other can easily go by the wayside. There's always some commitment you have to get to, problems getting a babysitter or a deadline that one of you has to meet.
Before you know it, you can feel as though it's been weeks since you had a real conversation.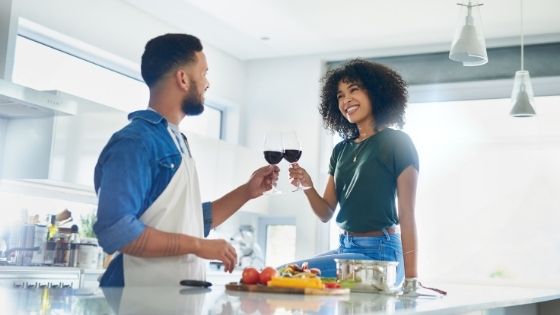 Making time for date night is important because it allows you to reconnect, have fun, and re-member why you are together in the first place. Date nights at home are a great option because they mean that you don't need to worry about a babysitter, and you can save yourself some money into the bargain.
Movie night
Movie night at home is something that you can make really special if you put in a little thought. If you're planning a movie night, here are some things to think about:
Be sure that you choose the movie you want to watch together before the night, other-wise, you will spend most of your time scrolling through Netflix! It's a good idea to choose a movie that you both really want to see, rather than one that one of you isn't that excited about. That way, you'll be able to connect over it.
Plan your movie snacks ahead of time, and if possible theme them to go with your mov-ie. This gives you an opportunity to get creative, and perhaps try something that you wouldn't usually.
If you wish to go all out, you could rent a projector to give yourself the big-screen expe-rience at home. You could even think about surround sound, too, if you want to go the extra mile.
Make yourself as cosy as possible. Get lots of cushions, beanbags, blankets and any-thing else that will make you feel truly pampered as you watch.
You could even think about taking movie night outside drive-in style if you have the weather for it!
Ordering in
If there's a local restaurant you've been dying to try, then ordering in is a wonderful way to try their food at home.
If you wish to save some money, keep an eye out for an Uber Eats Promo Code for your restau-rant of choice, as this will often save you some money.
Set the table nicely with a tablecloth, and make good use of candles and mood lighting to recreate the restaurant experience in your own home. Setting up an alfresco dining area on the patio is another way to make your night extra special.
Go for drinks
With a little forethought, you can transform your lounge into a trendy cocktail bar. Find a playlist of your favourite songs and spend time creating a cocktail menu, and soon you'll feel as though you've been whisked away on a night out without ever leaving home.
Cook together
It's a simple thing to do, and such a great way to bond and have fun. Choose a meal that neither one of you has made before, and make a date out of shopping for the ingredients, preparing it and eating together.