From wood burners to glue guns, crafters and creatives have long had lots of tools to help them produce a variety of unique crafts. However, as computer coding became applied to crafting, they obtained a variety of machines to help them achieve a new level of precision and creativity. For instance, CNC routers can provide custom cutting and carving in wood and metal. Laser engravers can cut and engrave in wood, metal, and glass. Each of these machines is operated via a computer dashboard that allows the user to create or import a custom design, which is then produced by the attached machine. However, with the revolutionary Cricut, this level of computer-aided design is now available for crafters working with paper.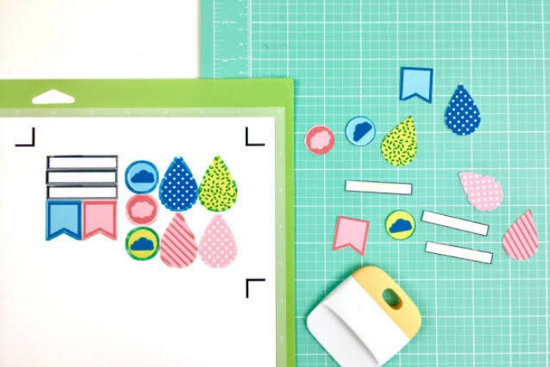 1. 3D templates
For any crafter just getting started, image templates are the easiest way to begin cutting out designs immediately. The designs are standard SVG files, which the user can import. Once imported, the machine reads the SVG file and displays it on the Cricut dashboard. With the template imported on the dashboard, you can now resize and position the image to match your paper size.
The best way to get lots of SVG files is to download what is known as a shape cartridge. Shape cartridges come with a library of layered images that you can compose into a project. From greeting cards to calendars, you can create all sorts of products using professionally designed images.
2. Paper types
As paper comes in a variety of finishes and thicknesses, you have to select paper that is compatible with your Cricut. That said, Cricuts can accommodate a wide variety of standard paper, glossy paper, and card stock.
Additionally, you can buy labels, stickers, and reflectors. Finally, if your project calls for transparencies, you can cut right through the clear acrylic transparency without a hitch. In fact, thin types of adhesive foil classifies as paper, and the Cricut will cut through foil in amazing detail.
3. Engraving tips
Different types of paper will require different types of tips. For instance, thicker card stock requires a thicker blade that will resist bending. Additionally, a thin blade might curl against the pressure of the paper as the machine twists and swirls the blade to match the design of the shape cartridge. Thicker blades include the following.
Deep point
Bonded fabric
Premium fine point
Each of the above blades are not blades in the traditional sense. Instead, they are sharp metal rods shaped much like a pencil. With these tips, the point drags over the paper and cuts it.
Additionally, some tips, such as the rotary blade, are designed to etch intricate shapes. These have a circular blade on one end and a rotary gear on the other. The Cricut is then able to spin the blade. As such, these blades can cut spirals and ornate shapes without ripping the paper.
Some blades do not cut. Instead, they are dull, allowing them to score the paper for folding.
Finally, the Cricut knife blade employs the design of a sharp razor. The point of this blade can cut extremely detailed cuts.
When purchasing your Cricut, you will likely want at least one of each type of blade. The best way to do it is to conduct the following online search: "buy Cricut Australia."
4. Power
During the cutting process, you do not want your Cricut to lose power, and the best protection against loss of power is to use a battery box. A battery box will allow your Cricut to continue cutting even if you lose power. Once the shape is complete, you can then save your work, turn off your Cricut, and wait until the power comes back on. In comparison, if you lose power in the middle of a cut, the Cricut will simply stop working.
5. Backup
Of course, you will want to back up your shape files. You can do this by copying everything to an external drive. An external drive can typically hold thousands of shape files. However, external drives are often the size of a playing card. If you want something smaller that will fit into a pocket or purse, you can purchase a flash drive with 128 GB capacity. Even though flash drives have less capacity than external hard drives, they can still hold thousands of files.