The office Christmas party can be a fraught business. With office politics, limited budgets, and often congested timetables, arranging the perfect gathering is hard work. A well-put-together party is a fantastic experience, though, and the perfect send-off for your employees before Christmas. Here are a few tips to get it right.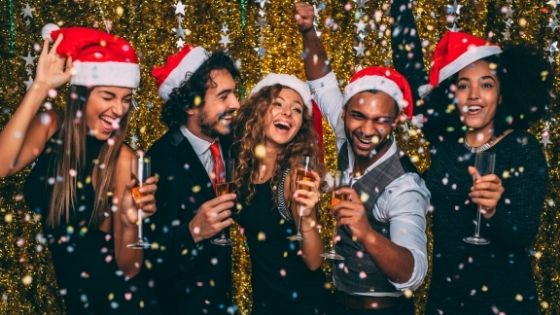 #1 Plan ahead
The best way to ensure that everybody can make the party is to plan it a long time in advance and make the date widely known. This way, people can set their schedules accordingly. At least a month in advance is usually ample notice, but use the time wisely. Rather than simply replicating last year's party, ask for feedback on what employees liked/disliked. This could include the music, the food on offer – even the theme. It's highly likely that you'll receive a range of conflicting answers, but try to establish trends within the data. Working a long time in advance gives you the chance to improve on last year's party.
#2 Stretch the budget
Businesses tend to put aside some money for the annual Christmas party (they're aware of how popular it is amongst employees), but this doesn't mean that you should spend freely. Try to stretch the budget as far as you can. Get as many quotes as possible for things like food, music, and decorations. Compare these quotes and go for the cheapest option. The less you spend, the more you can buy, hopefully transforming the party into a truly lavish and memorable affair. Sparse office parties are miserable, so push your budget to the limit and see what you can create.
When you hire waiters for your party, they know how to have a good time, whether you're looking for a calm and relaxing party or a wild night of bare nights, they can help.
#3 Incorporate gift-giving
Gift-giving is an important part of any office Christmas party. Not only does it get people in a festive mood, but it encourages amicable relationships between staff. Secret Santa is commonly used, and it brings a dash of fun to proceedings as people buy gifts for each other anonymously. There are lots of Secret Santa gift ideas out there, ranging from the serious and heartfelt to the slapstick and comical. Having a Secret Santa event also gives the office party structure. Gift-giving can be the centerpiece of the party and a moment that brings everybody together.
#4 Find a special venue
This is largely budget-dependent, but the office Christmas party tends to work much better when it occurs outside the office. Employees, after all, have spent most of the year staring at the same scenery, so taking them somewhere new will help everybody to feel a little more festive. Function rooms and halls are an obvious choice. These come with buffet tables, chairs and, of course, a dance floor and space for a DJ or book a professional dancers for events sydney. You might get more creative with an out of town venue, perhaps somewhere that staff can bring their whole family. If you have an especially large budget you might even fuse the party with a daytime activity like paintball or laser tag for extra fun.