A bread maker is a versatile appliance that can be used for making different types of bread. The advanced and modern bread makers are smart appliances that let you do many other tasks by just pressing a pre-programmed menu. This includes making cakes, jams or kneading atta for pizza base, poori, chapatti or parantha.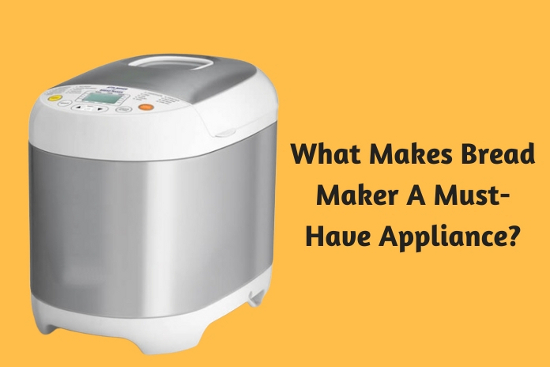 As all doughs differ in consistency, it requires expertise to make doughs manually. But, with this appliance at your disposal, you just need to press the set desired program after placing the ingredients and the appliance works on its own to make the perfect dough. The kneading process is also very hygienic as you don't touch the dough with bare hands.
A bread maker has become a must-have appliance in the kitchen as it makes life easy and convenient, especially when you have to juggle between lots of household chores and office tasks. This appliance works like an extra pair of hands in the kitchen preparing things that you want it to hygienically, working as an intelligent assistant through pre-programmed menus without any manual intervention.
Features of Bread Maker That Make It a Must-Have Appliance
• Bakes Fresh Bread
Bread is required in almost every household, but the hygiene, freshness and contents of readymade loaves are always doubtful. Baking bread at home frees you from all such worries and also gives the perfect control over the ingredients. You can make it healthy by using healthy ingredients like multigrain flour and flaxseed. Besides being healthy and hygienic, baking bread at home is economical too.
• Gives You the Flexibility to Experiment
You can let your creative juices flow and experiment with various alternatives. For instance, using a vegetable puree of say palak or beetroot to knead the dough instead of water can make pooris colourful and healthy.
• Convenience
The bread maker with a delayed timer lets you select the time when you want it to be operational. For example, if you want freshly baked bread right in the morning, you can put all the ingredients in it the night before and set the timer. It will start working at the precise moment while you are still asleep and keep the loaf ready for you when you wake up.
• Saves Time
As bread maker is an intelligent appliance, it works efficiently and completes tasks quickly, which otherwise takes a lot of time and expertise to complete.
• Easy to Operate and Clean
The appliance is so easy to operate that even a child can use it. The whole process of mixing, kneading etc. is automatic and time-based functions. All you need to do is place the ingredients and press the desired option from the pre-programmed menus. Its functions are time-based, so you know exactly when a particular thing will be ready to use. It is also easy to clean as it has detachable components, which can be cleaned using a soft cloth and make it ready for the next use.
All these features of this amazing user-friendly appliance make it a must-have in every kitchen.