Serums should be an integral part of your skincare routine because they help to provide your skin with essential vitamins and antioxidants. They are usually oil-free and water-based, formulated with finer molecules to enable maximum absorption of the active ingredients by the skin. Serums can help in erasing fine lines on the skin, hydrate and brighten the skin, and managing the breakout of acne. If you are looking for the best serums for your skin, here are some of the active ingredients to look out for.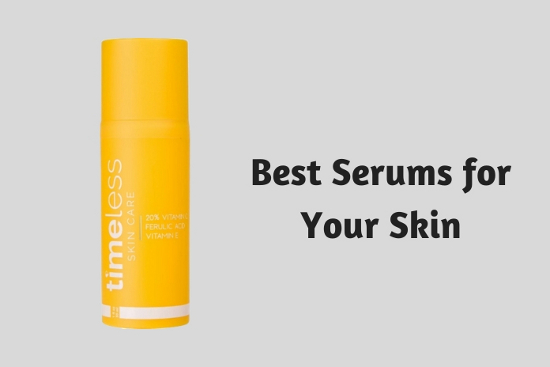 Active Ingredients for the Best Serums
Everyone wants to have a glowing and healthy skin. If you are looking for a serum to include in your skincare routine, consider one with the following active ingredients;
i) Vitamin C
Besides being safe for all types of skins, vitamin C also the ability to help in remedying a lot of skin conditions. Vitamin C has a number of benefits to the skin. It can deal away with skin discoloration and eliminate dark spots. Furthermore, it increases the production of collagen, which enables the skin to fight off wrinkles and fine lines in order to stay firm. Vitamin C is also rich in antioxidants that fight free radicals which cause skin damage. If you are looking for the best vitamin C serum then you should consider a Timeless serum.
ii) Hyaluronic acid
Another effective ingredient for good skincare serum is hyaluronic acid. The body produces its own hyaluronic acid which helps in attracting and retaining moisture on the skin. It is referred to as a humectant. The acid has a low molecular weight which helps it to penetrate deep into the skin and plump up the wrinkles. The best hyaluronic acid serum will help your skin to retain moisture without having to worry about excess skin oil.
iii) Vitamins B and E
Vitamins are very essential to the health of your skin. Vitamin B3, sometimes referred to as nicotinamide or niacinamide, are known for minimizing hyperpigmentation and preventing the skin from aging. It can also help in getting rid of dark spots under the eyes. Vitamin B5 (Panthenol) also helps in moisturizing the skin.
Vitamin E, on the other hand, has antioxidant and anti-inflammatory properties that enable you to have a smooth skin texture.
iv) Essential acids
Acids such as glycolic acid, salicylic acid, and ferulic acid are very essential to the skin. The glycolic acid helps in exfoliating the skin and getting rid of dead skin cells. Salicylic acid, on the other hand, helps in decreasing sebum production on oily skin while ferulic acid boosts the effectiveness of the other antioxidants besides being a powerful antioxidant on its own. Salicylic acid should however only be used on oily skin sparingly.
What to Watch Out For?
The essential acids are very effective on their own. However, using them in combination can cause skin dryness and irritation. You should also avoid combining vitamin C with retinol as they require different pH environments to be effective. Using them together will inhibit their effectiveness.
It is important to follow the instructions when using a serum. Vitamin A, retinal, and essential acid serums should be used at night to prevent sensitivity to the sun. If you have sensitive skin, then you should first consult your dermatologist before using any serums.