There can be several reasons to lose your data. You could have lost your data because of a wrongly partitioned hard drive, a virus attack or a new OS installation. But, can you afford to let go that crucial data which you have kept safe for a period unknown?
Users are generally scared or get jittery as soon as they find that their data is all gone. And, there is a very common notion that once your files are gone from your Windows PC, you might not just be able to recover files again.
Is that so? Maybe not. Think about this, with tools and software hitting the market every now and then, you may not have to shed much sweat if you wish to recover files on your hard drive and if you are still worried about how to recover you lost files, we have got you all covered.
Here is a list of some of the most amazing hard drive recovery tools for Windows PC –
1. Disk Drill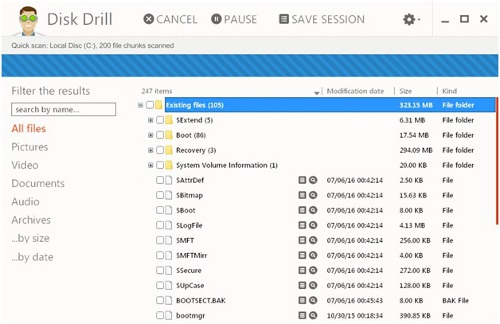 When we talk about recovering files, a name that often surfaces is Disk Drill and there are several reasons why that happens. In fact, if you are worried about how to recover files, then Disk Drill is your best bet. It is a reliable and fast hard drive recovery software that will help you recover your data from not just your hard drive but from any accessible external and internal media such as the USB drives, memory cards, music players, etc.
Disk Drill knows exactly where to look for the lost files and it, therefore, gets them back in the fastest manner.
How does Disk Drill Work?
All you need to do download the Disk Drill Software, install it on your PC and run Disk Drill. After you have run the software, you need to head to the "Recover" button which you will see against the name of your hard drive.
2. Recuva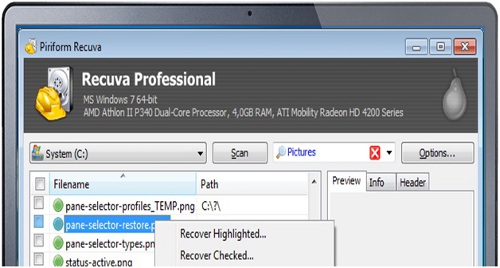 Next on our list has to be Recuva. Itis undoubtedly one of the best hard drive recovery software available. If you have lost files due to any reasons, Recuva will get them back without a hitch. Unlike many other recovery software, Recuva can recover files from all kinds of drives – newly formatted or even damaged.
The best thing about Recuva is that it has a dedicated deep scan mode which is indeed a great mode because there are times when it can be really hard to find traces of a file. Recuva performs a deep scan and cleans drives to find any traces.
When you purchase the premium version of Recuva, you get a host of benefits like the software automatically updates to the latest version and you get unceasing customer support.
3. EaseUS Data Recovery Wizard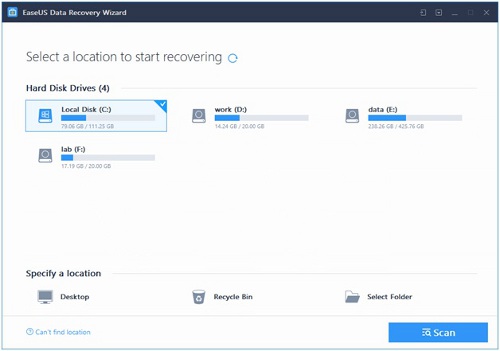 There are times when we accidentally delete important files and later repent. EaseUS Data Recovery wizard could just be your chance to make things good.
Recovery EaseUS Data Recovery Wizard gives you the facility to browse folders as you would do in a normal explorer. It also gives you the option to create a backup of your scan results so that later when you intend to recover files you can do that without any further hassles.
Now, its scan and recovery functionality takes into consideration several different scenarios like –
Recovering files that have been deleted because of the Shift + Delete command
Recovering files that have been damaged during reparation, improper partitioning or any such case
Recovering files lost due to system crash
It doesn't matter if you even have a corrupted or a damaged or a new hard drive, you can easily perform recovery.
4. Stellar Data Recovery
As the name suggests Stellar does a stellar job when it comes to getting back, you're your long lost data which you could have lost due to several reasons. It could be anything your files, folders, emails or anything for that matter. It has two version one that is specifically aimed at normal consumers and second which is dedicated to the businesses.
There are several highlights that this software comes with. First of all, immaterial of your technical skills – whether you are a beginner or whether you are highly technical, the software places absolutely no difficulties as far as operations are concerned.
It also takes an image of the storage device so that you can resume your recovery at a later time. This is one functionality that very few software in the market offer.
Plus, if you have any apprehensions, doubts of whether the software will work for you, Stellar even offers you to test the software once inside out (thanks to its try before you buy) feature.
5. Active File Recovery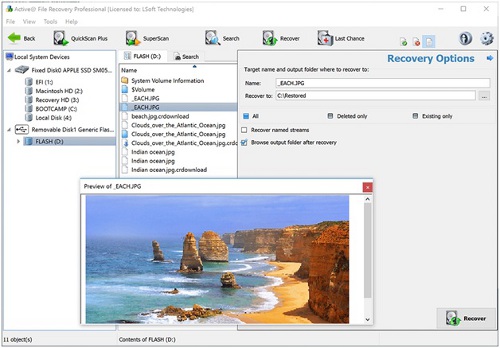 A small price tag yet heavy features, Active File Recovery is the choice of many users across the globe. It efficiently recovers damaged, reformatted, lost or damaged files even in case your computer doesn't boot up. Not just that, it even recovers those files that have fall prey to power failure, cyber-attacks or malware.
Again, with this software, you have an option to download the demo version of the software before you buy the premium version. Just so that you can make yourself well acquainted with the features. Although, there are tons of benefits that the premium version brings with itself. For instance, user-defined file signatures can be created using very simple syntax and these can be loaded via text file.
The premium versions also have integrated active disk editors that allow you to inspect any raw sectors for lost files.
Recovering the files is as simple as 1-2-3. You download and install the software, select your desired location whose files you wish to install and hit the recover button. Done!
To conclude
Gone are the days when you had to seek professional help to get your lost data recovered. Now, we have seen that no matter, under what circumstances you have lost your data from your hard drive or from any media, all you need is one of the above tools.