Roses are people's first choice when it comes to gifting a bouquet or planting flowering pots in an indoor garden. Rose blooms in every season, which is the reason why most people prefer roses when they have to pot a flowering plant in their garden.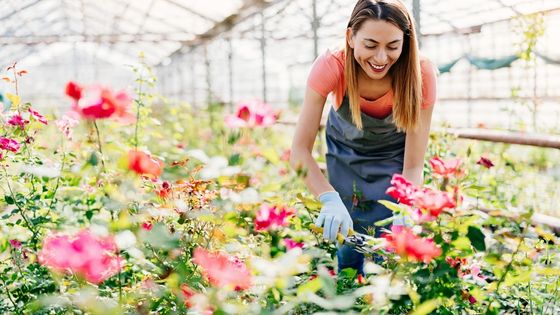 Rose flowers can grow in varied climatic conditions, and around more than 200 varieties are available in the world. It has many colors, like Red, Pink, Orange, Purple, and even Black, and each color has a distinct meaning. Rose's flower signifies love, beauty, perfection, innocence, achievement, politics, and war. It is also a well-known thing that people use to express their love in front of their better halves.
Nowadays, almost all people have a great desire to pot different varieties of rose plants to enhance the beauty of their gardens. If you have a green thumb and want to increase the aesthetics of your terrace or indoor garden of your house, then here are the best beautiful and exotic rose species that can increase your house's beauty.
1] Damask Rose
Damask Rose is one of the species of roses that are generally grown in Asia and European countries. It is available in many colors, such as Pink, Ivory, white, and Red. Whether you have to decorate your garden or you want to beautify any place for a wedding or any other event then, Damask rose is the best option.
It is also well known for its fragrance and is also used for making Rose oil-making industries as well as perfume-making companies. Damask Rose has an arching thorny stem, and the petals of this rose are also edible.
2] Bourbon Rose
Bourbon Rose is very popular and the first choice of gardeners. It is renowned for its glamour and fragrance. It signifies romance and love, and lovers prefer the most to admit their love.
This is one of the best indoor flowering plants that you can put in your garden to enhance the entire look of your garden; also, you don't have to run here and there to pluck its fresh petal so that you can easily decorate you're your house with this exotic species of rose.
Bourbon rose comes in different shades and colors, like perfect pink, pure white, light blush, and deep red. It is also known as the "queen of roses," and it is perfect for expressing love in front of your sweetheart.
3] Grandiflora Rose
Grandiflora Rose is also known as the color of a splash as it is available in so many attractive colors. This rose is the first choice of a bouquet, and most gardeners love to have it in their garden because of its traditional colors like red, white, pink, yellow, etc.
Grandiflora is developed by crossing the two species of rose, i.e., Floribunda Rose and Hybrid Tea Rose. If you are in the mood to put a Grandiflora in your indoor garden, then put it in that place where it receives the full sunlight.
4] Floribunda Rose
Floribunda rose was developed by crossing the Japanese rose and Chinese Rose. It is also known as the modern garden rose. The size of this rose generally varied from heights of 5-6 feet. It also needs less acre and pruning. This is the ideal plant that to put a flowering plant in your garden.
There are many nurseries from where you can order rose plants online so that you don't have to outflank nursery to nursery in search of this rose as they deliver your plant to your doorstep. Floribunda blooms in spring and summer. It is available in White, Red, Pink, and Blue. It is the perfect flowering plant that you can pot in containers.
5] Gallic Rose
Gallic rose is often known as the French rose or rose of Provins. It is one of the oldest species of rose, which has been cultivated since ancient times. Gallic rose flower blooms in the cluster of one to four flowers, and the flower of this rose are lightly fragrant.
The flower of this Gallic rose comes in different colors, such as white, light pink, deep purple, deep wine, etc. Gallic rose is an exotic variety of roses for putting in your indoor garden because of its attention-grabbing flowers.
To Wrap Up
Roses are the best examples of flowering plants that can uplift the look of a garden or living space. Roses represent all forms of love because each color has a specific meaning that makes it the one-stop choice for wishing for any relationship on special occasions. Based on your choice and place availability, bring a variety of rose plants and nurture them to see the beautiful fragrant flowers at your home, or choose it as a perfect gifting item as well.