Kurta pyjama is honoured as a traditional outfit in India, Pakistan, and many other South Asian countries. It's extensively worn at fests and formal events like marriage functions or religious things. There are various ways in which you can wear kurta pajama for men. With multiple colourful kurta designs and fabrics, they can now be worn on numerous occasions and can be worn casually at home as well. Many kurta designs involve bands or embroidered collars. Generally, for marriages, much more decorated and colourful kurtas are popular.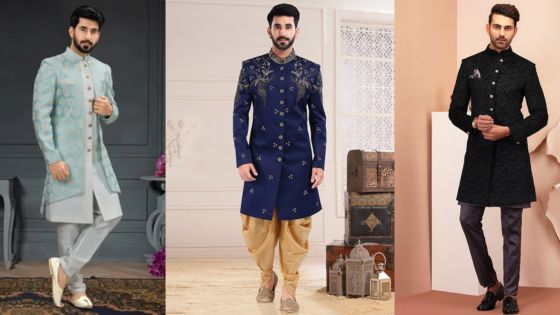 Mentioned below are a few kurta pajama for men that you can style for any occasion.
1. High-low cut kurta pajama – A blue kurta pajama featuring high-low cuts will make you appear ultramodern and hip anywhere you go. You can channel your ethnicity with an ultramodern twist by opting for a trendy kurta accenting a mandarin collar and side slits. Add a pair of white pyjamas, a crinkled scarf, and brown suede shoes, and you're all set for the pre-wedding festivities.
2. Short cotton kurta pajama – Cotton kurta pajama never fails to thrill us with their variations and play of lengths. Short cotton kurtas are ace for any season. So you can opt for a cotton kurta with a mandarin collar and side slits. You can pair it with cotton pajama, chino pants, and shiny black shoes.
3. Pathani kurta pajama – Pathani kurta pajama have a collared neckline and extend slightly below the knees. Pick a striped Pathani kurta accenting a shirt collar and side slits if you want something casual yet charming. Pair it with black dhoti pants and Pathani juthis to go all traditional.
4. Printed kurta pyjama – Give a fascinating alteration to your traditional get-up by opting for a colourful kurta pajama. A blend of diverse themes and prints can boost your mood better. A printed kurta that features a straight cut, a mandarin collar, and side slits is an ace pick for daytime events. Just wear a pair of contrasting pyjamas and kolhapuri chappals.
5. Bandhgala kurta pajama – Paired with a basic set of kurta pajama, Bandhgala blazers change your entire get-up. Bandhgala blazers or kurtas are buttoned up to your neck to deliver a conventional look. The functionality of this traditional garb can keep you warm during the chilly months, making it the perfect choice for a winter marriage. If you're searching for something elegant, then pick a black bandhgala kurta pajama with a bright pocket square and a mandarin collar.
6. Floral printed kurta – Kurtas with a floral print can be paired with light-coloured churidars. Wear floral printed kurtas for day events. Make sure you pick light tones for these kurtas. You can opt for the tones like mint green, peach, baby pink, baby blue, etc. If you find your kurta to be too simple, you can add a shimmery border to the kurta and pair it with brown suede shoes.
Generally, the printed and coloured kurta pajama is worn for day-to-day wear, whereas the embroidered kurta pajama is worn for formal events. Men indeed possess the limberness to put on a plain and unembellished white or beige kurta pyjama made of silk for special events. You can accessories this ethnic get-up with a pair of leather mojaris and a red scarf-like dupatta.