Covid has had an impact on companies around Australia and the world. Melbourne and Victoria were particularly badly impacted, subjected to the tightest lockdown of any Australian state or territory. After months of Zoom conversations, your firm will need to engage with clients, re-energise employees via team building activities, and move ahead together through strategy sessions. To do this while people adjust to the new normal, your organisation will be seeking a Covid-safe location for client meetings and business activities. In Melbourne, a meeting venue for hire is available at reasonable rates. Currently, the notion of renting conference spaces is popular in Melbourne. It provides a plethora of advantages in terms of cost and comfort. Some of the major advantages include: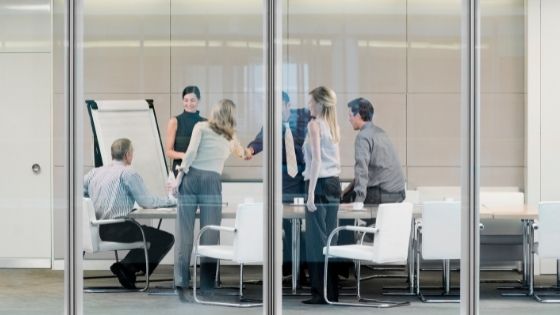 1. Flexibility
While having a conference room in your workplace is convenient, it is also limited in capacity and technology. It doesn't provide you with the option of changing it as circumstances dictate. On the other hand, renting meeting rooms equipped with high-tech equipment and a well-planned seating layout offers you a certain amount of flexibility when holding meetings or discussions. Having a dedicated space in your office premises precludes you from experimenting with new updates or ambience. In order to address this limitation, renting conference rooms are extremely common.
2. Space
Suppose you have a better business concept but lack the space to implement it in congested areas of Australia or other places worldwide. In that case, you may still thrive by outsourcing meeting rooms on a rent basis in Melbourne. Numerous organisations offer conference rooms and office space to struggling businesses and fledgling startups.
3. Privacy
Industrialists typically want a private location for extremely sensitive talks or meetings in business. Nevertheless, some issues are too sensitive to discuss or convey among office colleagues. In these circumstances, renting a conference space for a specific purpose is a practical choice in Melbourne.
4. Absence of Distractions
It is critical to have few distractions to maximise efficiency while discussing serious work-related topics. Exclusive conference spaces provide a good atmosphere, which contributes to increased efficiency. They are often equipped with the latest technological developments in amenities and comfort, including ergonomic chairs and workstations, a television, and an internet connection. In Melbourne, state-of-the-art conference rooms are made available on a rental basis to appropriate employees.
5. Versatility
Meeting rooms may be utilised for various purposes, from having corporate meetings to conducting interviews for a new batch of employees. Mini-team celebrations and monthly activities may all be effectively hosted there. As a result, these spaces are adaptable to any event. It may sometimes become a constraint to use a room for many purposes within one's workspaces because it was created with a certain function in mind. Due to its adaptability, conference rooms are widely accessible for hire in Melbourne.
6. Style
They don't just provide quality services; they also provide a comfortable workplace that you would not have at your job, at home, or in a café. Numerous conference room locations have made significant investments in the design and atmosphere of their facility.
In Melbourne, a meeting venue for hire is more advantageous than carving one out of your office space in every aspect. Whether you're a tiny startup trying to extend your horizons, a huge multinational seeking a suitable venue for all participants, or a couple of enterprising freelancers networking together, hiring a meeting space can save you time, money, and aggravation.