Have you been seeking a way to customize your entire house? A whole-house remodeling gives you limitless opportunities to personalize your home. You get the chance to demolish walls, install new roofing, merge spaces, and create a rejuvenating oasis in your bathroom. Instead of doing it room-by-room, remodeling your entire house at once is the most effective approach to creating a customized home.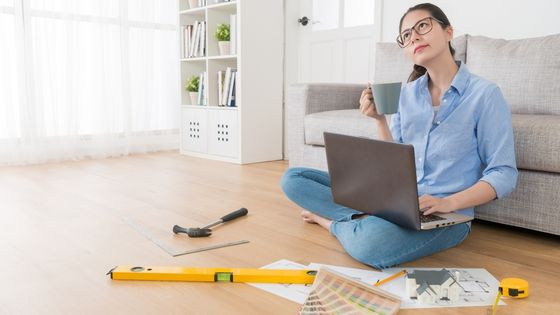 However, you need to take some time and think about the entire project since it's time-consuming, may disrupt your daily activities, and requires an expansive budget. So, where do you start with the whole-house remodeling? What are the advantages of this option?
Stick to the article. We'll explore what it means to remodel your entire house and why it's the best route to take.
Money Talks
Home remodeling projects are quite demanding and require enough money to commence and sustain the project. When it's an entire home remodeling project, you'll need a bigger budget than a single-room remodeling project.
Before creating blueprints, requesting permissions and approvals, or telling your family that you are remodeling, you must decide on a reliable strategy to pay for the entire job. So, don't settle for just one financing or funding choice. Making decisions is a big part of the financing and budgeting process for whole-house remodeling. To keep the project going, multiple financing sources are needed.
You can use home equity, personal loan, savings, credit card, cash-out refinancing, and other loans such as 401K or IRA funds. You can also use tax refunds. A study established that more homeowners are using tax refunds to renovate and repair their homes.
Also, remember to draft a budget that fully meets the costs of the entire project. If possible, think of getting estimates from a home remodeling professional. The professional will be in a perfect position to help you visualize what you can achieve with your budget. Besides, they'll help you set up a perfectly customized house without exhausting your finances.
Will You DIY or Hire Contractors?
It takes a lot to afford a whole-house remodeling. Therefore you may want to save some coins by DIYing a few parts of your home and leaving the rest to the professionals.
Create a priority list, decide what you can handle by yourself, and what to leave to the contractors.
When remodeling the entire house, you should deal with a general contractor. A reliable and skilled general contractor will collaborate with other experts, such as an architect, to guarantee that you achieve stunning results within your financial constraints. But make sure you ask for quotes from many skilled contractors of bathroom remodeling or kitchen remodeling in Austin, Texas, or elsewhere. Then, seek their portfolios, and get information about their prior jobs.
Approvals
You ought to understand the permits and approvals you'll need before embarking on the whole-house remodeling journey. Building, plumbing, structural, and electrical permits often take longer to get approved. Therefore, plan. You can also leave it to your contractor. They know the particulars of the permit processes. But the permitting process may slow down your project or add to the overall cost of the project.
Why Whole-House Remodeling?
Design Integration and Cohesiveness
Remodeling your whole house makes it possible to achieve design cohesion throughout your home. You get to link all the interior spaces and create balance and a harmonious transition throughout your home.
If you decide to do it room-by-room, there is a high likelihood of using different design elements around your home.
If you choose to renovate all the rooms at once and involve a professional, you will achieve design flow. Whole-home remodeling allows uniform installation techniques and similar building materials throughout your home.
Cost Reductions
The budget is a crucial component of a successful whole-home remodeling project. Doing whole-home remodeling instead of room-by-room saves you the time required for building permit approvals and the costs involved in remodeling projects. Moreover, large-scale projects are more efficient since you pay for different processes at once.
Final Words
Whole-house remodeling is a tall task and a decision-intensive process. You need to set finances for the project, have a priority list, look for contractors and permits, and stick to a timeline.