Every single person starting from housewife to a college student wants to become independent. With an increase in the quest for employment a huge competitive environment has been created in the job market. However, internet seems to sort out this problem by allowing people to do job without actually going to the workplace.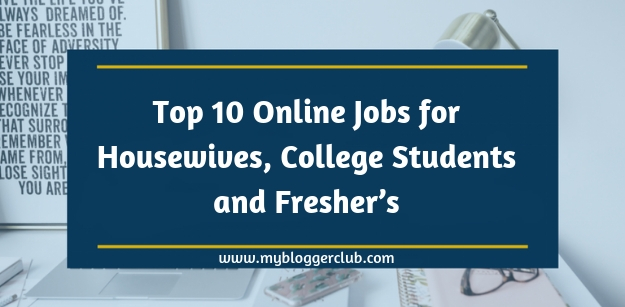 A jobseeker who is not able understand that how to build their career without compromising with their family life then you can check out the given below online jobs.
1. Become a Blogger
Are you a housewife? Then you must have stop thinking about your career. If yes, then don't because you can get good opportunity of handling your family along with building your career. All you need is just an internet connection, net banking facility and an email id.
Every woman has got creative quality and so blogging can be an ideal job for them. You can write about anything even about the dish that you are expert at. It is a good way to earn money.
2. Opt for Data Operator
Have you just completed your graduation? Do you have enough knowledge in Microsoft Excel? If you are good at excel then you can get a good opportunity of working as a data operator.
As per this job profile you need to write down information that is provided in hard copy into the spreadsheets. At times you might have to write down data related to online surveys. Isn't it a very easy job? You can earn good amount of money by simply entering data.
3. Try out Transcription
If a jobseeker has the determination to do job then no one can stop them as there are immense opportunities available for the fresher or college students. What is your typing speed? If it is good then the job profile of transcriptionist is apt for you.
It is a simple job and you have to just transfer audio files into text. In order to start your career as a transcriptionist then you can look for transcription sites on internet.
4. Work as a Freelance Writer
This is perhaps the most popular jobs that are chosen by most of the people. With the advent of digital marketing the demand for freelancer writers are increasing on a fast pace. This job can be opted by a housewife, a college student or someone who have still not put their foot into the job market. Your job will be to write articles on a given topic.
5. Choose Teaching Career
You might be thinking that how can you become a teacher by sitting at home. But internet has made it possible too. You can find teaching jobs easily online.
There are some websites where you can fulfill your passion as a teacher by simply uploading teaching videos for the students who are weak in English.
6. Begin Career as PPT Designer
PowerPoint presentation is widely used by business for training employees or for meetings. The college students might be used to preparing PPT for their college projects. So, this can be transformed into career.
You can become a Power Point designer and prepare slides for your clients.
Beginning career as a power point designer can allow you to give a creative beginning to your career prospect.
7. Sell Products on Internet
There are some housewives who are quite good at creating wonderful pieces of art works. They usually use those art pieces for decorating their home but do you have any idea that you can sell these products online and get good amount of money.
In fact you can even get opportunities to sell EBooks or DVDs that contains some important subjects. One can earn good sum of money simply with the help of their creative talent.
8. Perform the Duty of Tourism Promoter
Tourism operator has to work as a connector between travel agencies and tour operators. Generally, freshers are highly demanded for this profile. You can search job related to tour promoter in different job sites. If you have skills regarding handling customers then you can apply for this job.
Your job role as a tourism promoter will be to confront clients regarding tourist spot and note down details regarding bookings.
9. Provide Reviews
Do you have any idea that those reviews which allow you to make purchase decisions can be a way to earn money? Yes, it is because there are some online sites where you can write reviews and get paid.
You need to just register your name and other detail in the site which conducts online survey. After checking your profile they will send you a request to join. However, one should choose a site carefully.
10. Work in Voice Process
After completing 10+2 students often get confused regarding choosing a right career. If you are well versed in English then you can try out your career in BPO. Every year large number of school or college pass outs chooses BPO as their career. A large number of online job portals are available where you can find jobs related to voice processes.
So, you have got enough ideas regarding job vacancies and building your career by sitting at home. Mostly, it becomes difficult for new moms to concentrate on their career and therefore, online jobs can become a real boon for them. Nevertheless, before starting with your online job hunt you need to review the websites properly.