The colossal success that the ed-tech industry has achieved in India, in such a short span of time, is not unbeknownst to anyone. The Covid-19 pandemic acted as a huge catalyst in the growth of ed-tech, so much so that India at present, is one of the top three countries in terms of investment in the ed-tech sector. The number of paid subscribers on online teaching apps have risen exponentially since the pandemic, enabling online teaching companies to generate massive revenue and investments. Over the course of the past two years, more than 400 small & large ed-tech ventures have come into the market, some of the best app for online teaching have been developed, owing to the huge demand for online teaching amidst the lockdown. Given the circumstances, though online education was more a need of the hour than a choice, students today largely see this paradigm shift in teaching methodology as a welcome change. There are numerous reasons why students prefer online teaching over traditional classroom education. In this article, we will try to elucidate just why do students prefer online teaching so much over offline.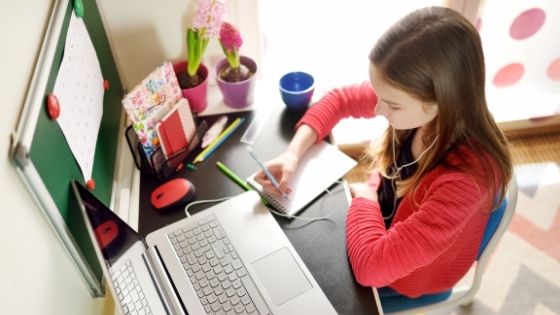 Flexibility and Comfort
The biggest merit of online education is the flexibility to learn anything from anywhere at any time. A student can learn even while traveling or when he is out of the station. Also, students can learn from the comfort and safety of their homes. Most colleges in India are located on the outskirts of urban areas and students' commute time on average is half to one hour. Mostly, students get mentally exhausted just by commuting which leads to distraction and tiredness during classes. Online teaching enables students to concentrate on the class without getting tired.
Active Learning Environment
E-learning enables more student-centric approaches for teaching. Research has shown that a student-centered and active learning environment correlates positively to students' learning outcomes while a traditional, passive learning environment, wherein a teacher just delivers his lecture without encouraging student involvement, is linked to lower learning outcomes.
Higher quality
Online teachers generally come with practical hands-on knowledge and may belong to any place across the globe. This invariably leads to a more diverse set of options from which a student can choose. Thus, students get the best possible quality of education in an online class compared to an offline class. Also, in this era of globalization, the more diverse the background of the educators, the more beneficial it will be for the students in the long run, in terms of employability, communication skills, and an accurate understanding of how the world around them actually works.
Technological Compatibility and Upskilling
Students of today, especially school students, are by and large digital natives. Their life revolves around technology, and many of them probably even learned their first kids-poem through a mobile video rather than a book, like we did. It is only fitting then, that they must be thrilled by the inclusion of technology in their education. Also, online teaching helps to upskill students in technology that will be critical for employability in the 21st century.
Online Student Community
Online teaching apps often provide informal chat rooms for private conversation between students. This increases camaraderie among fellow students and is a big reason why students prefer e-learning over offline teaching.
24/7 accessibility of course material
Even the students with the best listening ability can't retain more than 50% content from an offline class, immediately after the class. After a day, it would take a miracle to recall more than 25%. This puts pressure on students during class as they are worried about forgetting in the back of their minds while listening to a lecture. But, the best app for online teaching provides useful features like recorded lectures, digital whiteboards, note sharing, etc. so that the content of a class is available always and in multiple formats. Thus, e-learning is more effective in increasing the student learning outcome and interest.
As is undoubtedly clear, online teaching has become a hit with the community of students in India and the world. The Indian government is also increasingly putting its focus towards improving the e-learning infrastructure in the country by equipping schools and colleges with high-speed WIFI and other hi-tech tools amongst other things, so that the students can learn in the manner that is most dear to them, i.e. online education.