Classic and traditional jewelry items are timeless and often favored during special occasions like weddings, etc. Jewelry is something both men and women wear, but mostly women. Since jewelry is what highlights the unique features in a woman. And weddings are considered one of the most important events today. We discuss the top 8 types of classical and traditional jewelry designs suitable for every Maharashtrian Bride. Every Maharashtrian faces this dilemma, which Marathi Matrimony service to use. Each app has its merit, so see and check all matrimonial apps, read about them, do your research then select one.
1. Kolhapuri Saaj:
This jewelry style is one of the most popular and gorgeous-looking designs, which is available in the entire Maharashtrian style of jewelry. The kolhapuri saaj consists of 21 leaf-shaped pendants and golden-colored jav mani. The number 21 is not chosen due to choice; rather, each of the 21 pendants defines different mythological sayings. For example- among the 21 pendants, 10 represent the 10 avatars of Lord Vishnu. 8 pendants represent ashtamangal, 2 pendants have ruby and emerald stones, and the last 2 are called taviz.
So this whole jewelry design type is collectively known as the style of Maharashtrians in the Kolhapur region.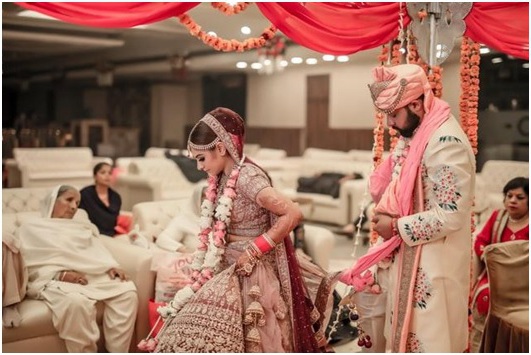 2. Nath
This jewelry item is a nose pin but a little bit different from the normal ones. It is a Maharashtrian-style nose pin that is woven in basra pearls and rubies. Brides can also wear this nose pin in an all-diamond avatar. You can even have one with a sapphire stone, too, if you want to look exquisite at your wedding. On a side note, if you wish to know more about a new Marathi Matrimonial App, then check this out.
3. Kolhapuri Thushi
This necklace is also from the Kolhapur region in Maharashtra. This necklace comprises pure golden beads woven together and held by an adjustable string (Dori) at the back. Many Maharashtrian brides choose to wear this regardless of whether they are from Kolhapur or not. You can either choose to wear it loosely or tightly, depending upon the look you are targeting for.
4. Ambada
This is a classic hair accessory that is mostly made of gold. What it does is help the bride maintain their long hair by tying it up in a single place. Brides usually use clips to tidy up their long hair in one place, but when in a wedding outfit, that does not look so good. Hence the Ambada, a simple bun pin with tassels and embedded stones.
5. Mohan Mala
In the Marathi language, maal means a string-styled necklace. This is essentially a long necklace with gold beads. The layers of string may vary from 2 to 8 strings. This is a relatively simple item of jewelry but has great historic significance.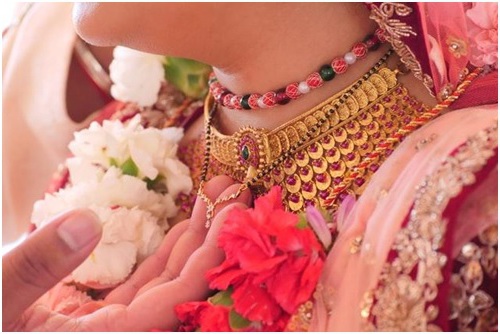 6. Kan
As the name suggests, kan is an ear-shaped long earring worn as a fashion accessory by brides during weddings. It is mostly made of gold, but you can wear one with some pearls, too for the added style quotient.
7. Rani Haar
Rani means queen, and haar means necklace. So what this queen's necklace does is it represents the necklace that used to be worn by the Maratha queen. It is a long pearl necklace set with three layers of pearl string and a pendant in the middle too.
8. Vaaki
This is a bangle-type ornament that can be worn either on the one hand or both. It is like a gold armlet that has precious stones like emerald, rubies, or other similar stones embedded in between and accompanied by mini gold chains.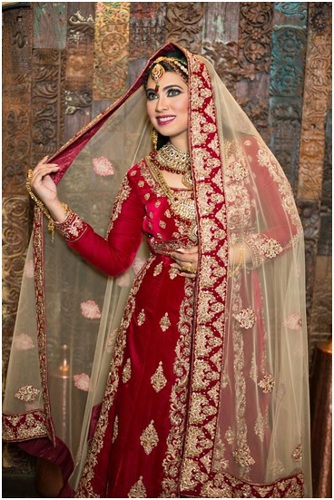 9. Bugadi
This is a traditional Maharashtrian stud-type earring that is made in all gold and pearls. If you are targeting an exquisite look, you can go for a diamond-type bugadi.
10. Paatlya
These are flat-type bangles worn either at the start or middle of the hirva chooda. It is a simple lightweight bangle worn by brides after the wedding.
11. Vaati Mangalsutra
Vaati means a bowl-type pattern in the Marathi language. The traditional Maharashtrian mangalsutra has two vaatis as a pendant held together by black and gold beads. This is a traditional Maharashtrian vaati. Nowadays, brides prefer to wear gold pendants or diamond pendants instead of the traditional vaati mangalsutra.
Conclusion
A wedding is a special occasion and Indians especially celebrate weddings in a big way. There are many customs and rituals that need to be followed during weddings. Especially a bride because in a wedding everyone's eyes are on the bride and the groom so it is important to our very best on that day. Wearing jewelry is an important phenomenon for every woman.