Every mother wants to be her son should look 'A good boy'. So by keeping this view in mind, every mother worries about the perfect hairstyle of her boy. Mostly the boys like to wear short hairstyles that are easily manageable without any extra efforts. Almost every boy wants a hairstyle which is frizz free and easy to maintain. The hairstyle should be easy to worm on any occasion and helps to get ready within a moment.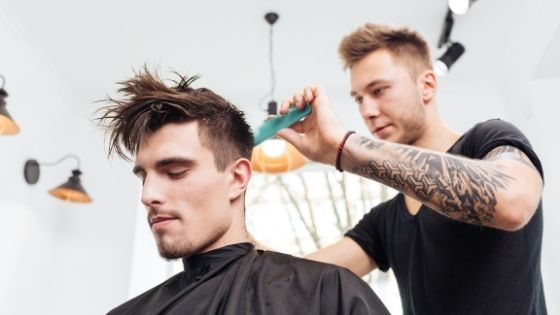 Many different types of haircuts are trending now a days, which are easy to style, and maintain and don't need any extra hair care regime to maintain. We will discuss here the 8 most popular hairstyle for young boys which are simple and need less or no maintenance at all.
Types of Boys hairstyles
There are different types of popular hairstyles that are trending nowadays; some of them are as follows.
Side Swept Hairstyle – The side-swept hairstyle looks good even if you want it for short or for long hair. In this style the hair is swept on one side or other. This hairstyle is trendy. This haircut requires more care and time to maintain. This hairstyle is suitable for boys who are not active in sports or other physical activities.
Crew Cuts and Spikes Hairstyle – Crew Cuts and Spikes Hairstyle are best for young boys active in sports or physical games. So it is called a super short hairstyle for a super busy boy. The crew cut is quick and places in a way, while the spikes are designed in a fashionable style. This hairstyle can be easily maintained also offers sportsman look.
Layered Haircut – Layered haircut is done by cutting the hair in layers from different parts of the head. The hair flows naturally and gives a flowing look.
Boys Comb Down Hairstyle – In Boys Comb down Hairstyle, the hair length is cut just above the eyebrows and combed down. The comb-down hairstyle is simple, easy to manage, and provides a cute look. This hairstyle is best, especially in the winter season.
Buzz Haircuts – In the buzz hairstyle, hair is cut extra short to a length that varies from 1cm to 1/6th of an inch. This hairstyle gives a trendy and versatile look. This haircut remains always in trend. Summer is the season when most of boys opt for buzz hairstyle.
Shag Hairstyle – This hairstyle is suitable for slightly older boys who want to have a softer look. For making this haircut, different layers are combined in a way to give a shaggy look. Shag haircuts look good if you have diamond shape face.
Bowl Hairstyle – In bowl hairstyle, hair is cut in a bowl shape. Bowl shape hairstyle looks awesome if your face is round. It is not recommended for the boys who have the smart face.
Caesar Hairstyle – In Caesar cut, hair is brushed forward and cut in short length. Caesar cut is one of the oldest hairstyles which is still in trend. It gives an impressive and beautiful look to younger boys. Caesar is one of the all-time favorite hairstyle for young boys.
Some Pro Tips about Boys Hairstyle
Haircuts Fredericton stylist recommend you should go to your hair salon after every 40 days for a regular trim. Your hair will regrow healthy
Keep the haircut simple so that you can manage them easily.
Use hats, caps, and other hair covering accessories to protect your hairstyle from dirt or sunshine.
Brush and wash your hair regularly, and don't over wash with shampoo because it can damage your hair.
Short Hair Styles for Men
Sideburns just under the ears. For best practice, you should straighten your hair before cutting. A short, tousled men's hairstyle can give you a hot look. The short hairstyle is trendy among all ages of boys. Crew cuts and spiky haircuts are two famous examples of short styles among boys and men.
Boys short hairstyle benefits
The benefits of the boy's hairstyle are as follows –
Boy's short hairstyle is effortless to manage and maintain.
Short hairstyle requires less maintenance and styling requirements.
Medium Length Boy's Hairstyles
Medium-length boy's hairstyles are popular, especially college students. You can manage or style the medium-length hairstyle with gel and wax.