You may exhibit your individuality while working from home and yet be comfortable and productive. These are five style suggestions for ladies who work from home: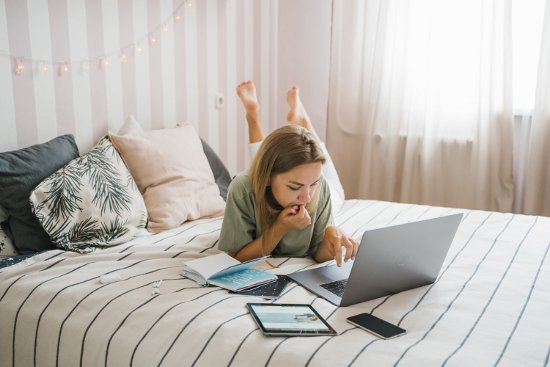 Embrace Casual Chic Styles
It's possible to combine comfort and flair when working from home. Outfits that strike the ideal mix of comfort and style, such as a cute graphic shirt with high-waisted leggings, can be described as casual chic. For remote work, these are a great option since they look professional and offer unparalleled comfort. Consider adding a lightweight scarf or a piece of striking jewelry as an accessory to elevate your effortlessly stylish casual outfit. By adding these sophisticated accessories to your casual outfit, you may look put together and feel comfortable while working.
Embracing casual elegant trends has the advantage of letting you easily adjust to the needs of the day. This outfit can easily shift between jobs, whether you're getting ready for a video chat with coworkers or starting a concentrated workday. You'll discover that leggings are a flexible and ideal element for both style and comfort for your work-from-home outfit.
Prioritize Comfortable Footwear
The ability to work from home in comfortable shoes all day long is one of its many benefits. Instead of wearing stuffy, formal shoes, try wearing supportive sandals, moccasins, or slip-on sneakers. The shoes you select must be appropriate for both short outside excursions and pleasant interior activities. Whether you're taking a quick break in your garden or heading out for a coffee, your shoes ought to be adaptable enough to cover various activities.
Having comfortable shoes may greatly improve your experience working from home. They not only make sure you're comfortable working through long hours, but they also motivate you to be active all day. One benefit of wearing comfortable footwear first is that it allows you to transition smoothly from work to leisure.
Create a Versatile Wardrobe
An adaptable wardrobe is an essential tool for remote work. Purchasing versatile items, like a traditional button-up shirt, may greatly enhance your everyday wardrobe. Because of its versatility, the button-up shirt lets you dress formally for online meetings or casually for a laid-back workweek. It looks well with a wide range of bottoms, such as a skirt or jeans. Gaining a variety of clothes allows you to mix and match with ease and create different styles every day, giving the impression that you have a large wardrobe at your disposal.
This flexibility may be especially helpful if you work remotely since it gives you the option to modify your wardrobe based on the needs of the day. Having a varied wardrobe makes dressing up for a virtual meeting easier because you can easily dress up in your button-up blouse and high-waisted leggings.
Incorporate Loungewear with Style
Loungewear has come a long way from garish or boring clothes. There are more chic loungewear choices available for remote work that put comfort and style first. Your work-from-home outfit can benefit from some chic knit sweaters or warm knit cardigans. These pieces may be combined with cozy joggers or leggings for a laid-back yet fashionable home-office aesthetic. On days when you need to be warm and cozy without compromising your sense of style, loungewear might be a great option.
You can effortlessly shift from business to pleasure thanks to this stylish loungewear integration. You'll discover that working remotely may be more pleasurable if you wear fashionable yet cozy loungewear. This option satisfies your need for both comfort and style while promoting productivity, allowing you to concentrate throughout work hours.
Use Accessories to Elevate Your Look
Accessory pieces add the perfect finishing touch to your work-from-home ensembles. Accessorizing your clothes with statement chains, scarves, or stunning earrings may elevate your look and project a professional image during virtual meetings. Even if your workplace encourages casual attire, these items may make all the difference in looking put together. Additionally, accessories let you show off your style and improve the way you look.
During online discussions, accessories not only show off your style but also convey to your colleagues your competence and dedication to detail. They also let you add your flair to your work-from-home wardrobe, which boosts your self-esteem and feeling of uniqueness even more. You may achieve a work-from-home balance between ease and professionalism by adding accessories to your clothing. This will eventually increase your confidence and productivity.
Conclusion
Combining comfort and style is made possible while working from home. You may put together beautiful and comfortable work-from-home clothes that increase your confidence and productivity by adopting casual chic looks, emphasizing comfortable footwear, developing a diverse wardrobe, adding sophisticated loungewear, and utilizing accessories to complete the appearance. Wearing high-waisted tights as a wardrobe staple will provide the ideal mix of comfort and style for your remote workdays.