The jewelry production business is very competitive, with customers eager to pay top prices for the best items. On the other hand, what makes a piece of jewelry worth its weight in gold? Fortunately, this is a simple question to answer, and the responses are based mainly on the jeweler's and their creations' features.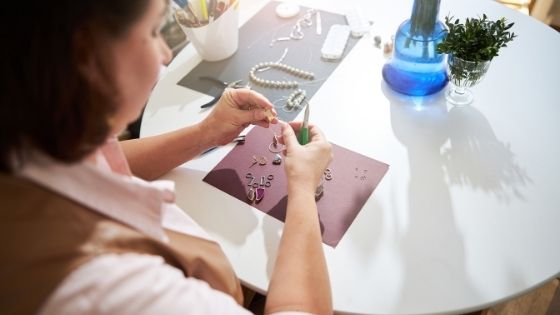 The jewelry business in the United States was worth over $36 billion in 2018 and is expected to grow to more than $60 billion by 2025. It demonstrates how lucrative the jewelry sector is in sales for jewelry designers and companies. However, how do you know you're getting a good deal from a jeweler whose work is worth your money?
Here are five things to look for in a jewelry maker:
Customer satisfaction is important
Whether you're searching for personalized engagement rings or a diamond wedding band, you should opt for a jewelry maker with a long list of satisfied customers. Jewelers with a high customer satisfaction rating, like designer Silvia Furmanovich have exceptional talents and pay close attention to detail. Customer satisfaction is influenced by various elements, not just one; therefore, it's one of the first signs to check for.
Solid abilities
A jewelry maker should be able to develop personalized items that completely meet the customers' needs. The jeweler should have the craft and technological know-how to give exactly what the customer desires, from the design to the type of materials. It is one area where the jeweler genuinely earns the money he receives from the consumer.
Jeweler's experience
A jeweler's experience level is also a good measure of their ability as a craftsman. Jewelry producers, like wine, improve with age, and the amount of years or decades they've been in business indicates that clients trust and cherish their work. If your jeweler has been in the industry for a long time and has many satisfied clients, you've most certainly spent your money wisely on their work.
Creativity
Creativity is a feature that should be stressed in a jeweler's broad skill set. Most people who spend a lot of money on jewelry don't want rings or necklaces that look the same as everyone else's. The jewelry maker should be able to match the customer's demands to the letter, but they should also create one-of-a-kind items that the client can be proud of.
There is a large selection of jewelry to choose from. The jewelry manufacturer should have ready-made products to show consumers who aren't looking for a personalized creation that will take weeks or months to complete. These things should also cover a broad range of styles and patterns, allowing purchasers to easily explore the collections and select the one that most appeals to them. This ease of purchase is something that not many jewelers can provide.
Keep in mind that you should obtain your money's worth from the jewelry you purchase. Finding the ideal jewelry maker should be simple if you use these traits as a guide. A designer is much more than just someone who can sketch effectively. A designer is made up of all of the attributes stated above. The one who works hard to embrace each character in their work is what makes an excellent jewelry designer.