Are you a science student who is curious to know how BSc coursework will assist you with issues in the real world? We all know that Science is a booming field, and a BSc degree can help you succeed in it. Moreover, the importance of this study program in the current environment is demonstrated by the government's AISHE 2020-21 prediction, which demonstrates that nearly 49.12 lakh students enrolled for Bachelor of Science courses.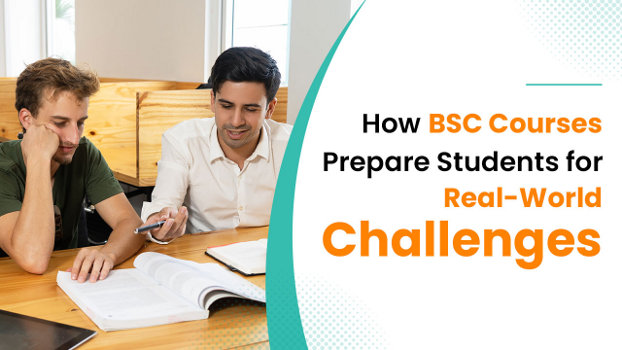 Additionally, this undergraduate program broadens your academic horizons and conquers hurdles effectively. Consequently, we will go through how the BSc Colleges in Jaipur can help you get ready for real-life situations and challenges throughout this blog.
Bachelor of Science- Course Overview
A Bachelor's degree in science is accepted throughout India and is the best choice for students who wish to work in research-intensive sectors including pharmaceuticals, healthcare, manufacturing, and information technology. Nevertheless, the best BSc colleges in India attempt to provide students with both theoretical and practical understanding in subjects like Mathematics, Physics, Chemistry, Biology, etc.
BSc Course Details
Degree Level
Undergraduate
Course Duration
3 Years
Minimum Academic Requirement
● Candidates must have completed their 12th grade in Science from an accredited educational board.

● A minimum overall score of 50% is necessary, which can be different for reserved-category applicants.
Average Course Fee
Between INR INR 20,000 – INR 2,00,000
Admission Process
Through Merit and Entrance Exam
Average Salary Offered
Ranges between INR 3-7 LPA
How BSc Courses Equip Students for Challenges in the Real World?
This UG course will improve your talents and help you prepare for real-world challenges and also serve as the foundation for learning everything about the sector. Additionally, the following is a discussion on how BSc Colleges in Jaipur prepare you for the hurdles that exist nowadays:
1. Personal Development and Increased Knowledge
A BSc degree also promotes improved personal development in addition to increased competitiveness. However, this undergraduate course helps you deal with problems in real life as well as the complexities of the job. Further, the BSc coursework will teach you a variety of skills, including organization and time management.
2. Opportunity to expand to other fields
Better employment opportunities in their fields, as well as those of others, are provided by the BSc programs. Law, management, and other fields, as well as further education that alters your perspectives, are among those others. Additionally, the best BSc Colleges in Rajasthan give you more versatility since you don't remain restricted to a specific field and can fulfil the expectations of the current employment market.
3. Competitive Edge
As the economy improves, firms are consistently looking for skilled professionals. Therefore, a BSc degree helps students develop skills that are more in line with what employers seek today, and this helps you bag more opportunities and be consistently in demand in the job market. Moreover, those necessary skills let you explore different job options that come with excellent perks.
4. Far-reaching effects
You can find and create items that can revolutionize the way the world operates through some careers, and a BSc study program will qualify you for all advancements, including ground-breaking technical and medical breakthroughs. Nevertheless, the best BSc Colleges in Jaipur offer the chance to lead advanced opportunities and contribute back to the community by allowing the world to advance.
5. Working in close association with others
Along with providing you with top-notch academic information, a BSc program will improve your networking abilities and help you have an open mind in order to aid you with daily problems and practical skills. However, having open lines of communication with supervisors can help younger employees clarify their inquiries and stay current on any recent advances in the field.
6. Further education and specialization
In the current job market, having more education opens up more chances, hence the majority of students choose to continue their education to have better opportunities in a specialized career. However, the best private colleges in India provide crucial BSc specializations like Physics, Mathematics, Chemistry, Zoology, and Botany, which can increase demand for scientific graduates and help with greater compensation incentives and work satisfaction. Overall, a BSc prepares you for future education to overcome the obstacles present in the current employment sectors.
Why choose Arya College Jaipur for BSc academic courses?
The All India Arya Samajis Society oversaw the establishment of Arya College as a college for higher and technical education in 2000. Since its foundation, it has offered the top undergraduate programs in a variety of fields in accordance with national as well as international standards.
The benefits of studying here include:
Here, the professors aim to educate and direct the BSc students by offering top-notch training and instruction.
Its curriculum helps students develop traits like techno-managerial skills and help them become professionals who are imaginative and creative.
The college has excellent infrastructure, well-stocked laboratories, a library, and other amenities, all of which improve the learning environment for students.
It is regarded as one of the best placement colleges in Jaipur due to its great career guidance and 100% placement aid.
Overall, it creates individuals who contribute to the growth and progress of society, the country, and the world.
Summing Up
Science has a reputation for emphasizing the collection and understanding of physical world observations. And, one of its many great advantages is that it prepares students to overcome hurdles they may face in real-life situations. As a result, the BSc Colleges in Jaipur work to create students who can deal with the difficulties that arise in the present. We believe that this blog will assist in demonstrating how a BSc degree can open doors to greater opportunities, as well as overcome obstacles.
FAQs
1. Do colleges matter for studying BSc programs?
Yes, while prospects vary from college to college, it is crucial to your academic career. Also, some colleges have a fragile alumni network, which will reduce your chances of getting hired when you graduate. But in India, BSc Colleges in Jaipur can be the best option for improved growth and development.
2. What employment options are available for BSc graduates?
The BSc program offers a wide variety of disciplines and specializations, and students who have a thorough grasp of the principles in the relevant fields have a variety of job alternatives, including Teaching, Research Analyst, Data Scientist, Agriculture Officer, Forest Officer, Biochemist, and many more. Moreover, the pay scales for these specialists change based on the duties of the position, years of experience, and other elements.
3. What purpose does BSc have going forward?
This course, which includes several disciplines needed for a job in several fields, serves as the foundation for science. Besides the traditional paths, graduates of BSc programs are also free to pursue jobs in journalism, management, banking, fashion, medicine, finance, and other fields of interest with further effort.
4. Is BSc a worthwhile degree?
A Bachelor of Science is one of the top options available when thinking about academic degrees for students majoring in science after their 10+2 exams. Additionally, it is a very popular option for aspirants who want to work in science and technology, both domestically and internationally.