Cleaning your carpet at home is usually considered a tedious task, which many of us like to avoid until the very last minute. Even after, what seems like hours of cleaning, it just doesn't feel enough, especially if you own a pet. We believe it is time for you to discover the most interesting carpet cleaning hacks we found, so you can test them in your own environment.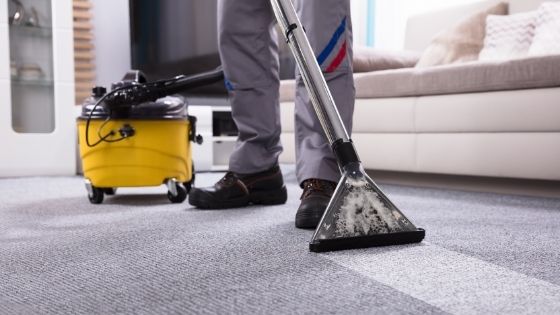 Always blot, never rub!
You're having a glass of red wine, and you accidentally spill some on your carpet. Your initial reaction would probably be to grab a towel and rub the spilled liquid. However, that is not the best way to approach the situation. Here is why.
If you chaotically rub the spilled wine on the carpet, it will soak deep into the fibres, and that stain would probably never come out. However, if you start blobbing the spillage carefully, from the edges inward, you would be able to remove most of the liquid, and the chances of the stain coming out become greater. Do not start blobbing from the middle of the stain, toward the edges, as that would spread the liquid further out.
Tricky oil stains!
Oil stains are one of the most frustrating stains to work out. Many people are unaware that Baking soda is a great tool to use, when it comes to absorbing liquids. If you ever get oil spilled on your carpet, grab some Baking soda and sprinkle it generously over the stain. Leave it on, until the soda hardens, and after that remove it with a vacuum cleaner. This should take care of the oily stain! Feel free to blob away any leftover mess.
Your pet had an accident? Not to worry!
As we saw in the hack above, Baking soda is effective at absorbing liquids. In addition, it also does a great job at absorbing odours! If your puppy had an accident on your carpet, sprinkle Baking soda generously over the entire area. Wait until it dries, and blob away the rest of the mess. Use a vacuum cleaner to get rid of the excess powder.
Vacuum your Shag carpet – the right way!
Shag carpets are a great addition to a bedroom or a hard floored living room. However, they are really hard to clean, as the long fuzzy fibres tend to tangle together. As the fuzziness of the carpet makes it easy for bacteria to thrive and multiply, it is of huge importance to make sure we vacuum the carpet regularly, in the most efficient way!
To effectively vacuum your Shag carpet, remove the shaft and floor head of your vacuum cleaner, and use the hose alone! You can also use the crevice tool, if you have one! It might take a while, but you will have a deeply vacuumed, dust/hair free Shag carpet at the end.
Gum is stuck to your carpet?
Before you reach for the scissors to cut it out, try this!
Place one or more ice cubes on the gum, and wait for it to begin hardening and freezing. The change in texture will make it easy for you to slide the gum off the fibres, without causing damage to the carpet.
Protect your carpet!
To protect your carpet from foot traffic and stains, you can place an area rug over it. Sure, it sounds weird, but that is a great way to preserve the fluffiness of the carpet for a longer period of time. If you are having guests come over, remove the area rug to reveal you perfect carpet!
Carpet cleaning doesn't have to be exhausting! Using these hacks will make your life easier and save you a lot of time! Always make sure to test any solution on a small area, before applying it to the whole carpet!