In recent years, the fashion industry has made significant strides in becoming more inclusive and embracing diversity, particularly in the realm of plus-size clothing. Gone are the days when limited options were available for curvier women; now, there is a wide array of trendy and stylish garments specially designed to flatter different body shapes. Plus-size fashion has evolved, and today, we explore five flattering clothing styles that allow plus-size women to exude confidence, elegance, and charm while celebrating their unique beauty.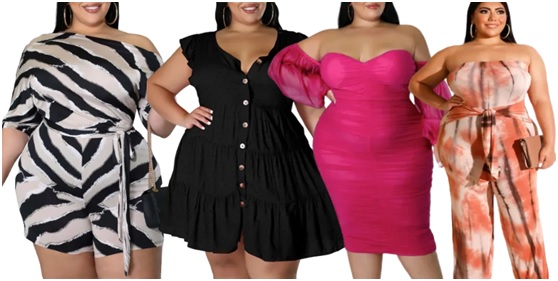 1. Embracing the Elegance of A-Line Dresses
A-line dresses are an absolute favorite among plus-size women due to their universally flattering silhouette. The A-line cut gently skims over the curves and widens towards the hem, creating an "A" shape. This style is perfect for those with pear-shaped or hourglass figures, as it accentuates the waist while offering ample room for the hips and thighs.
When searching for sexy plus-size dresses, consider A-line options that feature V-necklines, as they elongate the neck and draw attention to the upper body, creating a balanced look. Additionally, dresses with cinched waists or belted accents will further accentuate an hourglass figure, providing a touch of sophistication and glamour. Whether you're attending a formal event or a casual gathering, A-line dresses are a timeless choice that exudes elegance and charm.
2. Flattering and Functional Wrap Dresses
Wrap dresses are a fashion revelation for plus-size women, as they beautifully complement various body shapes, offering comfort and style in one package. The wrap style allows for adjustable fitting, making it ideal for those with apple-shaped or rectangular figures. By cinching the dress at the waist, it creates an illusion of curves, enhancing the overall silhouette.
One of the fantastic aspects of wrap dresses is their versatility. They come in an array of designs, from flouncy floral prints to solid colors, making them suitable for both casual and formal occasions. Pair a wrap dress with fashionable wedges or elegant heels, and you're ready to conquer any event with confidence and poise.
3. Celebrating Confidence in Maxi Dresses
Maxi dresses are the epitome of comfort, sophistication, and versatility, making them an essential addition to any plus-size woman's wardrobe. These full-length dresses gracefully flow over the body, making them ideal for women with larger proportions or an inverted triangle shape. Their elongating effect is particularly flattering for those seeking to create a balanced and harmonious look.
When opting for maxi dresses, embrace a variety of styles, from flowing and bohemian to form-fitting and structured. Plus-size women can opt for daring slits to add a touch of allure or opt for halter necklines to draw attention to the shoulders and upper body. Whether you're strolling along the beach or attending a summer soirée, maxi dresses allow you to express your unique personality while embracing comfort and style.
4. Charming in High-Waisted Jeans and Crop Tops
For plus-size women who wish to embrace a more casual and trendy style, high-waisted jeans paired with crop tops are a match made in fashion heaven. High-waisted jeans are fantastic for creating an hourglass illusion and highlighting the waistline. They offer excellent tummy control and provide a secure fit, allowing you to move freely and confidently.
When selecting crop tops, look for those that hit just above the waistband of your jeans, as they reveal a hint of skin without exposing too much. This combination is ideal for apple-shaped or rectangular figures, as it adds curves and enhances the natural body proportions. Don't shy away from bold patterns or vibrant colors; let your outfit reflect your vivacious personality!
5. The Classic Elegance of the Wrap Coat
As the colder months approach, plus-size women can maintain their fashion-forward look with the addition of a stylish wrap coat. Wrap coats are not only timeless and sophisticated, but they also offer a flattering silhouette for various body shapes, including those with an apple or hourglass figure.
Choose a wrap coat that cinches at the waist or comes with a belt, as this will accentuate your curves and create a more defined shape. Opt for neutral colors such as camel, navy, or black, as they are versatile and can be easily paired with various outfits. This elegant outerwear piece will become a staple in your wardrobe and make you feel polished and confident even during the chilliest days.
In conclusion, plus-size women have an abundance of fashionable clothing styles at their fingertips. From the elegance of A-line dresses to the versatility of high-waisted jeans with crop tops, there is no shortage of options to express your style and personality. Embrace your curves, celebrate your uniqueness, and step into the world of wholesale boutique clothing, where fashion knows no boundaries, and beauty comes in all shapes and sizes. With these flattering styles, every plus-size woman can feel empowered and embrace her beauty with utmost confidence.