Moving is something that Colorado's renters and homeowners alike have the chance to experience at one point or another,' and no one is ever exempt.' The relocation process is filled with inherent changes and challenges the household adults and children face. When it comes to being a parent or caretaker, even an older sibling – watching a child you love struggle or go through hardship can make you feel frustrated, sad, and even hopeless.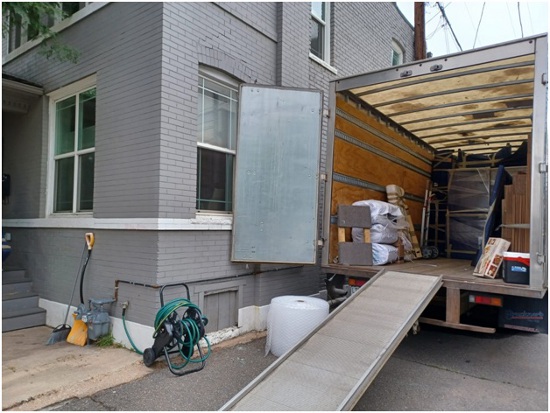 Hiring long-distance movers in Denver, CO, can help you take your pedal off the logistics of moving so that you can put your focus and energy into the kids. This is where you want to put your time, especially when experiencing transition moments. To make things a little easier, it can help to have a team of experienced movers by your back who can take the load you are carrying off your shoulders and provide a healthy, stress-free environment as you begin your journey moving into a new space.
Let Them Go Through the Grieving Process
You must let your kids feel and process their emotions around the big move. Consider that they are essentially walking away from everything they have ever known – their home, room, friends and family, school, familiar places, schedule, and safe place. This is a significant transition for children, and while you will want also to consider their age and emotional and mental maturity, you cannot force them through a process that is entirely out of your control.
Honor your children's feelings and grief – this will help support them through their process and each stage of their grieving. This allows them to process the transition better, and in honoring their feelings, you are honoring them. You can ask them how you can best support their needs and encourage them to use healthy coping mechanisms as they sort through their emotions and get used to the new environment.
Allow Them to Make Decisions
Remaining open and honest with your children or any kids in the household is paramount to ensure they feel secure throughout the long-distance moving transition. During this time, focus on how they can be incorporated into the decision-making processes so that they think they have control over all the changes happening around them.
Providing autonomy and power to your kids will boost their self-confidence, provide feelings of safety, and may even bring about feelings of excitement as well. Allow your children to do any of the following:
Be a part of choosing the new house or apartment. Incorporate them in this process, asking them which location they prefer and why that is their preference.
Consider naming the new house for younger children. This allows them to place ownership over something that they are unfamiliar with and will assist them in feeling like this new place is theirs.
Allow them to choose their bedroom and paint color. There are some exciting things about the moving process, and this is their chance to reinvent themselves (if you have an older child) and express their personality!
Help them list "essentials" or "must-have" items for the new place. This is another aspect of moving they can get pumped up about!
Prepare to Continue Relationships & Friendships
One of the most vital steps to support any human being is the people they have around them and in their corner. Once children are socialized and develop meaningful friendships and relationships, it can be especially difficult and incredibly complicated for them to understand what it means to leave those behind. Instead of cutting off contact and communications with friends and loved ones when completing a cross-country move – choose to put in the effort it takes to maintain those connections.
Plan a weekly phone call, facetime, or Zoom session for your child and their best friend, or perhaps set a date to visit where they can spend time with their friends from the neighborhood. Etc. There are a multitude of ways to do this that will provide your child with more security and modes of support during the moving transition.
Involve Them in the Packing Procedures
Kids love a good project involving people they love and their favorite things. When you are in the decluttering phase of preparing – let them take responsibility for their own room and belongings. This forces them to start with a tangible aspect of moving and can help them process it. They can help pack and plan for moving day, which should also assist and support their overall mental state and confidence surrounding the long-distance move.
Denver Moving Group offers affordable, reliable, and superior moving services whether you want to move locally, long-distance, or cross-country. Pushing the boundaries within the moving system, the Denver Moving Group comprises highly experienced professional movers who always put the customer's comfort and security first. Don't allow the hustle and bustle of change to push you into a corner, and don't attempt to take everything on yourself – contacting the professionals in town can guarantee time and space for you to spend quality time with your children and build excitement about what is yet to come!